Co-Planning and Co-Teaching & Its Key Features – Latest
Co-Planning and Co-Teaching
Co-planning and co-teaching are collaborative approaches in education that involve educators working together to enhance the learning experience for students. These strategies are particularly effective in inclusive classrooms where students with diverse learning needs are present. Here's an overview of each:
Co-Planning:
Definition: Co-planning involves teachers collaboratively designing and organizing instruction, assessments, and learning activities.
Teachers come together to discuss the curriculum, instructional goals, and student needs.
They share expertise, ideas, and resources to create a cohesive plan.
The goal is to integrate different teaching styles, methods, and perspectives to meet the needs of all students.
Access to a broader range of teaching strategies and methodologies.
Greater pooling of resources and expertise.
Improved alignment of curriculum and instructional goals.
Co-Teaching:
Definition: Co-teaching involves two or more educators working together in the same classroom, sharing responsibility for planning, instruction, and assessment.
One Teach, One Assist: One teacher leads, and the other provides support.
Parallel Teaching: The class is split into two groups, and both teachers teach the same content simultaneously.
Station Teaching: Teachers divide content and students, each taking responsibility for a specific group or topic.
Team Teaching: Both teachers share the instruction, actively participating in the lesson together.
Increased teacher-student ratio, allowing for more personalized attention.
Differentiation to meet diverse learning needs.
Models collaboration and teamwork for students.
Key Principles for Success:
Communication: Open and regular communication between co-teachers is crucial. This includes planning sessions, feedback discussions, and addressing any challenges that arise.
Mutual Respect: Each teacher brings unique strengths to the collaboration. Respect for each other's expertise and ideas is essential for a successful partnership.
Flexibility: Co-teaching requires a willingness to adapt and be flexible. Teachers may need to modify plans based on student needs, assessment results, or other factors.
Shared Goals: Co-teachers should have a clear understanding of shared goals and objectives. This ensures that instruction is aligned and focused on common outcomes.
Professional Development: Ongoing professional development opportunities can enhance co-teaching partnerships by providing teachers with new strategies and insights.
Co-planning and co-teaching foster a supportive and inclusive learning environment, benefiting both teachers and students. By combining their strengths, educators can create a more enriching educational experience that addresses the diverse needs of all learners.
I am a teacher educator. I encourage deep and independent learning. I build a community of writers and learners. And also share all educational articles, Methods, Lesson Plans, educational news, events, all boards textbooks, solved papers, admissions, scholarships, and much more here.
Leave a Reply Cancel reply
Teach educator.
On this website, we provide all types of educational-related materials. Such as Montessori to Higher education Information and resources for parents and teachers of primary and secondary education. Breaking news for professionals in higher education, including college, university, and post-graduate levels. Here we are also guides focused on helping teachers and students seamlessly integrate technology into the classroom using the latest digital tools. Offers advice, tips, and tricks along with virtual education resources and mobile apps for all major platforms.
Result / Admissions
Scholarships / Loan
Text Books / Solve Notes
Editors Choice
Privacy Policy
© Teach Educator - 2023 | All rights reserved
Privacy Policy | Disclaimer
Enroll & Pay
Prospective Students
Current Students
Degree Programs
Co-Planning
What is co-planning.
Co-planning is where two teachers who are going to teach together use one of the models of co-teaching to decide how they will implement instruction to meet the needs of all students. During the planning process the general goals of the lesson are developed along with ways to meet the academic and/or behavioral needs of individual students. Depending on the type of co-teaching used, the amount of planning time that is needed varies.
Why is co-planning important?
Co-planning is very important for co-taught teams to effectively meet the needs of all students. Without co-planning, lessons that are developed may just address the general needs of students in the classroom. If students in the classroom have unique academic or behavioral needs, without co-planning, accommodations may not be developed to ensure these specific students' needs are met in the co-taught setting.
What are some strategies to assist in co-planning? When you start to plan for instruction, remember to consider using the 5 different types of co-teaching. You also may want to use the co-planning book which is available from  Knowledge by Design  or from the ( CEC website ). This book is a tool that allows the general educator to plan lessons as he or she always does and then for the special educator to write accommodations into the lesson. A sample of the format that is used in the book is provided below. In addition the book contains numerous other tools you might want to use to assist with the co-teaching process. Here is the process presented in the book that should be followed in a co-taught lesson.
Page 1 - Completed by the General Educator
This page is the typical lesson plan a general educator would create. However, for co-teaching to be effective the general educators must plan their lessons at a minimum a week in advance. They do not need to provide detailed lessons but at least a thumbnail sketch of what they will teach and students will learn in the upcoming week. With this level of preparation, more accommodations can be made for students with disabilities. 
Lesson Big Idea/Goal
3 Digit Conversion
Teacher led activities on process on the board
Students will complete 10 problems with 90% accuracy
Page 2- Completed by the Special Educator in relation to what has been written by the general educator for Monday
This type of planning is what ensures special educators are focusing on "what is special about special education." If the special educator goes in and only follows the general educator's plans, then there is not a need for individualized instruction. Instead, the special educator should know students' individual learning and behavioral needs and be planning for those needs. 
Type of Co-Teaching
Academic or Behavioral Modifications
Notes - Either teacher can write comments in this section
One Lead-One Support - I will work with individual students and then maybe go into an alternative teaching model if time and students are struggling.
I will provide Phoebe and Alex with a calculator.I will be offering Tasha points throughout class for on-task and quiet behavior. Sam will need to give his responses verbally to his peer mentor who will write his responses for him.
I am worried about Zachary - He is one of our top students, and I think he is bored. Can we talk about this at our planning on Wed.
Thanks for the new markers for the class dry erase boards?
40 Hour Workweek
Share the post.
Click above to copy the link.
Productivity Strategies , Teaching Tips & Tricks , Podcast Articles | Feb 7, 2016
6 ways to make co-planning lessons more efficient
By Angela Watson
Founder and Writer
Lesson planning is too important, challenging, and time-consuming to try to do ALL of it on your own. This is especially true if you're a new teacher, or new to the curriculum, standards, or grade level. It's wonderful to utilize the experience of other teachers and time-tested instructional strategies so you don't have to spend as long planning out your lessons.
Many teachers already plan with their grade level or subject area teams, but in many cases, it's not working particularly well. Either the meetings consume massive amounts of time — I know teachers who spend five hours a week co-planning — or personality conflicts keep the endeavor from being productive. So, let's look at some different ways to efficiently co-plan.
Want to listen to this post instead of read?
This post is based on the latest episode of my weekly podcast,  Angela Watson's Truth for Teachers . A podcast is like a free talk radio show you can listen to online, or download and take with you wherever you go. I release a new 10-15 minute episode each Sunday and feature it here on the blog to help you get energized and motivated for the week ahead. 
1) Give each group member a clearly-defined set of responsibilities according to individual strengths
One way is for each teacher on the team to pick a unit or part of a unit and create the lesson plans. Another option (for elementary teachers) is for each person to pick a subject area to plan for. You can stick with the same subject throughout the quarter/semester/year, or switch it up.
The idea is for each team member to choose an area where she or he feels knowledgeable and has valuable ideas and activities to contribute.  You may want to have each person be responsible for not only writing the lesson plans but also for making all the photocopies and gathering materials as well.
Keep in mind that this approach can be helpful even if your team members each have very different teaching styles. You don't have to plan the activities for one another; if your admin requires extremely detailed, multi-page lesson plans for every day, chances are good that you don't use every word of those plans to actually teach your lessons, and they're just for documentation purposes.  So, co-plan the official lesson plans and then each of you can tweak the implementation to fit your personal teaching style.  It's a whole lot quicker than writing everything out from scratch yourself!
I do NOT recommend meeting as a team and creating each lesson together unless you are highly simpatico, have similar teaching styles, and a wonderful rapport.  Otherwise, the process will take three times as long as it should. Instead, you should each plan out the subject or unit you're responsible for, and then bring those completed lesson plans to a team meeting to tweak.
2) Keep co-planning meetings on track with a planning template and an effective leader
If you want or need to do the actual planning in the meeting itself, make sure you use a planning template in which each team member brainstorms a number of effective strategies/activities for teaching each skill in the coming week or unit, and comes to the meeting with that template completed.  This prevents you from wasting time brainstorming ideas during the meeting: simply share out your pre-determined activities, and choose the ones you want to use.
You also want to try to empower an effective leader on your team to run the meeting. If the person who is responsible for leading your team meeting won't redirect others when they go off on tangents or can't make decisions, determine who is the most forthright, no-nonsense member of your team, and consider approaching him or her.
You might say,  "We've been running out of time to plan lately. ___, I know you're really good at working efficiently and managing time. Would you be willing to help us stay on track?"  Or, volunteer to keep things moving yourself,  "I've been thinking about how we can make sure we have enough time to plan for the whole unit. Do you want me to set a timer for each one of these discussion points?"
3) Collaborate more efficiently with the cloud
If your team doesn't want to use a lesson planning website/app like  planbook.com  which offers a collaborative planning option, I'd highly recommend using the free tool Google Drive.  You can create Google Docs or Google Spreadsheets for your lessons, whichever you prefer, and share them with your team.  Colleagues can add comments or make edits if you allow them to, meaning each person can offer input on lesson plans at a time that is convenient for him or her, rather than all sitting down together in a meeting. With Google Drive, all changes are saved in real time automatically. You never have to worry about having the updated version, and you can write/edit at the same time as your co-workers if needed. I also like that you can easily see what each person contributed.
When using Google Drive with your team, you can either have one large shared Google Doc or folder or each keep your own individual docs that you share. If you have separate ones, make sure everyone agrees on a similar format so it's easy to navigate, and you can quickly copy and paste the text into your lesson plans.
4) Share the burden for photocopying, laminating, and other material preparation
If your entire team is required to give specific benchmark assessments, unit tests, worksheets, etc., devise a system where each of you takes turns preparing those materials. On my grade level team, we each chose a month to prepare all the required photocopies and tests for the team. Since there were five of us, that meant I only had to handle that responsibility twice a year! Our team leader stayed on top of the system, sent out reminders, and followed up as needed. This was so much more effective than all five of us making the same photocopies!
5) Make the best of whatever your co-planners offer and consider their lessons a framework
Someone you co-plan with probably won't pull their weight or will provide lesson outlines that you would never dream of using in your classroom. Any energy you spend being resentful about this is completely wasted. Try to be as specific as possible about what you need from your co-worker, compliment him or her on a job well done (to reinforce the type of performance that's helpful to you), and speak up for yourself if you're being taken advantage of. Beyond that, remind yourself that you can only control your own actions, and don't allow your energy to be drained by a less-than-helpful colleague.
Don't resist the idea of co-planning just because you have a different teaching style than your colleagues.  Stay focused on what you CAN use from them!  There are very few times when it would be easier to create something from scratch yourself than to adapt what someone else has already done,  especially in regards to formal lesson plan documentation that's required by administration. Think of their plans as a framework for your own. Accept the lesson plans your team members provide and simply leave out the stuff you don't want to implement, inserting your own ideas instead.
If certain team members are much stronger than others at lesson planning, divide responsibilities another way.  This is especially useful for larger teams: There's no reason for six, seven, or more people to all spend time writing lesson plans that they then must agree upon. Have half the team be responsible for planning the lessons, and the other half be responsible for preparing the materials and/or other tasks. Get creative! I once volunteered to run test copies through the Scantron for a colleague in exchange for her taking over my dismissal duty in the afternoons. We were both convinced we'd gotten the much better deal! If you're great at lesson planning, ask your colleagues to take over something you don't enjoy. If you don't feel confident with your planning abilities right now, offer to trade this task for something a colleague would appreciate help with.
No point being unhappy about things u can't change; no point being unhappy about things u can. Click To Tweet
6) create your own separate co-planning strategies apart from your grade level team.
Many teachers love the idea of co-planning, but either can't get their colleagues on board or don't trust them to follow through and provide effective resources.  However, if you have only ONE teacher you feel you can co-plan with, you've effectively cut your planning burden in half!  Team up with that person for everything from gathering supplies to researching ideas online.
Co-planning with just one or two colleagues you respect is also an effective strategy when you officially co-plan with the whole team but end up finding your own activities, anyway. Partner up with a colleague whose teaching style is similar to yours and split the work of tweaking the official lesson plans!
You can also look for someone outside your school to team up with. Is there another teacher in your district or state you can co-plan with? I used to plan sometimes with a good friend who taught elsewhere in my district, and we learned so much from hearing about how teachers at one another's schools addressed each learning standard.
Even if you don't currently know another great local teacher in your grade or subject area, you can seek them out online.  There are all kinds of Facebook groups for teachers, Twitter chats, Instagram hashtags, etc. that will allow you to find like-minded teachers and collaborate. With tools like Google Drive, Skype, Facetime, Voxer, and so on, you don't have to meet face-to-face to plan, and there's no reason for you to be stuck doing everything alone.
Subscribe to the podcast in iTunes
Subscribe to the podcast in Stitcher
The Truth for Teachers Podcast
Our weekly audio podcast is one of the top K-12 broadcasts in the world, featuring our writers collective and tons of practical, energizing ideas. Support our work by subscribing in your favorite podcast app–everything is free!
Angela Watson
Sign up to get new truth for teachers articles in your inbox.
This message was right on time! It confirmed some conclusions I've come to because of a "difficult" co-planning situation that has arisen this year. While there's nothing I can do with regards to the other person involved this still leaves me feeling positive about my decision to work on things within my control and let the chips fall where they may.
I've experienced the benefit of seeking out like-minded others when collaborative planning wasn't available at my former school, the success of co-planning when the workload is split equitably with common grade level/subject area planning, and now the issues that arise when someone refuses to pitch in (when collaborative planning is mandated by administration). No matter what, ANYTHING can be a learning experience – even if it's "what not to do."
Your podcasts, including "guest speakers" are ALWAYS uplifting and helpful.
Thank you for the kind words! You've shared some great wisdom here. I appreciate your comment.
Hey, anything you can do to decrease the amount of time spent lesson planning is going to free up time for you, your family, and for all those other school requirements and obligations.
Thanks for the article!
Exactly! Thanks for your comment.
I am looking for some ideas and strategies to plan both science and history in the same week our prior framework was we did history first semester and Science second. Now we are going to bring them together all year with a thought of first semester history three days and Science two then reverse second semester. I teach fourth grade and have a new team teacher and would like to set up some new and inspiring methods. I am thinking that I could plan history for both of us and science could be her focus for both of us.
Leave a Reply [Cancel reply]
Your Name *
Your Email *
Your Website
More resources on this topic
Mar 22, 2015
Dave Burgess' truth: Collaborating with colleagues who don't support your creativity
Nov 20, 2016
5 of your trickiest teacher co-worker problems solved
Sep 6, 2015
How to keep your team's positivity/innovation from alienating co-workers
Join our community of educators
If you are a teacher who is interested in contributing to the Truth for Teachers website, please click here for more information.
Join over 87,000 educators who follow us on Pinterest
Join our community of over 160,000 teachers on Facebook
Join our brand new community on TikTok
X / TWITTER
Join over 22,000 teachers who network with us on X / Twitter
Join over 23,000 teachers who connect with us on Instagram
TEACHERSPAYTEACHERS
Join 22,327 educators to learn about new resources
What is Co-Teaching? An Introduction to Co-Teaching and Inclusion
Share on Facebook
Share on Twitter
Share on LinkedIn
Co-teaching is not a teaching assignment – co-teaching is a teaching experience.
Elizabeth Stein in Elevating Co-Teaching Through UDL
Check out our handbook Elevating Co-Teaching Through UDL by veteran educator and co-teacher Elizabeth Stein to learn more about implementing Co-Teaching practices and Universal Design for Learning into your classroom.
What is Co-Teaching?
Co-teaching is the practice of pairing teachers together in a classroom to share the responsibilities of planning, instructing, and assessing students. In a co-teaching setting, the teachers are considered equally responsible and accountable for the classroom. Co-teaching is often implemented with general and special education teachers paired together as part of an initiative to create a more inclusive classroom.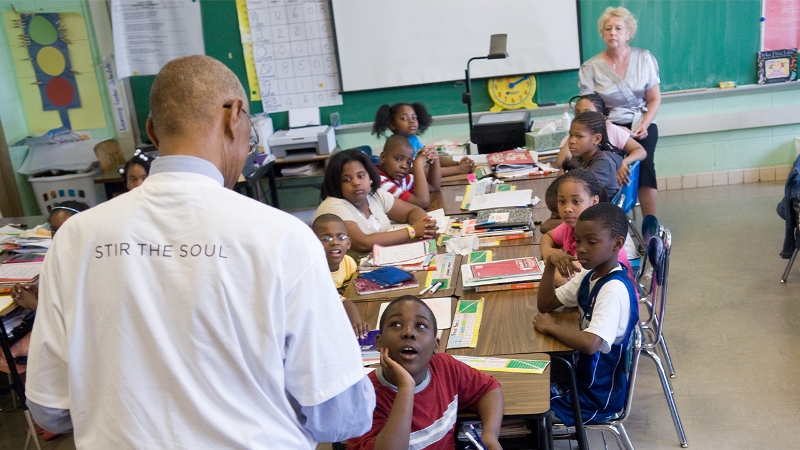 A pair of co-teachers in their classroom
Inclusion is "a belief system that embraces the reality that diverse individuals are included within a positive learning environment." (Stein, 2016, p. 8) The movement towards inclusion has its roots in the Individuals with Disabilities Education Act (IDEA), a federal law providing rights and protections for students with disabilities and ensures that students with disabilities have access to a free and public education (FAPE) in the "least restrictive environment" (LRE) to "the maximum extent that is appropriate" (Lee, n.d.; Morin, n.d.) An inclusion classroom is often chosen as the least restrictive environment since it allows students with special education needs to receive the support they require as part of their Individualized Education Program (IEP), build a stronger social connection with their peers, and benefit from the curriculum of the general education class.
As you may have guessed, having two teachers leading a classroom opens up many opportunities for students as well as the teachers. Some of the benefits of co-teaching in an inclusion classroom include (Ferguson, Desjarlais, & Meyer, 2000):
More opportunities for one on one interaction between students and teachers, leading to stronger relationships.
Students with disabilities have access to the general education curriculum as required by law, which includes the classroom community and activities they otherwise wouldn't take part in.
Students still have opportunities for specialized instruction when needed.
All students can benefit from the additional supports, resources, and diversity in the classroom.
Increased independence for students with disabilities.
Stronger, more creative, lessons due to teachers sharing the planning process with each other.
Teachers are able to support one another by complimenting each other's strengths and weaknesses, building camaraderie and dividing the work load in the classroom.
How do co-teachers work together?
A co-teaching partnership can be put into practice using a variety of methods. Co-teaching is typically implemented using one of the following six models (Cook & Cook, 2004):
One Teach, One Observe
In this model, one teacher instructs while the other observes students to identify issues and assess their performance. This method allows the observing teacher to provide feedback on which content and activities are most effective for students, allowing the co-teaching pair to continually improve their practice and best meet the needs of all students in their classroom.
One Teach, One Drift
This approach is similar to the 'One Teaches, One Observes' model, but while one teacher is instructing the classroom, the second teacher provides additional assistance and support to students as needed.
Station Teaching
With station teaching, the lesson is divided into segments as the teachers each instruct part of the lesson at independent stations or rotate between groups of students. This allows teachers to provide specialized support when delivering content in areas they may have more expertise in, or if their style better fits a certain part of a lesson.
Parallel Teaching
In the parallel teaching model, the teachers divide the class into two groups and they instruct each group with the same content simultaneously. In this arrangement, the smaller groups allow closer supervision and more opportunities for interaction between the students and teacher.
Alternate Teaching
In this method, one teacher handles a larger group, while the other teaches a small group who need specialized attention and additional supports.
Team Teaching
Team teaching requires the strongest partnership, but can be one of the most fulfilling methods of co-teaching. With team teaching, the co-teachers share responsibility and deliver instruction at the same time as a "tag team".
Implementing Co-Teaching Models
A co-teaching pair doesn't necessarily use the same teaching model every day. The method chosen by the teachers is determined by their individual teaching styles, the unique needs of the classroom, and the lesson being taught. When the co-teachers are prepared to use various models and are comfortable sharing their classroom as equals, the experience for students can be seamless and effective.
Of course, there is an adjustment period for new co-teachers, and the teachers must be dedicated to making their partnership work. Co-teachers must manage varying levels of preparation for each model, differences in their knowledge and teaching styles, and the individual needs of students. In a future blog post, we'll review methods for co-teachers to improve their partnership and resolve conflicts that preventing them from providing the most effective instruction in their classroom.
To learn how to successfully build and sustain a co-teaching partnership using Universal Design for Learning, read Elevating Co-Teaching Through UDL by Elizabeth Stein, or join CAST's mailing list for updates on future blog posts, webinars, and book releases!
Additional Co-Teaching resources:
You can find some additional resources with advice and background on co-teaching concepts at the following websites:
Two Teachers In The Room blog by Elizabeth Stein
Collaborative Team Teaching: What You Need to Know , by Amanda Morin
6 Steps to Successful Co-Teaching , by Natalie Marston
Collaborative Team Teaching: Challenges and Rewards , by Marisa Kaplan
References:
Cook, L., & Friend, M. (2004, April 29). Co-Teaching: Principles, Practices, and Pragmatics. Participants Guide. Paper presented at New Mexico Public Education Department Quarterly Special Education Meeting, Albuquerque. Santa Fe, NM: New Mexico Public Education Department.
Ferguson, D., Desjarlais, A., & Meyer, G. (2000). Improving Education: The Promise of Inclusive Schooling [Brochure]. Newton, MA: National Institute for Urban School Improvement.
Lee, A. (n.d.). How IDEA Protects You and Your Child [Web log post]. Retrieved from Understood.org (accessed March 8, 2017).
Morin, A. (n.d.). Least Restrictive Environment (LRE): What You Need to Know [Web log post]. Retrieved from Understood.org (accessed March 8, 2017).
Stein, E. (2016). Elevating Co-Teaching Through UDL . Wakefield, MA: CAST Professional Publishing.
Cover photo by Chicago 2016 / CC BY 2.0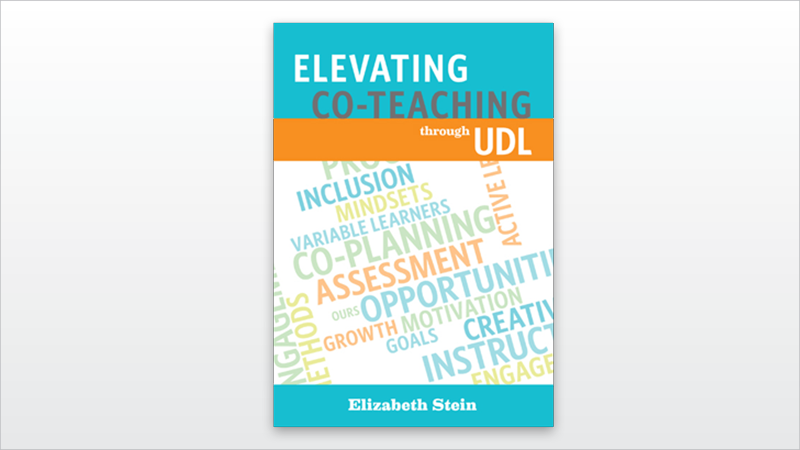 Order your copy today!
Elevating Co-Teaching Through UDL by Elizabeth Stein is available as paperback ($34.99, 242 pages, ISBN: 9781930583580) and EPUB ($34.99, ISBN: 9781930583597) format.
Get Elevation Co-Teaching Through UDL
Lavinia Group
Insight Education Group
Course & Account Access
Video Platform Account Access
All Graduate-Level Courses
Course Bundles
Fast Track Courses
Hybrid Learning Courses
Flex Credit Courses
Learning Pathways/Certificates
Masters with ACE
Doctorate with ACE
Course Formats
Course Categories
State Requirements
University Partners & Transcripts
Course Pricing
Group Savings
Bundle & Save
Flex Credit Savings
New Customer Discounts
Refer & Earn $25
All-Access Subscription
Hours Only PD Courses
New Teachers
Substitute Teachers
Education Solutions
Small Districts
Medium Districts
Large Districts
Pre-Service and Faculty
Build Your Program
On-Demand Professional Development
On-Demand Flex Credit
Starter (Video Library)
Professional / Enterprise
Schedule an Intro Meeting
Downloadables
Lesson Plans
Presentations
Video Blogs
Frequently Asked Questions
Chat with Us
April 7, 2021
Special EDition: Co-Planning for Success
Phillips Academy teachers Ms. Salvador, Mr. Mancini, and Mr. Capozzi co-plan an ELA lesson
In my last post, I wrote about the importance of co-teaching. I highlighted several approaches that co-teachers can use to maximize their instruction, including high-leverage models such as station teaching and parallel teaching. These approaches were first introduced over two decades ago by Friend, Reising, and Cook (1993). Since then, much has been published about the rationale for co-teaching and the impact that reducing the student-teacher ratio (i.e. small group instruction) can have on student learning. Why, then, is it that so many "co-taught" classrooms still implement the One Teach, One Assist model where the general educator leads the class and the special educator circulates? The answer is simple…
This model requires little to no common planning.
allows teachers to deliberately select the best co-teaching approach to deliver the curriculum, content, and instructional strategies. For example, a review of literary elements might be best presented through station teaching while modeling how to write a DBQ essay might work well in small groups using parallel teaching.
Despite the benefits of co-planning, many co-teachers do not plan instruction together. Barriers include scheduling challenges and unclear expectations. But the number one reason? Lack of time. However, technology such as Google Hangouts, has made remote co-planning a viable option. Click here to learn more about how to co-plan lessons using Google Hangouts and Google Drive.
So what are realistic co-planning expectations? How can we co-plan when we don't have time in our schedule? What do co-taught lesson plans look like? Where does co-teaching fit into the CPS Framework for Teaching? These are some of the questions that will be answered at the next Best Practices in Co-Teaching Workshop on Wednesday, February 5. This session will be held at NTA from 4:30-6:30pm and all teachers, coaches, and administrators are welcome to attend. Click here to register now!
Related Content
Sarah Murphy
A Teacher's Guide to Award-Winning Children's and Young Adult Books in 2023
Keely Keller
Supporting Teacher Clarity to Elevate Student Learning
Search the k12 hub, more from teaching channel.
Page-Turners of the Year: A Teacher's Guide to Award-Winning Children's and Young Adult Books in 2023 Step into the enchanting world of literature with our
"Clarity precedes success." — Robin S. Sharma, Author As an educational leader, you are in an excellent position to help teachers increase the effectiveness of
Essential Guiding Questions and Strategies for Using Classroom Video
In education, integrating video into your reflective practice can be transformative for both new and veteran teachers. Imagine having a special lens that allows you
Want to partner with us?
We're always looking for new authors! If you're interested in writing an article, please get in touch with us.
Subscribe to our Newsletter!
Get notified of new content added to K12 Hub.
I am a Teacher or Teacher leader
I am a District or School Administrator or Leader
#118. Five time-saving co-planning strategies
by Tan Huynh | Jul 27, 2020 | Blog , Teacher Collaboration
Co-planning is an essential part of the collaborative instructional cycle (Honigsfeld & Dove, 2019). If you are new to co-planning  or have a limited amount of time for co-planning, this post shares my personal top five most used strategies when co-planning. I hope you find them helpful!
High-Impact Co-planning (HICP)
Let's pretend that I'm giving you a task: to put four large stones, a handful of pebbles, and a pile of sand into a gallon mason jar. In what order will you place these items? Most people would see fairly quickly that they need to space the four large stones first as they take up the most space.
It is the same concept for HICP. Co-planning a bulletin board – like the pile of sand – takes up less space and produces significantly fewer results than planning an end-of-unit summative assessment – the big stones. Not everything is worth co-planning.
The topics that support multiple days of learning need to anchor our co-planning Twitter . These include:
Unit planning
Whole-class novels
End-of-unit projects
Standards mapping
Summative assessments
Essential question sequencing
Rubrics and success criteria
Extended writing tasks (lab reports, essays)
A single session of co-planning on any of these topics will carry you and your colleague through a full unit. Though you will have to meet briefly to readjust on a daily or weekly basis, HICP will prevent you from starting from scratch each time you co-plan. These are the anchoring items of your co-planning, and they are less stress-inducing than planning the day-to-day details.
Content-Product-Process
Content-Product-Process is my go-to strategy when working with colleagues. This framework comes from Carol Ann Tomlinson and is used to differentiate work (2015). I use it to determine:
Content : what topics and content standards do students have to learn.
Product:  what students have to produce to demonstrate mastery (e.g., a report, poster, animated video, essay, infographic).
Process:  how students will learn the content (e.g., lectures, videos, readings, simulations, group work, individual study).
Features of Academic Language: Word, Sentence, Discourse
Teachers often ask how can they be teachers of language when they are a science, PE, design, math, art, music, or drama teacher?
And the answer is: They need to be teachers of the language used in  their  content area. To be a teacher of language in this way means focusing on the three different features of academic language:
Word/phrase level:  the content-specific, Tier 3 words needed to understand the content (e.g., supply-demand, photosynthesize, D minor).
Sentence level:  the sentence structures used to communicate about content-related topics (e.g., According to the data, when the shape of the plane changes, the distance it travels increases).
Discourse level:  the order of ideas from sentence to sentence or paragraph to paragraph (e.g., a design brief might be organized by the problem, research, plan, specifications, prototypes, final product, and evaluation).
This framework of language comes from the WIDA Consortium , and teachers can use it when they are confused about how to support language learners.  Sustained co-planning  that focuses on these text structures will have an even bigger impact. By using this method, even a drama teacher can be a teacher of language – the language of drama.
WIDA Key Uses: Command Terms
WIDA conducted a research study on the most common command terms used from kindergarten through college. They organized these command terms into four categories, which they called  Key Uses  (Gottlieb, 2013):
When co-planning, identify the command term(s) that students are responsible for demonstrating as they learn the content and engage with the assignments. Once we identify the command terms, we are better prepared to co-plan since each command term comes with different vocabulary to use:
Recall:  In the beginning, then, after that, second, finally
Explain:  As a result, therefore, due to, a consequence, this occurred because
Argue:  The most important, the least effective, the most significant factor
Discuss:  As Abdul said, according to Ichigo, in contrast to Roberto's suggestion
Co-planning with WIDA's Key Uses is another way content teachers can become teachers of language – specifically, the terminology and prose of their content area. Being a teacher of language means making visible the language used by experts . Twitter
Deconstruct and Sequence
As you plan with colleagues, work to  deconstruct  the task into its essential elements. For example, the parts of a research paper can consist of:
The problem
The effects
The possible solutions
Once we've deconstructed these parts, then  sequence  the order in which students must present the information. Each part then becomes a mini-task that students have to engage with. The assignment becomes more manageable. When we co-plan this way, students are less likely to say, "I do not know where to start."
This strategy can also support backward design. Once we can identify all the different parts of the assignment, we can more easily sequence them to move students cognitively towards a specific end goal in mind. When designing assessments, remember that the order of the task is just as important as the content.
Co-planning must be in the service of our colleagues, not just our students Twitter . We joke in our field that sometimes our colleagues run away when they see us walking towards them to co-plan. Introducing them to ideas like these can help stop the running!
When co-planning is an efficient use of time and in the service of our colleagues' responsibilities, our colleagues will see co-planning with us less like a job they have to do and more of a step they want to include in their teaching.
The best part is that these strategies can be used in-person or virtually.  The virtual nature of a co-planning session does not change the need to focus on high-leverage items.  I hope these strategies serve you and help make your colleagues eager to co-plan with you. They have certainly helped me structure and maximize my limited co-planning time.
Gottlieb, M. (2013).  Essential Actions: A Handbook for Implementing WIDA's Framework for English Language Development Standards . Madison: Board of Regents of the U of Wisconsin System.
Honigsfeld, Andrea, and Maria G Dove. Collaborating for English Learners: A Foundational Guide to Integrated Practices. Second Edition . Corwin, 2019.
Tomlinson, C. A. (2005).  The Differentiated Classroom: Responding to the Needs of All Learners . New Jersey: Pearson.
Sharing an assets-based narrative about multilinguals
Recent Posts
Ep 157. Engineering equitable assessments July 6, 2023
Ep 156. Set up co-teaching relations that work from the start July 6, 2023
Ep 155. A Lesson Template That Works for All Students July 6, 2023
Ep 154. Classroom lessons from learning my sixth language February 21, 2023
Reading (16)
Visible Literacy (16)
WIDA's Essential Actions (21)
Writing (11)
Teacher Collaboration (35)
Sheltered Instruction (11)
Grammar (2)
Technology (21)
Vocabulary (6)
Lesson Design (9)
Go to Charlotte.edu
Prospective Students
About UNC Charlotte
Campus Life
Graduate Admissions
Faculty and Staff
Human Resources
Auxiliary Services
Inside UNC Charlotte
Academic Affairs
Current Students
Financial Aid
Student Health
Alumni and Friends
Alumni Association
Advancement
Make a Gift
Module 2: Co-Planning and Co-Teaching with your Teacher Candidate
The co-teaching and co-planning models are based on the idea that an experienced teacher (Clinical Educator) and the teacher candidate work collaboratively to best meet the diverse needs of students. Dissimilar to the "traditional student teacher model," the goal is to provide the teacher candidate a realistic experience (planning, teaching, reflecting, and assessing student work) with the Clinical Educator remaining engaged with the students as a co-teacher and co-planner. The Office of School and Community Partnerships, at UNC Charlotte strongly believes in the power of co-planning and co-teaching and has adopted this method of collaboration as a building block with our partner schools to support the teacher candidate's experience. Co-planning and Co-Teaching allows P-12 students to see both the teacher candidate and Clinical Educator as educators in the classroom. Additionally, the Clinical Educator gradually releases responsibility to the teacher candidate with both parties feeling confident in a smooth transition through co-planning and co-teaching at the onset of the experience.
How & When to implement these strategies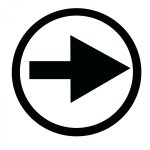 Beginning of YLI Semester
Review the co-teacher and co-planning strategies and resources together. Involve the teacher candidate in planning. Begin using co-planning strategies. Have your teacher candidate observe you to make suggestions on ways they feel comfortable beginning co-teaching.
During YLI Semester
Continue Involving the teacher candidate in planning. Select co-planning strategies that begin to shift the responsibility. Beginning looking for opportunities to try co-teaching strategies. Debrief them to find ones you both like.
Beginning Student Teacher Semester
Continue Involving the teacher candidate in planning. Select co-planning strategies that begin to shift the responsibility. Implement a variety of co-teaching strategies. Plan lessons that specifically target co-teaching methods that work well for you both.
During the Student Teacher Semester
Continue co-planning allowing the teacher candidate holding most of the responsibility at times. Continue co-teaching when it most benefits the lesson or the teacher candidate wants to implement a new strategy and may need further assistance.
Benefits of Co-Planning & Co-teaching
Student to teacher ratio is reduced
Varied instructional options for all students
Diversity of instructional strategies and delivery
Differentiated methods increases student access, engagement, and participation
Clinical Educators
Continued collaborative and leadership skills (instructional coaching)
Increased options for implementing varied instructional strategies (ex: flexible grouping)
Dividing classroom responsibilities and classroom management
Opportunities to explore new strategies with support of another teacher
Teacher Candidates
Enhanced collaboration and leadership skills/strong
Low risk environment to explore instructional strategies and classroom management
Increased confidence
Increased opportunities for deeper understanding curriculum and teaching
Supports in the moment adjustments and reflective practice
Co-Planning Strategies
Co-Planning occurs when the Clinical Educator and Student Teacher sits together to review plans utilizing the co-planning guide displayed below. Co-Planning is strongly encouraged for Clinical Educators and teacher candidates. The Co-Planning Strategy Guide below displays the gradual release of the responsibility for planning to the teacher candidate.
Strategy: One Reflects, One Plans
Definition:
One teacher thinks aloud about the main parts of the lesson and the other writes the plan.
For many teachers, thinking aloud requires articulating what may be automatic. The mentor must ask, "How do I know how to plan?"
Lesson content is a reasonable fit
Provides transparency early in the planning process
Considerations:
May be a gap between what one teacher spoke out loud and what the other teacher heard
Critical that the same teacher is not always in the same role
Strategy: One Plans, One Assists
Each co-teacher designs a portion of the lesson, although one clearly has the main responsibility. The team works jointly on final planning.
It provides an opportunity for each co-teacher to contribute new resources to the other.
Better instructional materials
Clear division of planning responsibilities
Final planning done jointly
Initial planning done separately so it may be challenging to mesh ideas
Critical that the same teacher is not always in the assistant role
Strategy: Partner Planning
Co-teachers take responsibility for about half of the components of the lesson plan. Then they complete the plan collaboratively.
Requires that the lesson be visualized as components for which initial planning can be planned independently.
It is efficient
Each teacher provides initial planning for only part of the lesson
Pieces of lesson may not mesh well
Requires initial visioning together
Strategy: One plans. One Reacts
One co-teacher plans, and the other makes suggestions for improvement.
This approach is most used in traditional mentor-intern settings.
Provides opportunity for good feedback and discussion of the lesson plan elements
Gives planner spaces for creativity in initial plans
Provides response after the fact instead of in real time
Initial approach may be off base
One may feel like an assistant
Strategy: Parallell Planning
Each member of the co-teaching team develops a lesson plan, and the two bring them together for discussion and integration.
Parallel planning provides an opportunity for teachers to learn from one another.
Allows for compare and contrast of examples and points of emphasis
Gives both teachers the opportunity for creativity in planning
Duplicate work done
Teacher may become heavily invested in their own plan, making collaboration difficult
Strategry: Team Planning
Both teachers actively plan at the same time and in the same space with no clear distinction of who takes leadership.
At any given time, either teacher may take the lead in suggesting tasks, questions, flow of the lesson, etc.
Resulting lesson plan may be better than a place done independently by either
May be more efficient because feedback and collaboration happen in real time
One co-teacher may be less prepared to contribute than the other
Requires high levels of trust and communication
Co-Teaching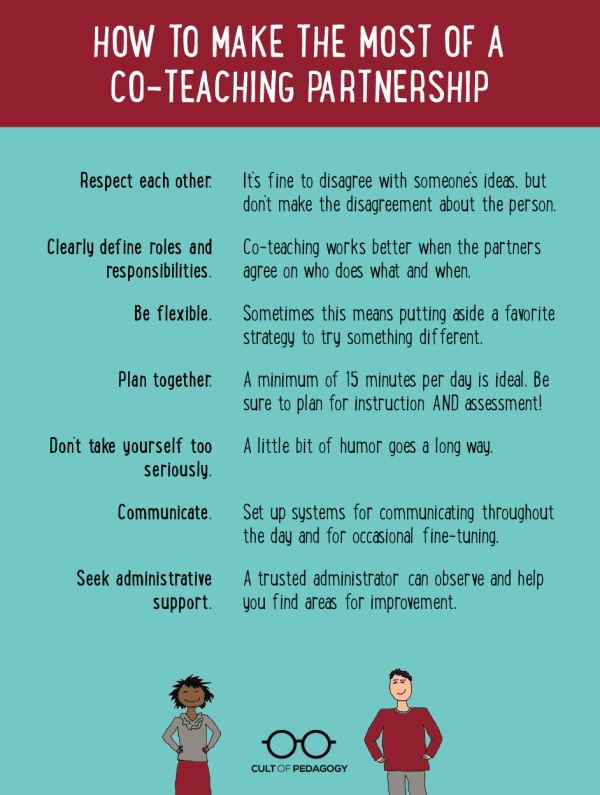 Have you ever planned an amazing lesson and as you are delivering it thought, "I wish I had an extra person to help make this happen?" Co-Teaching is that wish come true! Now that you have learned about the Co-Planning model, you are ready to begin envisioning what planning will look like in action through Co-Teaching. The Co-Teaching Strategy Guide below displays the various ways you can co-teach with your Student Teacher to maximize your impact on your students and their diverse needs. As stated above, Co-Teaching is strongly encouraged for Clinical Educators and Student Teachers as we transform the internship from a traditional model to a realistic teaching experience with the guidance and expertise of the Clinical Educator.
While not every strategy listed below will best fit your personality or style, we ask you to consider being open minded to trying each and reflecting with your Student Teacher to decide which ones work best for you both. You may be wondering how and when you may implement these strategies. A suggested start may begin with you taking the lead while co-teaching, but by the final semester of the student teaching experience all co-planning, co-teaching, and co-assessing responsibilities should be led by the teacher candidate.
Co-Teaching Strategies
One teach, one observe.
One teacher has primary responsibility while the other gathers specific observational information on students or the instructing teacher. The key to this strategy is to have a focus for observation.
One Teach, One Assist
One teacher has primary instructional responsibility while the other assists students with their work, monitors behaviors, or checks for understanding.
Station Teaching
The co-teaching pair divides the instructional content into parts and the students into groups. Groups spend designated time at each station. Often an independent station (or more than one) will be used along with the two teacher stations.
Parallel Teaching
Each teacher instructs half of the students. The two teachers address the same instructional material and present the material using the same teaching strategy. The greatest benefit to this approach is the reduction of the student-teacher ratio.
Alternative (Differentiated) Teaching
The teachers use different approaches to explaining the same information or skill. The learning outcome is the same for all students; however, the instructional methodology is different.
Team Teaching
Both teachers are actively involved in the lesson. From a student perspective, there is no clearly defined leader as both teachers share the instruction, freely interject information, assist students, and answer questions.
Supporting Your Teacher Candidate During Co-Planning and Co-Teaching
Try to stay mindful of expectations. In the hands of an experienced educator, teaching and planning often looks seamless. This can be disconcerting to a teacher candidate who tries to replicate what the Clinical Educator.
Many novice educators have very high expectations for themselves and are devastated by their early results in the classroom. It is also possible for us, the experienced teachers, to set our expectations too high for someone just beginning in the classroom.
For many teacher candidates they have written single lesson plans in their methods courses. However, they may need additional support in writing lesson plans that demonstrate their comprehensive knowledge from those courses into actionable lesson plans that meet the needs of all students in their internship.
It is important to remember that teacher candidates have a lot to learn during their time in the internship and we believe that your support and coaching will help them develop the skills necessary to be successful.
If at any point the teacher candidate needs additional support with lesson planning during the student teaching semester, we advise Clinical Educators to employ parallel planning and alert the Faculty Site Coordinator. If additional team planning is necessary, the Faculty Site Coordinator can join the team planning intervention to offer additional support.
Need further assistance with Co-planning or Co-Teaching?
St. Cloud State University's Co-Teaching Resources.
Things to consider as you move forward:
How do you see co-planning and co-teaching benefiting your experience with your teacher candidate?
Which strategies are you most looking forward to implementing?
How do you plan to implement co-planning and co-teaching with your teacher candidate?
Source Figure: 4.2 Co-Teaching Approaches from Friend, M., & Bmsuck, W. D (2009). Including students with special needs. A practical guide for classroom teachers (4th ed., p. 88). Boston: Allyn & Bacon. Copyright 2002 by Pearson Education.
Division of Education & Leadership . Western Oregon University. (n.d.). https://wou.edu/teachered/clinical-practice-and-licensure/cooperating-teacher-training/module-4/#lesson-4-1.
Elected Officials
Departments, boards & authorities.
Agriculture Land Preservation Board
Area on Aging Advisory Council
Behavioral Health Advisory Board
Cambria Somerset Authority
CYS Advisory Board
Conservation District Board
Conservation Recreation Authority (CCCRA)
Drug & Alcohol Planning Council
Fire Advisory Committee
General Financing Authority (Hospital)
Industrial Development Authority
Johnstown-Cambria County Airport Authority
War Memorial Authority Board
Library System Board
Penn Highlands Community College Board
Planning Commission
Police Advisory Committee
Redevelopment Authority
Retirement Board
Solid Waste Authority
Tax Assessment Appeals Board
Transit Authority (CamTran)
Planning & Community
Child & Spousal Support
Dog, Hunting & Gun License
Employment Opportunities
Marriage License
Duman Park Pavilion Resources
Agendas & Minutes
County Contacts
Sheriff's Sale
Veteran Info
Election Results
Jury Duty Info
Real Estate Records/Deeds
RTK & Open Records
Court Fines
Support Payments
Child Abuse
Criminal Activity
Senior Abuse
Open Records
Cambria County Active Employees – 2024 UPMC Health Plan – Summary of Benefits and Coverage
Cambria county active employees - 2024 upmc health plan - summary of benefits and coverage.
previous post: UPMC MyHealth Online Flyer
next post: 23 AGENDA 1207
200 South Center Street Ebensburg, PA 15931 (814) 472-5440
LIVE | WORK | PLAY VOLUNTEER | INVEST
Quick Links
Most Requested
Commissioners
COVID 19 Resources
Copyright 2023 Cambria County, PA  –  All Rights Reserved
Medical Benefits
Your state of colorado medical plan options.
When choosing a medical plan, it's important to consider what you want to cover and the total cost of that coverage. For the same service, you may pay higher costs with one plan than you will with the other. The ideal medical plan should cover most of your health needs and stay within your budget. 
The State offers multiple health plan options through Cigna and Kaiser Permanente. Compare Cigna and Kaiser Permanente coverage costs on our plan costs page .
Cigna   Kaiser Permanente
What You Can Expect
These services are available with all medical plans (Cigna and Kaiser Permanente).
Preventive Care Visits
Preventive care visits are always no-cost; they help keep you healthy by screening for and preventing serious medical issues. Annual check-ups, flu shots, immunizations, and some tests and screenings are all examples of preventive care.
Outpatient Mental Wellness 
Outpatient mental health services include treatment that takes place in a clinical setting, office, or hospital, but does not involve an overnight stay. These services are 100% covered by the copay medical plans.
Virtual Visits & Telemedicine 
Skip the waiting room and speak with a board-certified physician over the phone or on your computer. Phone consultations and online video visits give you direct access to a licensed medical professional.
Cigna members: To schedule an appointment, visit mycigna.com or download the myCigna mobile app.   Kaiser Permanente members: Visit kp.org or download the Kaiser Permanente mobile app. 
Choose the Right Place for Care
Need medical attention but it's not a true emergency? Save time and money by using virtual visits or urgent care. Emergency room costs are expensive, and visits can take hours. Virtual visits and urgent care centers provide quality care just like the ER, but you could save hundreds of dollars and hours of time for non-life-threatening issues.
Non-Life-Threatening
Life-Threatening
Virtual Visit
Benefits include lower costs, speaking to a doctor from anywhere, and reducing the time you wait to speak to a medical professional. 
Reasons to go:
Fever & flu symptoms
Cough, cold & sore throat
Skin irritations & rashes
Primary Care Provider
Benefits include in-person examinations, low in-network pricing, and the familiarity of a regular personal care provider.
Everside Health offers a high-quality, cost-effective, advanced primary care solution for our Cigna members. Benefits include standard one-hour appointment windows, no-cost preventive care and chronic condition management, and more. Visit our Everside Health page to learn more.
Earaches and infections
Preventive care
Regular treatment for chronic conditions
Abdominal pain
Urgent Care Center
Benefits include lower costs than an emergency room visit and there are often same-day visits available. 
Earaches & infections
Minor cuts, bumps, sprains & burns
Allergic reactions
Animal bites
Mild asthma
Urinary tract infections
Back & joint pain
Emergency Room (ER)
ERs are necessary for life-threatening conditions.
Sudden numbness or weakness
Disorientation or difficulty speaking
Seizure or loss of consciousness
Severe cuts or burns
Uncontrolled bleeding
Coughing or vomiting blood
Heart attack or chest pain
Have questions about your State benefits package? Contact your agency's  benefits administrator .
Cancer Screening Webinars
Join CDPHE and DHR to learn about common cancers, your screening options, and the State of Colorado's related health care benefits.
Cervical Cancer ( Cervical Cancer Lunch and Learn Recording ) ( Cervical Cancer Lunch and Learn Presentation Slides )
Lung Cancer ( Lung Cancer Lunch and Learn Recording ) ( Lung Cancer Lunch and Learn Presentation Slides )
Colorectal Cancer ( Colorectal Cancer Screening Webinar Recording ) ( Colorectal Cancer Screening Webinar Presentation Slides )
Breast Cancer ( Breast Cancer Lunch and Learn Recording ) ( Breast Cancer Lunch and Learn Presentation Slides )
Gender-Affirming Care
Learn about the gender-affirming care options available to State of Colorado employees below. 
Webinar Recording - January 4, 2022
Presentation Slides
Find out about insurance programs, pay types, leave options, and retirement planning.
Discover resources to have a balanced career at NIH.
Resources for training to develop your leadership and professional skills.
Access your personnel information and process HR actions through these systems.
Information for managers to support staff including engagement, recognition, and performance.
Discover what's next at the NIH.
Flexible Spending Accounts Program – New 2024 Limits for the HCFSA and LEX HCFSA
The IRS has increased the Flexible Spending Account (FSA) contribution limits for the Health Care Flexible Spending Account (HCFSA) and the Limited Expense Health Care FSA (LEX HCFSA).  For 2024, participants may contribute up to an annual maximum of $3,200 for a HCFSA or LEX HCFSA. The Dependent Care FSA (DCFSA) maximum annual contribution limit did not change for 2024.  It remains at $5,000 per household or $2,500 if married, filing separately.
The minimum annual election for each FSA remains unchanged at $100.
You may enroll in an FSA for 2024 during the current Benefits Open Season which runs through December 11, 2023, midnight ET.  For FSA information on the Open Season, view the FSA Open Season announcement .    If you want an FSA in 2024, you must enroll for 2024 during the Open Season.  Your 2023 enrollment will not automatically continue into next year. 
To enroll or make a change to your contribution amount for 2024, or if you have questions, contact FSAFEDS by calling 877-372-3337 or by going to www.FSAFEDS.com .
Back to Newsletter
Contact us to ask a question, provide feedback, or report a problem.

The Motley Fool
Social Security: Here's Exactly How Much Your Benefits Will Go Up in 2024
Posted: December 4, 2023 | Last updated: December 6, 2023
Social Security is a major source of income for millions of older adults, and many people rely on their benefits heavily in retirement. In fact, around 1 in 5 adults age 50 and older have no other source of retirement income outside of Social Security, according to a 2023 report from the Nationwide Retirement Institute.
Next year will bring good news for retirees, as benefits will be going up beginning in January 2024. Plus there are a few other big changes on the horizon next year.
Retirees are getting a raise in 2024
Most years, retirees will receive a cost-of-living adjustment (COLA) to help Social Security maintain its buying power. In 2023, beneficiaries earned a whopping 8.7% COLA -- the highest in roughly four decades. Next year, however, the COLA will be substantially smaller at just 3.2%.
While that may not seem like a good thing on the surface, these adjustments are tied to inflation. A higher COLA means costs have risen significantly, so a smaller adjustment next year suggests that inflation has slowed in 2023 compared to 2022.
That's good news for retirees, as lower costs will probably have more of an impact on your retirement than a larger COLA.
The new COLA will take effect in January 2024, and the average retired worker will see his or her benefit amount increase from $1,848 per month to $1,907 per month -- a difference of $59 per month.
Other Social Security changes coming next year
A benefit increase is only one change retirees will see in 2024. A few other changes include a higher maximum benefit amount, a higher maximum taxable earnings limit, and benefit increases for other Social Security recipients.
Higher max benefit: In 2023, the most you can receive from Social Security is $4,555 per month. Starting in 2024, though, that maximum will be increasing to $4,873 per month -- a whopping $318 monthly difference.
Higher maximum taxable earnings limit: The maximum taxable earnings limit is the highest income subject to Social Security taxes. The closer you get to this limit, the more you'll receive in benefits each month. It's also a crucial figure if you're aiming for the max payments, as you'll need to consistently reach this limit to collect as much as possible each month. In 2024, it will increase to $168,600 per year -- up from $160,200 per year in 2023.
Higher payments for other beneficiaries: Retirees aren't the only ones receiving the COLA in 2024. All beneficiaries -- including disabled workers, widow(er)s, and spouses collecting spousal benefits -- will receive higher payments starting next year.
Another change coming in 2024 is higher earnings test limits for workers. If you continue working after claiming Social Security and haven't yet reached your full retirement age (FRA), your benefits could be reduced depending on your income.
Source: Social Security Administration
Higher income limits mean workers will be able to earn more in 2024 without seeing benefit reductions, which could result in higher payments each month.
Social Security is a lifeline for many older adults, and annual benefit increases can go a long way. When you know what to expect in 2024, it will be easier to start preparing your budget accordingly.
The $21,756 Social Security bonus most retirees completely overlook
If you're like most Americans, you're a few years (or more) behind on your retirement savings. But a handful of little-known "Social Security secrets" could help ensure a boost in your retirement income. For example: one easy trick could pay you as much as $21,756 more... each year! Once you learn how to maximize your Social Security benefits, we think you could retire confidently with the peace of mind we're all after. Simply click here to discover how to learn more about these strategies .
The Motley Fool has a disclosure policy .
More for You
Donald Trump's Repeated Attacks on Mother and Daughter Could Be His Undoing
One in four who had Moderna or Pfizer Covid jabs experienced unintended immune response
Inside $100 billion ghost city with abandoned skyscrapers and empty malls
Finally! A Definitive List of What Those F1 – F12 Keys Do
My late brother's three children say they should receive the same annual monetary gifts their grandmother gives to her other children. Are they entitled?
Taco Bell has brought back one of its most beloved items
Marjorie Taylor Greene Suffers Insult to Injury
Hamas uses rape as a weapon of war – and the BBC has only just noticed
The 38 Most Valuable Toys From Your Childhood That Are Worth a Lot of Money Now
How to Stop Spam Calls for Good
I'm a Financial Expert: Always Buy the Cheapest Version of These 10 Things
The U.S. Can Afford a Bigger Military. We Just Can't Build It.
Democrat Election Win Declared Void After Voter Fraud Discovered
Weight-Loss Drugs Pose Risks for People Over 65, Experts Say
I've been married 13 years - I live in fear of the Government tearing us apart
Lamborghini rolls out four-day week for factory staff
Watch: Giannis Antetokounmpo uses one dribble from half-court to dunk
Containership Hits Bridge in the Suez Canal
AOC claims women will face 'genital examinations' if biological men barred from female sports
Winter Weather Warnings for 12 States as Clipper System Moves Across US
2024 Medicare Advantage plan updates
Updates include dual complete special needs plans.
Learn more about UnitedHealthcare Medicare Advantage updates for 2024. Get the latest details on plans, coverage areas and resources to help you care for UnitedHealthcare Medicare Advantage plan members. 
Explore our new resources
2024 Medicare Advantage Plan Overview : Check out our new interactive guide for everything you need to know about our Medicare Advantage plans, including coverage area updates for each state. 
Quick reference guides: Get quick answers for doing business with us and find information for delegated provider groups. 
3 things to know about our Medicare Advantage plans
Members enrolled in health maintenance organization (HMO) and point of service (POS) plans are required to choose a participating primary care provider (PCP) in their plan's home service area. Members of preferred provider organization (PPO) plans are strongly encouraged to select a PCP.
Referrals are not required for members who travel outside their plan service area and access covered services using the UnitedHealthcare Medicare National Network or their UnitedHealth Passport® travel benefit.
Prior authorization and advance notification requirements will apply to some services. Learn more about our prior authorization requirements .
Additional resources
Check out these resources for information on prior authorization, processing claims, protocols, contact information, training and education:
Care provider administrative guides and manuals
Health care professional education and training
UnitedHealthcare plans by state
Medicare Made Clear: Introduction to Medicare
Chat with a live advocate 7 a.m.–7 p.m. CT from the  UnitedHealthcare Provider Portal.  You can also contact UnitedHealthcare Provider Services at 877-842-3210, TTY/RTT 711, 7 a.m.–5 p.m. CT, Monday–Friday. 
PCA-1-23-03077-Clinical-NN_10182023

Discover more news
Get personalized news