Skip to main content
Skip to primary sidebar
For Kids Who "Hate Art": Make Your Own (Giant) Comic Strip
For kids who love comic books and superheroes, but aren't naturally inclined to drawing projects, a giant comic strip art project will encourage them to start drawing
When a child decides they "hate art" there are a number of things you can try, So far, we've made tape art and handprint art , but this "make your own giant comic strip on the floor" is the best art project for art-reluctant kids.
Although we have worked on small books before, when he was obsessed with Star Wars , working on a giant comic combines gross motor movement with fine motor work, like it did with our giant dot to dot activity.
If your child doesn't enjoy handwriting, it doesn't need to be a deal breaker. For us, the main objective was to facilitate artistic creativity, not practice handwriting .
Note: this post contains affiliate links that may earn commission.
Very, very large sheet of paper. As I've said many times on this blog, every family should have a big giant roll of paper .
Markers. I suggest washable markers if you are concerned about stray marks on your floor (or wherever!)
Instructions:
Cut a long piece of paper and lay it down on the floor. If you don't have a giant roll of paper, you need to get one right away! We use ours all the time !
Draw the comic book boxes. You can do this part if your child is reluctant. I drew the boxes and my son decided on the title of the comic strip.
Create and draw the story. This process will be different for every child. Let them figure out the process of how they want to tell the story with illustrations.
For us, my son narrated the story, but I helped him figure out what scenes needed to go in which boxes by discussing the size of each box, how many were left after each point of action, and so forth. Conversely, your child may want or need no help at all.
Because I was doing the actually writing, he dictated the dialogue and captions. As you can see, he is a brilliant storyteller.
My older son decided there was no way he was going to be left out of this action and he set about creating his own giant comic strip, with no help from me whatsoever.
More drawing activities:
Drawing game: exquisite corpse
Tessellations math art
Tandem drawing
Reader Interactions
maryanne @ mama smiles says
January 07, 2015 at 2:23 pm
Comic strips were my breakthrough when I was learning French (living in France) as a kid! My kids love them, too, and we will definitely try your activity!
Sheila @ BrainPowerBoy says
April 24, 2015 at 12:53 pm
Just saw this on Pinterest today - don't' know how I missed your post earlier! We love (LOVE) comics at our house and this is going to be a big hit. My son is constantly drawing comics and I know he is going to really enjoy going b i g. thanks. sharing.
Erica MomandKiddo says
April 27, 2015 at 12:41 pm
Catrina says
July 12, 2016 at 9:05 am
I'm planning a "Super Hero" camp for the kids at my summer camp. This is a great idea! I think it will reach all the skill levels (since we have kids from age 5 to 11 here). Thanks for sharing!
Dominique says
February 24, 2017 at 3:09 am
Hi Catrina,
I know this is a few months late but I'd love to know how the super hero camp went?? I'm currently helping to plan one based around English language learning with a 'Superhero Science' theme. Would be great to know what went down particularly well, and what didn't?
Leave a Reply Cancel reply
Your email address will not be published. Required fields are marked *
This site uses Akismet to reduce spam. Learn how your comment data is processed .
Use the form on the right to contact us.
You can edit the text in this area, and change where the contact form on the right submits to, by entering edit mode using the modes on the bottom right.
123 Street Avenue, City Town, 99999
(123) 555-6789
You can set your address, phone number, email and site description in the settings tab. Link to read me page with more information.
Comic Art Ed!
Comic Art Ed! Scholarship focusing on bringing comics into the visual arts classroom. A resource for educators, students, cartoonists and the curious.
Comic Books in Arts Education!
Welcome to Comic Art Ed! Here you will find resources on bringing comics into the visual arts classroom. My name is Cathy G. Johnson, and I'm a cartoonist, printmaker + educator. This website documents my work and serves as a resource for other educators, students + cartoonists. Go to the About page to learn more about me and Comic Art Ed!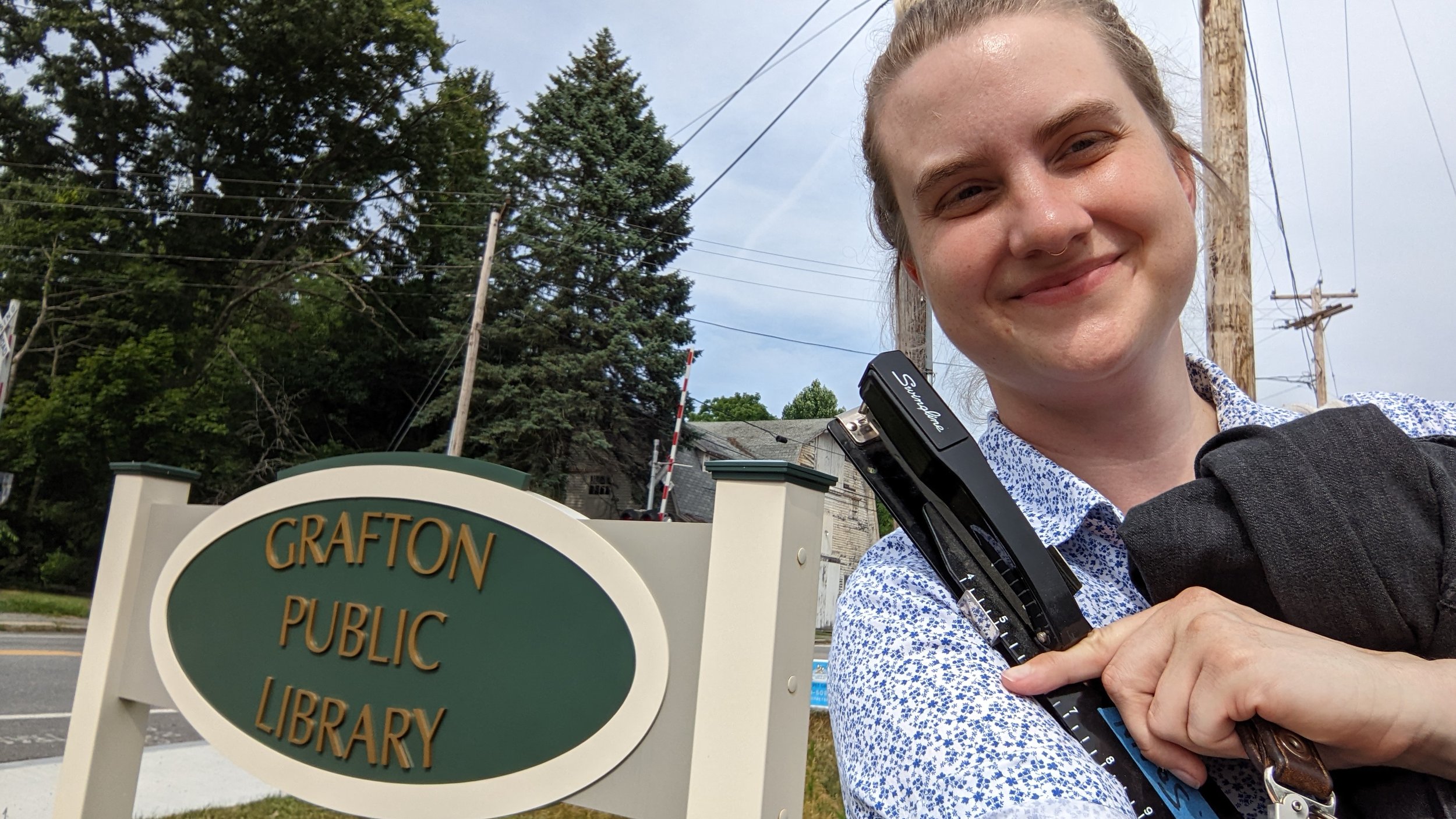 In this all-ages workshop, students will have the opportunity to brainstorm their own superhero identity, design a symbol, then create a simple cardboard + paper costume.
Making Comics is for Everyone!
What comic books offer students is unique and exciting. Comic books are not only a combination of art and literature, but become a whole much greater than the sum of its parts. Cartooning offers exciting opportunities for innovative thinking — a child's imagination can build worlds on the page. Comics are amazing, and belong in the classroom! Book a visit today!
I love libraries! I've been very lucky to get invited to a few recently to do author visits and comic drawing workshops. Here are a few photos and graphics from those events! We had a really wonderful time and I can't wait to come back.
I was recently invited by the Grafton Public Library in Massachusetts to teach a Teen Zine Workshop. It was so much fun! Description of Workshop: Learn about the history of zines and then create your own! From political activism, fan comics, to punk rock and Star Trek, you can make a zine about almost anything!
Here is a fun comic art activity that gets students thinking and sharing about their past, present and future! I created this project for my art enrichment after school students. I wanted students to think about their goals and their future, particularly with a hopeful attitude, since the pandemic has been harsh and difficult on developing kids.
"Where do ideas come from?" Ideation is something that can stump many art students. We never want to tell students what they should make! On the flip side, doodling is spontaneous, free, and unrestrained drawing. Every student, no matter their artistic skill or background, can doodle. How can the power of doodling be harnessed to help students create, develop, and feel confident in their original ideas?
Feelings Faces, an Elementary Social-Emotional Arts Activity. The idea of this activity was to use the facial expression of cartooning to help build students' empathy, and to create tangible images for their intangible feelings.
6-Panel Stories, a Collaborative Comic Art Activity. At a local middle school, I had the pleasure of teaching a 5-week after school comics club. In this activity, students each have the opportunity to contribute to a 6-panel comic story.
Figure drawing is a well-known art exercise for students of all ages, and can be approached in many different ways. The excitement and joy of cartooning is not the precision of drawing, but the communication through marks and forms. Therefore, my approach to figure drawing with my students is not about capturing the perfect form, but instead capturing the emotion that the figure is conveying.
The Comic Warriors were 12 mighty young people, ages 5 - 13. Here you will find their class anthology, collecting all 12 stories, drawn + printed in August 7 - 11, 2017.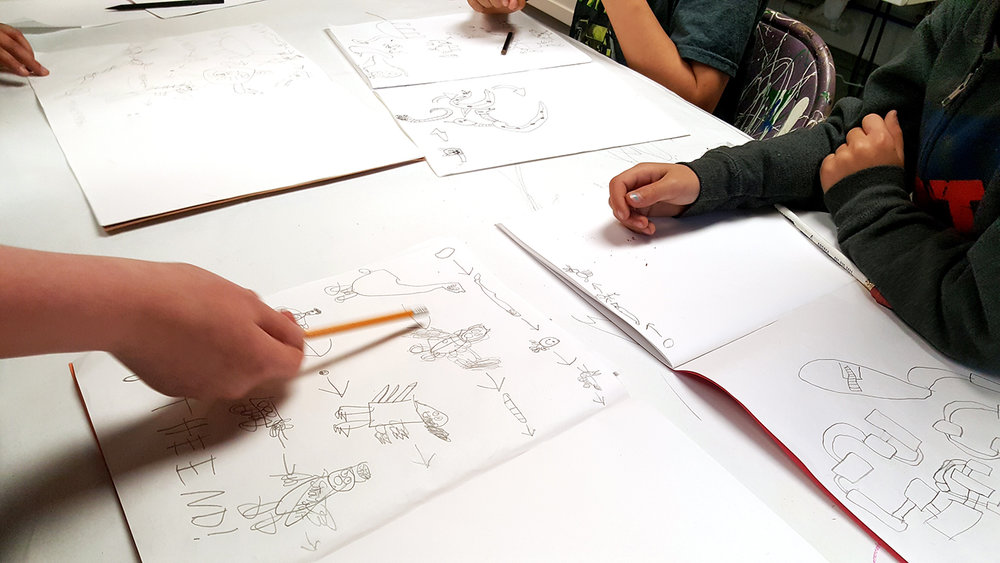 Every Spring Break I get to teach a one-day workshop with students ages 6-13. This community center time is a great opportunity for students to explore creativity outside of school hours....
Featured Posts
Using Calmer Con in Massachusetts as a case study, Cathy and remus discuss accessibility at comic conventions. Cathy shares details about the event and the superhero costume workshops she taught. What is the difference between providing accommodations for disabled people, versus building something accessible from the start?
On this episode, remus tells us all about open access archives! What are they, why do they exist, and how can we use them? Also, Cathy and remus recap the Small Press Expo (SPX) 2023 and talk about their experiences with indie comic book conventions in a "post" pandemic world.
In celebration of our 50th episode and our 6th anniversary, let's go to the movies! remus and Cathy discuss movies about cartoonists; not comic book movies, but movies where cartoonists themselves are the protagonist. Funny Pages, Chasing Amy, Monkeybone, and more!
A young adult graphic novel about high school wallflower Belle Hawkins, who ends up in a love triangle after tutoring the girlfriend of her crush. A charming representation of lesbian identity.
Inspired by a recent situation , Cathy and remus talk about what it's like being an award judge behind the scenes, the differences between censorship and criticism, and challenge future judges to reconsider what's important.
Contact me to set up a workshop + visit:
Donate to support comic art ed.
Sign up with your email address to receive news and updates to your inbox!
Drawing a Dialogue is a podcast discussing comics in historical + educational contexts by Cathy G. Johnson + e jackson. Learn more here!
Artwork by e jackson.
Click here for all episodes!
The breakaways.
The Breakaways is my new middle-grade graphic novel with First Second, AVAILABLE NOW!
Age Range: Middle-grade, 8 - 11 years
Themes: Friendship, relationships, overcoming odds, slice-of-life
Summary: Quiet, sensitive Faith starts middle school already worrying about how she will fit in. To her surprise, Amanda, a popular eighth grader, convinces her to join the school soccer team, the Bloodhounds. Having never played soccer in her life, Faith ends up on the C team, a ragtag group that's way better at drama than at teamwork. Although they are awful at soccer, Faith and her teammates soon form a bond both on and off the soccer field that challenges their notions of loyalty, identity, friendship, and unity.
The Breakaways is a portrait of friendship in its many forms, and a raw and beautifully honest look into the lives of a diverse and defiantly independent group of kids learning to make room for themselves in the world.
Comic Art Ed! on Social Media!
comic strip art
All Formats
Resource types, all resource types, comic strip art.
Rating Count
Price (Ascending)
Price (Descending)
Most Recent
Personal Narrative Comic Strip Art and Writing Lesson!
Realidades 3, Chapter 2 Comic Strip - Drawing activity w/ art vocabulary
Comic Strip Art - Roy Lichenstein
Sub Plan Art Comic Strips | Art Lesson
Pop Art Comic Strip Art Project- Lichtenstein Middle School Art History Lesson
Art Graphic Design Cartoon Comic Strip AUSTRALIA History Create Drawing Lesson
Art Drawing Illustrating Finish the Comic Strip Worksheet Handout Template
Comic Strip Template - Three Panel Comic Book Clip Art Set for Commercial Use
Comic Strip Art Project - Lesson Plan
Science Comic Strip Project | Printable Art Activity | Fun Assessment
The Speckled Band Reading Comprehension Test & Art Project ( Comic Strips )
Funny Thanksgiving Draw 3 Comic Strips with Penguins, Pie & Pianos Art Activity
Art History Comic Strip Template | Printable Research Activity Template
Drawing/ Painting Sketchbook Assignment: Comic Strips / Serial Art
Pop Art Comic Strip Lesson Plan
Art : Methods & Techniques, Comic Strips
Comic Strip Template Pages for Creative Assignments
Photosynthesis Project - Comic Strip Activity - Fun Assessment
Life Cycle of a Star Project - Comic Strip Activity - Fun Assessment
Natural Selection Project - Comic Strip Activity - Fun Evolution Assessment
Roy Lichtenstein Art History Workbook - Pop Art - Famous Artist Unit
Mitosis Project - Comic Strip Activity - Fun Assessment
Comic Strip Template BUNDLE - 86 PCS - Comic Book
Newton's Laws of Motion Project | Comic Strip Activity | 1st 2nd 3rd Law
We're hiring
Help & FAQ
Privacy policy
Student privacy
Terms of service
Tell us what you think
The Center for Cartoon Studies
Teaching comics.
This page both archives teaching content from National Association of Comics Art Educators, along with dozens of additional teaching comics resources for all ages developed by The Center for Cartoon Studies community.  In recent years the comics medium has flourished, generating much interest from the literary, art, and educational communities. This site will continue to expand with more content as it is developed. Recommended grades, along with Common Core subjects are noted on several resources.
For more information or suggestions, contact [email protected]
Teaching Resources
• Individual Exercises • Complete Lesson Plans • Study Guides and Handouts • Complete Syllabi • Books and Magazines
This section contains a list of short exercises. This material has been contributed by various cartoonists and educators. All items are available in printer-friendly adobe .PDF format.
• The Wrong Planet: Timing, Closure and Editing contributed by Paul Hluchan • Design Vs. Drawing contributed by James Sturm • It's Easy as Changing the Film contributed by Patrick Welch • Editing contributed by James Sturm • Show Time Passing contributed anonymously • Basic Storytelling… Lights, Camera, Action! contributed by Patrick Welch • Intro to Lettering contributed anonymously • Intro to Inking contributed anonymously • Describing the Complex World contributed by Patrick Welch • Silent Gag Cartoon Exercise contributed anonymously • Poetry and Comics contributed by James Sturm • Comic Strip: Character/Place/Situation contributed anonymously • The Irony of Humor contributed anonymously • Autobiography Do's and Don'ts contributed anonymously • Think Before You Ink contributed by James Sturm • Scenes as Building Blocks contributed by Tom Hart • 20 Questions for Characters contributed anonymously • Intro to Caricature contributed anonymously • Character Exploration Initial Writing Exercises contributed by Tom Hart • Form and Chaos contributed anonymously • A Definition of Comics contributed by James Sturm • Closure Exercise contributed anonymously [ closure_handout ] • Expressive Lettering and Balloons contributed anonymously [ lettering_template ] • Iconographic Language in Comics contributed anonymously • Cartoon Characters Doodled from Memory contributed by Ivan Brunetti • Practicing Text-Image Relationships contributed by Christian Hill
Back to the top ↑
Complete Lesson Plans
This section contains a list of lesson plans. This material has been contributed by various cartoonists and educators. All items are available in printer-friendly adobe .PDF format.  Each lesson plan has, listed after its title, a grade range for which the exercise is most appropriate. Many lesson plans, though, can be modified to suit older or younger classes as needed.
Little Orphane Annie: Leapin' Through the Depression contributed by Joanna Boyd Richards [ sample Annie strips .pdf 2.4MB]
Teaching Literary Devices with Comics contributed by Nancy Frey and Doug Fisher [ sample narrative .pdf 2MB]
The Serious Business of Graphic Novels contributed by A. David Lewis [ slideshow .ppt 8.5MB]
Creating and Self-Publishing Your Minicomics contributed by Mac McCool
Study Guides and Handouts
This section contains study guides which are geared toward English/literature classes as well as a studio environment. Also available here are handouts useful for class discussion. Several of the study guides contain reading questions designed to facilitate the teaching of prominent comics works.  All items are available in printer-friendly adobe .PDF format.
Study Guides: • The Complete Peanuts Volume I by Charles M. Schulz contributed by Art Baxter • Buddy in Seattle by Peter Bagge contributed by Ben Towle • Above and Below by James Sturm contributed anonymously • Locas: The Maggie and Hopey Stories by Jaime Hernandez contributed by Art Baxter • Jimbo in Purgatory by Gary Panter contributed by Joel Priddy • You Can't Get There From Here by Jason contributed by Christian Hill • Flies on the Ceiling by Los Bros Hernandez contributed by Rocco Versaci • My Troubles with Women by Robert Crumb contributed by Rocco Versaci • Ghost World by Dan Clowes contributed by Rocco Versaci • Daddy's Girl by Debbie Drechsler contributed by Rocco Versaci • Sandman: Fables and Reflections by Neil Gaiman contributed by Rocco Versaci • Palestine by Joe Sacco contributed by Rocco Versaci • Watchmen by Alan Moore and Dave Gibbon contributed by Rocco Versaci • Maus by Art Spiegleman contributed anonymously
Handouts: • The Creation of a Page contributed by Tom Hart • Three-Act Story Structure contributed anonymously • Women in Comics: An Introductory Guide contributed by Trina Robbins • Critique Talking Points contributed anonymously • Usagi Yojimbo: Step by Step contributed by Stan Sakai • Mix and Match Rows: Comics Handouts for Younger Students contributed by Ben Towle • Comics Terminology contributed anonymously • How To Read Nancy contributed by Mark Newgarden and Paul Karasik
In this section you will find a number of complete course syllabi, most if which are intended for teaching at the undergraduate level. The syllabi are divided into sections for studio classes and non-studio classes and have been contributed by instructors from institutions such as Yale, The Savannah College of Art and Design, The University of Florida, and The Massachusetts Institute of Technology, as well as others.
Comics As Literature contributed by Rocco Versaci
Comics and Animation contributed anonymously
Comics in American Culture contributed by Professor Touponce
Media in Cultural Context: Comics, Cartoons and Graphic Storytelling contributed anonymously
Survey of Sequential Art contributed anonymously
Writing About Comics contributed anonymously
Writing Scripts for Comics contributed by Mark Kneece
Introduction to Comics Art: Gateway to Visual Storytelling contributed anonymously
Reading Comics as Literature contributed by Isaac Cates
Studies in Literature and Culture: The Graphic Novel contributed anonymously
Comics Studio Class contributed anonymously
Explore Chicago: The Art of Chris Ware contributed anonymously
An Aesthetic History of Comics contributed by Dan Nadel
History of Comic-Book Art contributed by Andrei Molotiu
Image, Text, and Story: An Exploration of Graphic Novels contributed by Rachel Williams
Books and Magazines
The reference material here consists of books and magazines which may be useful to educators teaching classes in comics or cartooning. Most of the items listed are instructional in nature, but a few are critical or analytical texts relating to the cartooing artform; Scott McCloud's Understanding Comics is probably the most well known of these. Several items listed are currently out of print, but reasonably priced copies can usually be located via bookfinder.com .
The Arbor House Book of Cartooning by Mort Greenberg ISBN 0-87795-399-6 New Yorker cartoonist Greenberg shares his knowledge in this comprehensive volume. There seem to be thousands of these "how-to cartoon" books. This (along with Polly Keener's book) is one of the better ones.
The Art of Comic Book Inkin g by Gary Martin ASIN: 1569712581 Pretty good introduction to inking tools and concepts. Especially good at identifying methods of implying shade and weight on a human figure. A number of variations on the same pencils by differing comic book inking pros offer a good look at many ways a page can be successfully inked.
The Art of Dramatic Writing by Lajos Egri ISBN: 0-671-21332-6 A seminal 20th century book on playwriting, and the introduction to the "dramatic statement" inherent in any play. The book is very instructive in looking at the elements of your story and examining which are contributing to the greater theme, and which are not. Like David Mamet's book, it has little room for other opinions of how drama is constructed but certainly presents its own thesis clearly and completely.
Cartooning by Polly Keener ISBN: 0131179128 Although geared towards gag cartooning and comic strips, this book offers a great deal of information from generating ideas to tools and techniques. Covers a lot of the same ground as The Arbor House Book .
Comics and Sequential Art by Will Eisner ISBN: 0961472812 Taken from Amazon.com reader reviews: "Written years before Scott McCloud's "Understanding Comics," Will Eisner expounds upon how comics are a visual, reading experience using both words and pictures. He instructs the reader in how words and pictures can be used together to tell a story. The author must lead the reader with visual clues to each sequential image. Mood, emotion, even time can be expressed visually in a comic. Camera angles, panel borders, typefaces, all play a part in the effectiveness of a story."
Comix 2000 by L' Association Editors Essential cross section (2000 pages) of silent comics from across the globe. Countless examples of innovative silent storytelling.
The DC Comics Guide to Pencilling Comics by Klaus Janson ISBN: 0-8230-1028-7 Klaus Janson's book is a distillation of all his techniques and theories. A great book divided into 3 parts: drawing, storytelling and pencilling. Drawing focuses mostly on human anatomy. In Storytelling, he discusses the art of panel juxtaposition, including a nuanced look at juxtaposing unrelated images. He also offers an extensive and detailed look at panel arrangement, including composition both on the page and within the panel. The pencilling section offers a look at Janson's process on an entire short story, from script to finishes. Overall intelligent, humble, and masterful.
Drawing Comics Lab: 52 Exercises on Characters, Panels, Storytelling, Publishing & Professional Practices (Lab Series) ISBN: 9781592538126 This easy-to-follow book is designed for the beginning or aspiring cartoonist; both children and adults will find the techniques to be engaging and highly accessible.Featured artists include:- James Stu
DRAW! Magazine Quarterly , published by: TwoMorrows Publishing PO Box 2129 Upper Darby, PA 19082 This weighty magazine features numerous useful columns each issue. Past columns have included an extensive look at inking by Klaus Janson, a look at character design by Genndy Tartakovsky (creator of Cartoon Network's Samauri Jack ), an article on observation and set design by Batman set designer Paul Rivoche, and figure drawing by Brett Blevins.
Graphic Storytelling by Will Eisner ISBN: 0961472820 From the publisher: "A companion to Comics & Sequential Art , this book takes the principles examined in that title and applies them to the process of graphic storytelling. Eisner shows comic artists, filmmakers and graphic designers how to craft stories in a visual medium. They'll also learn why mastering the basics of storytelling is far more important than the hollow flash and dazzle seen in lesser work. Readers will learn everything from the fine points of graphic storytelling to the big picture of the comics medium, including how to: * Use art that enhances your story, rather than obscuring it * Wield images like narrative tools * Write and illustrate effective dialogue * Develop ideas that can be turned into dynamic stories. These lessons and more are illustrated with storytelling samples from Eisner himself along with other comic book favorites, including Art Spiegelman, Robert Crumb, Milton Caniff and Al Capp. "
The Hero with a Thousand Faces by Joseph Campbell ISBN: 0691017840 Seminal and definitive look at world mythology and the "shared stories" therein. From African mythology, to Norse, to American Indian, the elements of myths are often similar. Campbell outlines these and as such, furthers Jung's mapping of humanity's unconscious hopes, desires and fears.
On Directing Film by David Mamet ISBN: 0140127224 There is no better description (told in essay form and also transcribed dialogues with his students) of how to proceed from an idea to a no-nonsense visual, dramatic rendition of that idea. The book is a perfect expression of its goal to outline the thinking steps involved in planning out a scene or series of scenes. For Mamet, all the expression lies in the script and in the SHOT LIST. Even his use of actors (as people who just get up, hit their marks and say their lines and shut up) is extreme. Nonetheless, he is completely self-assured of his points of view, and in learning his method of outlining a scene before beginning the filming or drawing, I can't imagine a better explanation.
Perspective for Comic Book Artists by David Chelsea ISBN 0-8230-0567-4 Both an introduction and comprehensive course in perspective tailored specifically for Comic Book artists (and told in comics form.) People who don't know perspective will finally learn what they've been doing right. Even those that think they know perspective will probably walk away with their heads spinning and full of new insights. Exhaustive and somewhat confusing if you don't want to do the math.
Smithsonian Collection of Newspaper Comics by Bill Blackbeard ISBN 0-87474-172-6 Essential introduction to the comic strips of the early 20th century.
Story by Robert McKee ISBN 0-06-039168-5 One of the world's premiere screenwriting teachers dissects and defines the elements of a story. Sort of the Understanding Comics for screenwriters.
Syllabus by Lynda Barry ISBN 1-77046-161-2 Barry teaches a method of writing that focuses on the relationship between the hand, the brain, and spontaneous images, both written and visual. It has been embraced by people across North America—prison inmates, postal workers, university students, high-school teachers, and hairdressers—for opening pathways to creativity.
Wishes, Lies, and Dreams: Teaching Children to Write Poetry by Kenneth Koch ISBN 0-05-080530-7 A classic in its field, this book is a vivid account of a poet's experience teaching Manhattan schoolchildren to write verse. The book provides great ideas for creating assignments that excite students and get the creative juices flowing.
The Writer's Journey: Dramatic Structure for Storytellers by Christopher Volger ISBN: 0941188701 Overview of Joseph Campbell's "Hero's Journey" ideas and their use in Hollywood storytelling. Though simplistic, it is surprisingly useful if used correctly, meaning not as formulae, but as dramatic tools. Outlines a series of 12 steps in many stories — exemplified by Wizard of Oz but also evident in Titanic and surprisingly, even Tarantino's Pulp Fiction. All in all a good job of cracking open the traditional story structure and peeking inside.
Writing Down the Bones by Natalie Goldberg ISBN 0-87773-375-9 Lots of exercises to get writers going. Exercises, like the Kenneth Koch book, can be easily translated for a comic artist.
The Writing Life by Annie Dillard ISBN 0-06-016156-6 A great writer writing about the creative process. Dillard offers bits of technical information but more importantly she lays out a realistic perspective on the trials and challenges of making art and the dedication needed to persevere.
Understanding Comics by Scott McCloud ISBN: 006097625X Comprehensive examination of the mechanics of the art form; from mapping of iconographic imagery to an new nomenclature for transitions between comic panels (and a mapping of those as well.) Great overview and introduction to the intellectual tools involved in creating comics.
Your Career in Comics by Lee Nordling ISBN 0-8362-0748-3 If you want to make it as a comic strip artist, then this is the book for you. Nording looks at cartooning from three perspectives: the cartoonist's, the newspaper editor's, and the syndicate editor's. He interviews dozens of professionals providing both a broad-based view of the art form and the nitty gritty of fashioning a solid comic strip.
Promoting a Comics Curriculum
One of the primary the goals of NACAE was to assist educational institutions and individual educators interested in establishing a comics art curriculum.  The materials below are collected from various sources and outline some of the advantages of implementing sequential art/comics art classes and curricula.
A Case For Comics contributed by James Sturm
Seika University's Department of Comic Art contributed by Matt Thorn
How Comic Books Can Change the Way Our Students See Literature: One Teacher's Perspective contributed by Rocco Versaci
Comics in the Classroom contributed by James Sturm
Interview with Michael Bitz of The Comic Book Project contributed by Christian Hill
Using These Materials
Q: How am I allowed to use the material on this page?
A: Unless otherwise noted, materials on this page are free to use, reproduce, and distribute as long as they are being used for non-commercial educational purposes. Please follow these guidelines when using these materials:
You may not use any materials contained on this site for commercial purposes
You must attribute the work as described below
If you alter, transform, or build upon this work, you may distribute the resulting work only under a license identical to this one.
To properly attribute content copied, distributed or displayed from this site, include the following information: Copyright © [name of originating author] via NACAE
Connect with Us
Mfa and certificate program, make a gift to ccs, online and in-person workshops, join ccs enews, cartoon club, the schulz library, free one-week cartooning workout, a free one-week cartooning workout.
A free self-directed eCourse to improve your cartooning skills. Online, Start Anytime !
Upcoming Info Session
Are you considering applying to The Center for Cartoon Studies MFA or Certificate program? Join us for our virtual campus open house and portfolio day! Learn about the campus and the renowned collection of the Schulz Library, hear from current students and graduates, and meet faculty and staff for a portfolio review! Saturday, December 2nd, 1-4pm EST. Sign up!
THE ED KOREN SCHOLARSHIP FUND
Click here to learn more and make an online donation now.
BIPOC Cartoonist Fund Accepting Donations
CCS wants your old comics! These comics and many more were donated to support CCS's BIPOC Cartoonist Fund. If you're interested in making a comic book or cash donation drop us a line .
FREE COMICS
Cartooning in an anxious age.
Cartooning In An Anxious Age (pdf) is a free comic by Cara Bean on the act of drawing, which focuses your attention and intimately connects you with the generative act of creation. It's an inspiring read.
Let's Talk About It: A Graphic Guide to Mental Health
Created for middle and high school students, Let's Talk About It: A Graphic Guide To Mental Health is a lively and educational comic book that destigmatizes the conversation around mental health.
A 32-page comic on how our government works
Using the power of comics to teach teens about the way our government works This Is What Democracy Looks Like, A Graphic Guide To Governance is a 32-page comic book created by The Center for Cartoon Studies (CCS). This short comic guide helps to bring democracy back to the hands of the people by explaining what democracy actually means and how the whole thing works. This guide will be a great jumping-off point to learn about our government.
The Applied Cartooning Manifesto
Download a free copy of The World is Made of Cheese, The Applied Cartooning Manifesto.
© The Center for Cartoon Studies PO BOX 125, White River Junction, Vermont 05001 [email protected] 802.295.3319