Using an interview in a research paper
Consultant contributor: Viviane Ugalde
Using an interview can be an effective primary source for some papers and research projects. Finding an expert in the field or some other person who has knowledge of your topic can allow for you to gather unique information not available elsewhere.
There are four steps to using an interview as a source for your research.
Know where and how to start.
Know how to write a good question.
Know how to conduct an interview.
Know how to incorporate the interview into your document or project.
Step one: Where to start
First, you should determine your goals and ask yourself these questions:
Who are the local experts on topic?
How can I contact these people?
Does anyone know them to help me setup the interviews?
Are their phone numbers in the phone book or can I find them on the Internet?
Once you answer these questions and pick your interviewee, get their basic information such as their name, title, and other general details. If you reach out and your interview does not participate, don't be discouraged. Keep looking for other interview contacts.
Step two: How to write a good question
When you have confirmed an interview, it is not time to come up with questions.
Learning as much as you can about the person before the interview can help you create questions specific to your interview subject.
Doing research about your interviewee's past experience in your topic, or any texts that they have written would be great background research.
When you start to think of questions, write down more questions than you think you'll need, and prioritize them as you go. Any good questions will answer the 5W and H questions. Asking Who, What, When, Where, Why, and How questions that you need answered for your paper, will help you form a question to ask your interviewee.
When writing a good question, try thinking of something that will help your argument.
Is your interviewee an advocate for you position?
Are they in any programs that are related to your research?
How much experience do they have?
From broad questions like these, you can begin to narrow down to more specific and open-ended questions.
Step three: The interview
If at all possible, arrange to conduct the interview at the subject's workplace. It will make them more comfortable, and you can write about their surroundings.
Begin the interview with some small talk in order to give both of you the chance to get comfortable with one another
Develop rapport that will make the interview easier for both of you.
Ask open-ended questions
Keep the conversation moving
Stay on topic
The more silence in the room, the more honest the answer.
If an interesting subject comes up that is related to your research, ask a follow-up or an additional question about it.
Ask if you can stay in contact with your interview subject in case there are any additional questions you have.
Step four: Incorporating the interview
When picking the material out of your interview, remember that people rarely speak perfectly. There will be many slang words and pauses that you can take out, as long as it does not change the meaning of the material you are using.
As you introduce your interview in the paper, start with a transition such as "according to" or other attributions. You should also be specific to the type of interview you are working with. This way, you will build a stronger ethos in your paper .
The body of your essay should clearly set up the quote or paraphrase you use from the interview responses,. Be careful not to stick a quote from the interview into the body of your essay because it sounds good. When deciding what to quote in your paper, think about what dialogue from the interview would add the most color to your interview. Quotes that illustrate what your interviewer sounded like, or what their personality is are always the best quotes to choose from.
Once you have done that, proofread your essay. Make sure the quotes you used don't make up the majority of your paper. The interview quotes are supposed to support your argument; you are not supposed to support the interview.
For example, let's say that you are arguing that free education is better than not. For your argument, you interview a local politician who is on your side of the argument. Rather than using a large quote that explains the stance of both sides, and why the politician chose this side, your quote is there to support the information you've already given. Whatever the politician says should prove what you argue, and not give new information.
Step five: Examples of citing your interviews
Smith, Jane. Personal interview. 19 May 2018.
(E. Robbins, personal communication, January 4, 2018).
Smith also claimed that many of her students had difficulties with APA style (personal communication, November 3, 2018).
Reference list
Daly, C. & Leighton W. (2017). Interviewing a Source: Tips. Journalists Resource.
Driscoll, D. (2018 ). Interviewing. Purdue University
Hayden, K. (2012). How to Conduct an Interview to Write a Paper . Bright Hub Education, Bright Hub Inc.
Hose, C. (2017). How to Incorporate Interviews into Essays. Leaf Group Education.
Magnesi, J. (2017). How to Interview Someone for an Article or Research Paper. Career Trend, Leaf group Media.
Incorporating Interview Data
Introduction
When you incorporate original interview data into your writing, you are developing new ideas by using quotations and often sources that no one else has accessed. Drawing from interviews can liven up your writing, ground your big concepts within the specific circumstances of particular individuals, and introduce you to insights you might never have considered on your own. Additionally, interviews are an exciting way for you to provide a larger audience for people who might not otherwise have opportunities to share their stories, perceptions, and experiences.
There are lots of good reasons to incorporate original interview data into your writing. But doing so also involves making many, specific writing decisions. On this page we explore some of those decisions by considering: 1) the process by which interview data is gathered; 2) models for interview incorporation; and 3) identification of ways that writing with interview data can be like writing with information from any other source (as well as some of the unique writerly considerations that interviews raise).
Contents       Before You Write       Different Models of Incorporating Interview Data       Summarizing, Paraphrasing, or Quoting       Referring to your Interviewees       Using Verbatim or Non-Verbatim
Before You Write
Of course, before you can incorporate interview data into your writing, you need to plan and conduct your interviews and begin to analyze your findings.
Interviewing is a common form of research and information gathering in many different fields and across many different genres. In order to develop and actualize a plan for why interviews will help you answer the questions you're asking, whom you'll interview, and what you'll ask these subjects, you'll want to consult a range of resources. Talk with your instructor, mentor, or advisor about common ways of approaching interviews for this assignment or in this discipline. Additionally, many undergraduate textbooks about research in the social sciences and humanities offer introductions to interviewing. We've listed a few great resources to help you learn more.
For comprehensive introductions to research methods used in the writing research that include some information about interviews, consider:
Jackie Grutsch McKinney's book Strategies for Writing Center Research —especially pages 55-69. While Grutsch McKinney's is focused on writing center research, her close consideration of the different ways to structure interviews as well as how to plan and conduct them can be applied to all interview contexts. Additionally, her treatment of data analysis in chapter 8 provides a step-by-step guide for coding qualitative data—one of the approaches you might use to make sense of what your interview data means.
Joyce Kinkead's Researching Writing: An Introduction to Research Methods —especially pages 37-39. This is a potential textbook for that could be used for a class specifically about the formal study of writing. However, its direct and specific information about interviewing is applicable for any social science researcher preparing to use interviews for research.
These resources focus more specifically on qualitative research methods in particular and interviewing in particular:
Robert Bogdan and Sari Knopp Biklen's Qualitative Research for Education: An Introduction to Theories and Methods —especially pages 103-109. Bogdan and Knopp Biklen's treatment of interview practices provides a brief overview of how to approach and implement this research methodology.
Irving Seidman's Interviewing as Qualitative Research: A Guide for Researchers in Education and the Social Sciences —especially pages 78-94. This entire book explores interview practices, logistics, and applications, but chapter six in particular usefully details particular interviewing techniques and provides transcripted examples of some of these strategic techniques in action.
The rest of the information on this page assumes that you have learned to develop and implement your interview plan, that you've analyzed the information you've gathered, and that you're now ready to start weaving that information into your writing.
Different Models for Incorporating Interview Data
You can use interview data in many different ways. Most often, you will probably be making an argumentative or analytical point and illustrating and supporting it with evidence from your interviews. For example, in the following passage from the book Booty Capitalism: The Politics of Banking in the Philippines , Paul D. Hutchcroft, a political science professor at Australian National University, begins with an original claim, follows that with a quotation from an interview subject that exemplifies that claim, and then offers additional commentary on that issue. Note how the quotation from the interview both connects the concepts of banking and politics and introduces the prism metaphor that Hutchcroft continues into the next sentence.
The major focus of this [book] is two arenas that offer particular insights into the nature of relations between state and oligarchy in the banking system: bank supervision and selective credit allocation. "Banking," observes one former bank president, "is a prism through which to understand power politics in the Philippines." A study of the banking system highlights larger patterns at work within the political economy: how a predatory oligarchy extracts privilege from a patrimonial state, and how developmental policy objectives are continually choked out by a clamor of particularistic demands made by those who currently enjoy proximity to the political machinery. (7)
Generalizing about a Trend or Theme
Using information from an interview to support your claim is the primary purpose for incorporating interview data into your writing, but how you do this may change according to your specific intent. In what follows, we explore different models for weaving interview data into your writing and provide examples of what this looks like.
It is important to consider the politicization of the nationality responses in context. On the whole, the vast majority of republican executives did not try to influence the process, and the nationality question was a non-issue in the predominantly ethnically Russian regions. In my regional interviews I found that in the oblasts and krays, there were almost no reports of difficulty with the nationality question. Officials in those areas reported that respondents who were not ethnically Russian had no difficulty citing a different nationality. This finding corresponded with my observations of the enumeration process in Moscow. There were sporadic cases of respondents in ethnically mixed marriages registering one child as of one parent's ethnic group and the other child as of the other parent's ethnic group. However, this is a conceptual issue rather than a problem of politicization. ( 367-8 )
Quoting to Illustrate a Trend or Theme
Sometimes interviewees say things that are so strikingly similar that it is useful to draw attention to these complementary concepts and word choices by putting them together. In the following passage, Jane Calvert, a professor at the University of Edinburgh, and Joan Fujimura, a sociology professor at UW-Madison, use this strategy while writing about scientists' responses to the new and developing field of systems biology. Note that these authors carefully tie quotations to specific anonymized interviewees through parenthetical citations.
In another US university, the decision to build an interdisciplinary research centre was top-down, initiated by university and funding administrators and initially opposed by most campus laboratory scientists. The building of new interdisciplinary structures is challenging for the existing disciplinary "fiefdoms" (Biologist19) and "silos" (Biologist9 and Biologist12) "where people feel protected and safe" (Biologist19) because they are not required to step outside of their "comfort zones" (Biologist7).
Putting Two Sources in Conversation with Each Other
Sometimes writers can use one interviewee to contribute to or complicate what another interviewee says. The following paragraph from Hutchcroft's Booty Capitalism shows this practice at work. In addition to bringing two sources together, in this passage Hutchcroft also strategically incorporates paratextual insight gained from the interview process into his analysis. He uses the former governor's laughter to showcase an attitude that directly contrasts with what the former bank supervisor says.
Even when the Central Bank has acted against those who milked their banks, former bank owners have been known to use personal connections, even up to the Supreme Court, to confound Central Bank discipline. Former Governor Jaime Laya noted that even martial law "didn't seem to stop the lawsuits against Central Bank personnel." He actually laughed as he told me how the Central Bank legal office has "never won a case." But the former head of the bank supervision sector, who has herself been sued, doesn't find it a laughing matter: "Why only in this country," she exclaimed, "do the regulators go to the jail, and the bankers go scot-free?" (9)
Providing a Profile/Telling a Story
Sometimes your writing needs to focus on your interview subject as a full and complex individual. In order to analyze an issue, you need to write about this individual's background, family, and previous experiences. In this situation, you'll weave together information you gained from your interviews with quotations from this person. This kind of writing is common when you are using interviews to develop ethnographis case studies. In the following example of this technique, Kate Vieira, a professor in the Department of Curriculum and Instruction at UW-Madison, tells the story of Jocélia, an undocumented Brazilian immigrant living in Massachusetts:
Jocélia, a 22 year-old Brazilian woman who grew up in a favela (shanty town) in Brazil, came to the United States to study and to earn money. When her visa expired and the small sum she had borrowed from cousins ran out, she quit her ESL classes and began to work illegally. When I met her in 2008, she had been in the United States for 4 years, had managed to buy a house for her mother in Brazil, and had plans to buy another one for herself and a car. To earn money as an undocumented worker, she held down two jobs: one from 3 p.m. to midnight and another from 5 a.m. to afternoon. One evening, exhausted from having not slept in days, she nodded off as she drove home from work, resulting in a serious accident that led her to a friend's house in South Mills and to a Catholic retreat. When I came here, I was not a youth who had fun. I only worked, and this made me a little frustrated, you know? Sad, lonely, understand? And nobody could change my mind. I had to work . . . But the Lord showed me something different, that I can't live only for work . . . So I went there [to the retreat] and I really felt that the Lord touched us. It was a very good experience . . . (444)
Attending to Language
As explored in greater depth in the discussion about verbatim transcription , sometimes you want to analyze or consider the language an individual uses or the implications of certain kinds of words or even pauses. For example, in the following passage, Beth Godbee, a writing and rhetoric professor at Marquette University, meticulously considers the implications of her subjects' specific words and phrasing. Although this example is taken from Godbee's analysis of a conversation she recorded between a writer Susan and a writing center tutor Kim as opposed to a direct interview she conducted, the attention she pays to language could just as well be applied to information from an interview.
Kim reinforces Susan's qualifications: "You're gonna—you're the specialist in this area. You know these kids; you see what know the effects are, and maybe where some change could be made" (lines 558-561). Here Kim revises her projection of Susan as a "specialist" in the future tense ("gonna," as in "you're going to be") to a statement of her current position ("you're," or "you are now"). By repairing her speech mid-utterance, Kim emphasizes Susan's current status and qualifications to write, thereby reframing her institutional power to assert her right to speak. (185)
Summarizing, Paraphrasing, or Quoting
As the above examples show, interview data is incorporated into writing through summaries, paraphrases, or quotations. In some ways this makes working with interviews just like working from any other kind of outside. As you choose between summarizing, paraphrasing, or quoting, a guiding question for you to consider is: What is most important about this information?
Is it the overall story it tells or the general perspective it provides? Then summarizing might be the best option.
Is it the particular take on a complex issue? Then paraphrasing that idea in your own words to make it as understandable as possible might be best.
Is it the memorability, specificity, or authenticity of the language the source used? Then probably go with a quote, but be sure to contextualize this quotation by providing necessary background and commentary.
Of course, in working with interview data, you might go with all three incorporation strategies by, for example, summarizing early in a paragraph to provide an overall sense of what this source is saying, paraphrasing a key idea or two, and then including a poignant quotation that exemplifies the argument you are making. For more information about quoting and paraphrasing outside sources in your writing, check out our resources on this issue .
Referring to your Interviewees
In certain writing situations, you are expected to identify the people you interviewed by using their real names. This is often the case in journalistic writing as well as when you have consulted with an expert on an issue. But, even in these writing contexts, you must receive permission from them to associate their words and insights with their names by clearly establishing whether or not they are talking with you "on the record."
However, when you are conducting interviews for academic research, you are frequently expected to use pseudonyms so that your subjects' responses are confidential. Protecting your subjects' privacy should be your primary priority. They are giving you access to personal experiences and trusting you with their individual insights and observations; you must honor that trust by anonymizing their identities so that readers can't figure out who your subjects were. Developing a research methodology that keeps all of your data confidential is an important part of the IRB (Internal Review Board) process, and in order to receive permission to do research at your institution you'll need a plan that outlines how you'll achieve confidentiality. Part of that plan will involve using different names for your subjects. But selecting pseudonyms is a bigger issue than just choosing different names at random.
Ruth Allen and Janine L. Wiles, Social and Community Health scholars at the University of Auckland, have closely considered the many issues surrounding pseudonym selection in connection to their original psychological and health-related research. They advocate that researchers think critically about this process and even bring their subjects into these discussions of identity and confidentiality. You need to be thoughtful about what aspects of your subjects' true identities you are communicating or obscuring through the pseudonyms you use. The following questions are adapted from ones Allen and Wiles recommend researchers ask themselves when preparing to use pseudonyms for participants:
Does the researcher or the participant choose the pseudonym? How does this issue get talked about with the participants?
Is it important, valuable, or expected to use first name or also include last names and/or titles (i.e., Cara, Mr. Terrance, Dr. Jean Nichols)?
Within the context of this writing, should the names to be associated with a specific gender, ethnicity, and/or culture? Should those nominal identity markers align with the participants' actual identities?
Do pseudonyms need to be selected for other people, places, activities, and organizations mentioned in the interview? And if so, who makes those choices?
How you answer these questions should be informed by your specific context. For example, in relation to that fourth question, if a participant is talking supportively about a small on-campus organization that you want to bring attention to through your writing, it might make sense to refer to this organization by name even though its size might make it harder to disguise your participant's identity. However, if your interviewee is speaking critically about a large, multi-national corporation where she works, you might want to develop a pseudonym for that company in order to protect this individual as much as possible.
Using Verbatim or Non-Verbatim
When you are conducting interviews, you are engaging people in very focused conversation. But when we converse, we say "like" a lot and "um" and "ah." We start sentences and then interrupt ourselves and never return to complete those earlier thoughts. Conversation is never as direct and naturally coherent as writing can be. As a result, when you're representing other people's speech, you need to decide if you'll be employing what is called "verbatim transcription" or "non-verbatim transcription."
In "verbatim transcriptions," you write out what people say exactly as they say it. You include all the filler words, false starts, and grammatical inconsistencies. You may even choose to include coughs and laughs. Scholars have traditionally upheld verbatim accounts as being accurate depictions of the interview process, but as Blake Poland pointed out, "much of the emotional context of the interview as well as nonverbal communication are not captured at all well in audiotape records, so that the audiotape itself is not strictly a verbatim record of the interview" (291). "Non-verbatim transcriptions," (sometimes called "intelligent transcription") respond to this acknowledged gap between the complexities of real conversation and the limitations of writing by encouraging writers to focus on the primary substance of participants' quotes. In "non-verbatim transcriptions, you eliminate the unnecessary utterances like "er," "well," and "you know" and just include the foundational meaning of the interviewees' words." For example:
Verbatim Transcription : Well, you see, I was [pause] the problem, as I saw it, was more of a, a matter of representation, you know? How can I, like, be the one that's just out there just declaring the way things are when I've not even, like, you know, experiencing the whole process for myself? Non-verbatim Transcription : The problem, as I saw it, was more a matter of representation. How can I be the one that's out there declaring the way things are when I've not even experienced the whole process for myself?
The choice to use verbatim or non-verbatim transcription in quoting your participants should be informed by intentional considerations you are making as a writer. There are good reasons to use either forms. As Mahesh Kumar has identified in a blog post for the Transcription Certification Institute, verbatim transcription is useful for showcasing the thought process by which interview participants develop their ideas. False starts and self-corrections track down how someone is thinking about an issue in real time, and some fillers can be useful expressions of personality. Additionally, some linguistics research and conversation analysis methodologies expect highly structured, verbatim transcriptions that even account for pauses and simultaneous dialogue. However, quotations presented through non-verbatim transcriptions are clearer and easier to read and enable you to present your interview subjects as articulate (Poland 292). Whether you go with verbatim or non-verbatim transcription, make sure that you are being consistent with this choice across your article, paper, report, or essay. Also, if it's common in the genre you are writing to discuss your methodology choices, it may be useful to clarify which transcription form you have chosen to use and why this was an appropriate choice.
Works Cited
Allen, Ruth E.S., and Janine L. Wiles. "A Rose by Any Other Name: Participants Choosing Research Pseudonyms." Qualitative Research in Psychology , Dec. 2015. Research Gate , doi: 10.1080/14780887.2015.1133746.
Bogdan, Robert C., and Sari Knopp Biklen. Qualitative Research for Education: An Introduction to Theories and Methods . 5 th ed., Pearson, 2007.
Calvert, Jane, and Joan H. Fujimura. "Calculating Life? Duelling Discourses in Interdisciplinary Systems Biology." Studies in History and Philosophy of Science Part C: Studies in History and Philosophy of Biological and Biomedical Sciences , vol. 42, no. 2l, 2011. Science Direct , https://doi.org/10.1016/j.shpsc.2010.11.022 .
Godbee, Beth. "Toward Explaining the Transformative Power of Talk About, Around, and for Writing." Research in the Teaching of English , vol. 47, no. 2, 2012, pp. 171-97.
Grutsch McKinney, Jackie. Strategies for Writing Center Research . Parlor Press, 2016.
Herrera, Yoshiko M. "The 2002 Russian Census: Institutional Reform at Goskomstar."  Post-Soviet Affairs , vol, 20, no. 4, 2004, pp. 350-86.
Hutchcroft, Paul D. Booty Capitalism: The Politics of Banking in the Philippines , Ateneo de Manila University Press, 1998.
Kinkead, Joyce. Researching Writing: An Introduction to Research Methods . University Press of Colorado, 2015.
Kumar, Mahesh. "Verbatim Vs Non-Verbatim Transcription: Differences, Requirements, & Jobs." Transcription Certification Institute , 5 December 2017. Accessed online 19 June 2017. https://blog.transcriptioncertificationinstitute.org/verbatim-vs-non-verbatim-transcription-differences-requirements-jobs/.
Poland, Blake D. "Transcription Quality as an Aspect of Rigor in Qualitative Research." Qualitative Inquiry , no. 1, vol. 3, 1995, pp. 290-310.
Seidman, Irving. Interviewing as Qualitative Research: A Guide for Researchers in Education and the Social Sciences . 3 rd ed., Teachers College Press, 2006.
Vieira, Kate. "Undocumented in a Documentary Society: Textual Borders and Transnational Religious Literacies."  Written Communication , vol 28, no. 4, 2011, pp. 436-61.
Academic and Professional Writing
This is an accordion element with a series of buttons that open and close related content panels.
Analysis Papers
Reading Poetry
A Short Guide to Close Reading for Literary Analysis
Using Literary Quotations
Play Reviews
Writing a Rhetorical Précis to Analyze Nonfiction Texts
Grant Proposals
Planning and Writing a Grant Proposal: The Basics
Additional Resources for Grants and Proposal Writing
Job Materials and Application Essays
Writing Personal Statements for Ph.D. Programs
Before you begin: useful tips for writing your essay
Guided brainstorming exercises
Get more help with your essay
Frequently Asked Questions
Resume Writing Tips
CV Writing Tips
Cover Letters
Business Letters
Proposals and Dissertations
Resources for Proposal Writers
Resources for Dissertators
Research Papers
Planning and Writing Research Papers
Quoting and Paraphrasing
Writing Annotated Bibliographies
Creating Poster Presentations
Writing an Abstract for Your Research Paper
Thank-You Notes
Advice for Students Writing Thank-You Notes to Donors
Reading for a Review
Critical Reviews
Writing a Review of Literature
Scientific Reports
Scientific Report Format
Sample Lab Assignment
Writing for the Web
Writing an Effective Blog Post
Writing for Social Media: A Guide for Academics
Search Menu
Browse content in Arts and Humanities
Browse content in Archaeology
Anglo-Saxon and Medieval Archaeology
Archaeological Methodology and Techniques
Archaeology by Region
Archaeology of Religion
Archaeology of Trade and Exchange
Biblical Archaeology
Contemporary and Public Archaeology
Environmental Archaeology
Historical Archaeology
History and Theory of Archaeology
Industrial Archaeology
Landscape Archaeology
Mortuary Archaeology
Prehistoric Archaeology
Underwater Archaeology
Zooarchaeology
Browse content in Architecture
Architectural Structure and Design
History of Architecture
Landscape Art and Architecture
Residential and Domestic Buildings
Theory of Architecture
Browse content in Art
Art Subjects and Themes
Gender and Sexuality in Art
History of Art
Industrial and Commercial Art
Theory of Art
Biographical Studies
Byzantine Studies
Browse content in Classical Studies
Classical Literature
Classical Reception
Classical History
Classical Philosophy
Classical Mythology
Classical Art and Architecture
Classical Oratory and Rhetoric
Greek and Roman Papyrology
Greek and Roman Archaeology
Greek and Roman Epigraphy
Greek and Roman Law
Late Antiquity
Religion in the Ancient World
Digital Humanities
Browse content in History
Colonialism and Imperialism
Diplomatic History
Environmental History
Genealogy, Heraldry, Names, and Honours
Genocide and Ethnic Cleansing
Historical Geography
History by Period
History of Agriculture
History of Education
History of Gender and Sexuality
Industrial History
Intellectual History
International History
Labour History
Legal and Constitutional History
Local and Family History
Maritime History
Military History
National Liberation and Post-Colonialism
Oral History
Political History
Public History
Regional and National History
Revolutions and Rebellions
Slavery and Abolition of Slavery
Social and Cultural History
Theory, Methods, and Historiography
Urban History
World History
Browse content in Language Teaching and Learning
Language Learning (Specific Skills)
Language Teaching Theory and Methods
Browse content in Linguistics
Applied Linguistics
Cognitive Linguistics
Computational Linguistics
Forensic Linguistics
Grammar, Syntax and Morphology
Historical and Diachronic Linguistics
History of English
Language Evolution
Language Reference
Language Variation
Language Families
Language Acquisition
Lexicography
Linguistic Anthropology
Linguistic Theories
Linguistic Typology
Phonetics and Phonology
Psycholinguistics
Sociolinguistics
Translation and Interpretation
Writing Systems
Browse content in Literature
Bibliography
Children's Literature Studies
Literary Studies (Romanticism)
Literary Studies (American)
Literary Studies (Modernism)
Literary Studies (Asian)
Literary Studies (European)
Literary Studies (Eco-criticism)
Literary Studies - World
Literary Studies (1500 to 1800)
Literary Studies (19th Century)
Literary Studies (20th Century onwards)
Literary Studies (African American Literature)
Literary Studies (British and Irish)
Literary Studies (Early and Medieval)
Literary Studies (Fiction, Novelists, and Prose Writers)
Literary Studies (Gender Studies)
Literary Studies (Graphic Novels)
Literary Studies (History of the Book)
Literary Studies (Plays and Playwrights)
Literary Studies (Poetry and Poets)
Literary Studies (Postcolonial Literature)
Literary Studies (Queer Studies)
Literary Studies (Science Fiction)
Literary Studies (Travel Literature)
Literary Studies (War Literature)
Literary Studies (Women's Writing)
Literary Theory and Cultural Studies
Mythology and Folklore
Shakespeare Studies and Criticism
Browse content in Media Studies
Browse content in Music
Applied Music
Dance and Music
Ethics in Music
Ethnomusicology
Gender and Sexuality in Music
Medicine and Music
Music Cultures
Music and Media
Music and Culture
Music and Religion
Music Education and Pedagogy
Music Theory and Analysis
Musical Scores, Lyrics, and Libretti
Musical Structures, Styles, and Techniques
Musicology and Music History
Performance Practice and Studies
Race and Ethnicity in Music
Sound Studies
Browse content in Performing Arts
Browse content in Philosophy
Aesthetics and Philosophy of Art
Epistemology
Feminist Philosophy
History of Western Philosophy
Metaphysics
Moral Philosophy
Non-Western Philosophy
Philosophy of Language
Philosophy of Mind
Philosophy of Perception
Philosophy of Action
Philosophy of Law
Philosophy of Religion
Philosophy of Science
Philosophy of Mathematics and Logic
Practical Ethics
Social and Political Philosophy
Browse content in Religion
Biblical Studies
Christianity
East Asian Religions
History of Religion
Judaism and Jewish Studies
Qumran Studies
Religion and Education
Religion and Health
Religion and Politics
Religion and Science
Religion and Law
Religion and Art, Literature, and Music
Religious Studies
Browse content in Society and Culture
Cookery, Food, and Drink
Cultural Studies
Customs and Traditions
Ethical Issues and Debates
Hobbies, Games, Arts and Crafts
Lifestyle, Home, and Garden
Natural world, Country Life, and Pets
Popular Beliefs and Controversial Knowledge
Sports and Outdoor Recreation
Technology and Society
Travel and Holiday
Visual Culture
Browse content in Law
Arbitration
Browse content in Company and Commercial Law
Commercial Law
Company Law
Browse content in Comparative Law
Systems of Law
Competition Law
Browse content in Constitutional and Administrative Law
Government Powers
Judicial Review
Local Government Law
Military and Defence Law
Parliamentary and Legislative Practice
Construction Law
Contract Law
Browse content in Criminal Law
Criminal Procedure
Criminal Evidence Law
Sentencing and Punishment
Employment and Labour Law
Environment and Energy Law
Browse content in Financial Law
Banking Law
Insolvency Law
History of Law
Human Rights and Immigration
Intellectual Property Law
Browse content in International Law
Private International Law and Conflict of Laws
Public International Law
IT and Communications Law
Jurisprudence and Philosophy of Law
Law and Society
Law and Politics
Browse content in Legal System and Practice
Courts and Procedure
Legal Skills and Practice
Primary Sources of Law
Regulation of Legal Profession
Medical and Healthcare Law
Browse content in Policing
Criminal Investigation and Detection
Police and Security Services
Police Procedure and Law
Police Regional Planning
Browse content in Property Law
Personal Property Law
Study and Revision
Terrorism and National Security Law
Browse content in Trusts Law
Wills and Probate or Succession
Browse content in Medicine and Health
Browse content in Allied Health Professions
Arts Therapies
Clinical Science
Dietetics and Nutrition
Occupational Therapy
Operating Department Practice
Physiotherapy
Radiography
Speech and Language Therapy
Browse content in Anaesthetics
General Anaesthesia
Neuroanaesthesia
Clinical Neuroscience
Browse content in Clinical Medicine
Acute Medicine
Cardiovascular Medicine
Clinical Genetics
Clinical Pharmacology and Therapeutics
Dermatology
Endocrinology and Diabetes
Gastroenterology
Genito-urinary Medicine
Geriatric Medicine
Infectious Diseases
Medical Toxicology
Medical Oncology
Pain Medicine
Palliative Medicine
Rehabilitation Medicine
Respiratory Medicine and Pulmonology
Rheumatology
Sleep Medicine
Sports and Exercise Medicine
Community Medical Services
Critical Care
Emergency Medicine
Forensic Medicine
Haematology
History of Medicine
Browse content in Medical Skills
Clinical Skills
Communication Skills
Nursing Skills
Surgical Skills
Medical Ethics
Browse content in Medical Dentistry
Oral and Maxillofacial Surgery
Paediatric Dentistry
Restorative Dentistry and Orthodontics
Surgical Dentistry
Medical Statistics and Methodology
Browse content in Neurology
Clinical Neurophysiology
Neuropathology
Nursing Studies
Browse content in Obstetrics and Gynaecology
Gynaecology
Occupational Medicine
Ophthalmology
Otolaryngology (ENT)
Browse content in Paediatrics
Neonatology
Browse content in Pathology
Chemical Pathology
Clinical Cytogenetics and Molecular Genetics
Histopathology
Medical Microbiology and Virology
Patient Education and Information
Browse content in Pharmacology
Psychopharmacology
Browse content in Popular Health
Caring for Others
Complementary and Alternative Medicine
Self-help and Personal Development
Browse content in Preclinical Medicine
Cell Biology
Molecular Biology and Genetics
Reproduction, Growth and Development
Primary Care
Professional Development in Medicine
Browse content in Psychiatry
Addiction Medicine
Child and Adolescent Psychiatry
Forensic Psychiatry
Learning Disabilities
Old Age Psychiatry
Psychotherapy
Browse content in Public Health and Epidemiology
Epidemiology
Public Health
Browse content in Radiology
Clinical Radiology
Interventional Radiology
Nuclear Medicine
Radiation Oncology
Reproductive Medicine
Browse content in Surgery
Cardiothoracic Surgery
Critical Care Surgery
Gastro-intestinal and Colorectal Surgery
General Surgery
Neurosurgery
Paediatric Surgery
Peri-operative Care
Plastic and Reconstructive Surgery
Surgical Oncology
Transplant Surgery
Trauma and Orthopaedic Surgery
Vascular Surgery
Browse content in Science and Mathematics
Browse content in Biological Sciences
Aquatic Biology
Biochemistry
Bioinformatics and Computational Biology
Developmental Biology
Ecology and Conservation
Evolutionary Biology
Genetics and Genomics
Microbiology
Molecular and Cell Biology
Natural History
Plant Sciences and Forestry
Research Methods in Life Sciences
Structural Biology
Study and Communication Skills in Life Sciences
Systems Biology
Zoology and Animal Sciences
Browse content in Chemistry
Analytical Chemistry
Computational Chemistry
Crystallography
Environmental Chemistry
Industrial Chemistry
Inorganic Chemistry
Materials Chemistry
Medicinal Chemistry
Mineralogy and Gems
Organic Chemistry
Physical Chemistry
Polymer Chemistry
Study and Communication Skills in Chemistry
Theoretical Chemistry
Browse content in Computer Science
Artificial Intelligence
Computer Architecture and Logic Design
Game Studies
Human-Computer Interaction
Mathematical Theory of Computation
Programming Languages
Software Engineering
Systems Analysis and Design
Virtual Reality
Browse content in Computing
Business Applications
Computer Games
Computer Security
Computer Networking and Communications
Digital Lifestyle
Graphical and Digital Media Applications
Operating Systems
Browse content in Earth Sciences and Geography
Atmospheric Sciences
Environmental Geography
Geology and the Lithosphere
Maps and Map-making
Meteorology and Climatology
Oceanography and Hydrology
Palaeontology
Physical Geography and Topography
Regional Geography
Soil Science
Urban Geography
Browse content in Engineering and Technology
Agriculture and Farming
Biological Engineering
Civil Engineering, Surveying, and Building
Electronics and Communications Engineering
Energy Technology
Engineering (General)
Environmental Science, Engineering, and Technology
History of Engineering and Technology
Mechanical Engineering and Materials
Technology of Industrial Chemistry
Transport Technology and Trades
Browse content in Environmental Science
Applied Ecology (Environmental Science)
Conservation of the Environment (Environmental Science)
Environmental Sustainability
Environmentalist and Conservationist Organizations (Environmental Science)
Environmentalist Thought and Ideology (Environmental Science)
Management of Land and Natural Resources (Environmental Science)
Natural Disasters (Environmental Science)
Nuclear Issues (Environmental Science)
Pollution and Threats to the Environment (Environmental Science)
Social Impact of Environmental Issues (Environmental Science)
History of Science and Technology
Browse content in Materials Science
Ceramics and Glasses
Composite Materials
Metals, Alloying, and Corrosion
Nanotechnology
Browse content in Mathematics
Applied Mathematics
Biomathematics and Statistics
History of Mathematics
Mathematical Education
Mathematical Finance
Mathematical Analysis
Numerical and Computational Mathematics
Probability and Statistics
Pure Mathematics
Browse content in Neuroscience
Cognition and Behavioural Neuroscience
Development of the Nervous System
Disorders of the Nervous System
History of Neuroscience
Invertebrate Neurobiology
Molecular and Cellular Systems
Neuroendocrinology and Autonomic Nervous System
Neuroscientific Techniques
Sensory and Motor Systems
Browse content in Physics
Astronomy and Astrophysics
Atomic, Molecular, and Optical Physics
Biological and Medical Physics
Classical Mechanics
Computational Physics
Condensed Matter Physics
Electromagnetism, Optics, and Acoustics
History of Physics
Mathematical and Statistical Physics
Measurement Science
Nuclear Physics
Particles and Fields
Plasma Physics
Quantum Physics
Relativity and Gravitation
Semiconductor and Mesoscopic Physics
Browse content in Psychology
Affective Sciences
Clinical Psychology
Cognitive Psychology
Cognitive Neuroscience
Criminal and Forensic Psychology
Developmental Psychology
Educational Psychology
Evolutionary Psychology
Health Psychology
History and Systems in Psychology
Music Psychology
Neuropsychology
Organizational Psychology
Psychological Assessment and Testing
Psychology of Human-Technology Interaction
Psychology Professional Development and Training
Research Methods in Psychology
Social Psychology
Browse content in Social Sciences
Browse content in Anthropology
Anthropology of Religion
Human Evolution
Medical Anthropology
Physical Anthropology
Regional Anthropology
Social and Cultural Anthropology
Theory and Practice of Anthropology
Browse content in Business and Management
Business Ethics
Business History
Business Strategy
Business and Technology
Business and Government
Business and the Environment
Comparative Management
Corporate Governance
Corporate Social Responsibility
Entrepreneurship
Health Management
Human Resource Management
Industrial and Employment Relations
Industry Studies
Information and Communication Technologies
International Business
Knowledge Management
Management and Management Techniques
Operations Management
Organizational Theory and Behaviour
Pensions and Pension Management
Public and Nonprofit Management
Strategic Management
Supply Chain Management
Browse content in Criminology and Criminal Justice
Criminal Justice
Criminology
Forms of Crime
International and Comparative Criminology
Youth Violence and Juvenile Justice
Development Studies
Browse content in Economics
Agricultural, Environmental, and Natural Resource Economics
Asian Economics
Behavioural Finance
Behavioural Economics and Neuroeconomics
Econometrics and Mathematical Economics
Economic History
Economic Methodology
Economic Systems
Economic Development and Growth
Financial Markets
Financial Institutions and Services
General Economics and Teaching
Health, Education, and Welfare
History of Economic Thought
International Economics
Labour and Demographic Economics
Law and Economics
Macroeconomics and Monetary Economics
Microeconomics
Public Economics
Urban, Rural, and Regional Economics
Welfare Economics
Browse content in Education
Adult Education and Continuous Learning
Care and Counselling of Students
Early Childhood and Elementary Education
Educational Equipment and Technology
Educational Strategies and Policy
Higher and Further Education
Organization and Management of Education
Philosophy and Theory of Education
Schools Studies
Secondary Education
Teaching of a Specific Subject
Teaching of Specific Groups and Special Educational Needs
Teaching Skills and Techniques
Browse content in Environment
Applied Ecology (Social Science)
Climate Change
Conservation of the Environment (Social Science)
Environmentalist Thought and Ideology (Social Science)
Social Impact of Environmental Issues (Social Science)
Browse content in Human Geography
Cultural Geography
Economic Geography
Political Geography
Browse content in Interdisciplinary Studies
Communication Studies
Museums, Libraries, and Information Sciences
Browse content in Politics
African Politics
Asian Politics
Chinese Politics
Comparative Politics
Conflict Politics
Elections and Electoral Studies
Environmental Politics
European Union
Foreign Policy
Gender and Politics
Human Rights and Politics
Indian Politics
International Relations
International Organization (Politics)
International Political Economy
Irish Politics
Latin American Politics
Middle Eastern Politics
Political Behaviour
Political Economy
Political Institutions
Political Theory
Political Methodology
Political Communication
Political Philosophy
Political Sociology
Politics and Law
Public Policy
Public Administration
Quantitative Political Methodology
Regional Political Studies
Russian Politics
Security Studies
State and Local Government
UK Politics
US Politics
Browse content in Regional and Area Studies
African Studies
Asian Studies
East Asian Studies
Japanese Studies
Latin American Studies
Middle Eastern Studies
Native American Studies
Scottish Studies
Browse content in Research and Information
Decision Theory
Research Methods
Browse content in Social Work
Addictions and Substance Misuse
Adoption and Fostering
Care of the Elderly
Child and Adolescent Social Work
Couple and Family Social Work
Developmental and Physical Disabilities Social Work
Direct Practice and Clinical Social Work
Emergency Services
Human Behaviour and the Social Environment
International and Global Issues in Social Work
Mental and Behavioural Health
Social Justice and Human Rights
Social Policy and Advocacy
Social Work and Crime and Justice
Social Work Macro Practice
Social Work Practice Settings
Social Work Research and Evidence-based Practice
Welfare and Benefit Systems
Browse content in Sociology
Childhood Studies
Community Development
Comparative and Historical Sociology
Economic Sociology
Gender and Sexuality
Gerontology and Ageing
Health, Illness, and Medicine
Marriage and the Family
Migration Studies
Occupations, Professions, and Work
Organizations
Population and Demography
Race and Ethnicity
Social Theory
Social Movements and Social Change
Social Research and Statistics
Social Stratification, Inequality, and Mobility
Sociology of Religion
Sociology of Education
Sport and Leisure
Urban and Rural Studies
Browse content in Warfare and Defence
Defence Strategy, Planning, and Research
Land Forces and Warfare
Military Administration
Military Life and Institutions
Naval Forces and Warfare
Other Warfare and Defence Issues
Peace Studies and Conflict Resolution
Weapons and Equipment
< Previous chapter
Next chapter >
3 Writing Up the Methods Section
Published: May 2013
Cite Icon Cite
Permissions Icon Permissions
This chapter focuses on how to write up the methodological procedures of an interview study. It considers both standard formats for writing-up methodological procedures and non-traditional formats in which methodological descriptions are often integrated into the more general narrative of the text. The chapter first provides an overview of the most common elements that comprise interview reports, such as dissertations, journal articles, or monographs. It then presents three different ways of conceiving of the methods section—as a prelude to the analysis and findings, as a postscript, and as embedded in the interpretation itself. It concludes with reflections on how to deal with the idea that, in qualitative interview research, the researcher is the most important "methodological instrument."
Signed in as
Institutional accounts.
Google Scholar Indexing
GoogleCrawler [DO NOT DELETE]
Personal account
Sign in with email/username & password
Get email alerts
Save searches
Purchase content
Activate your purchase / trial code
Institutional access
Sign in with a library card Sign in with username / password Recommend to your librarian
Institutional account management
Get help with access
Access to content on Oxford Academic is often provided through institutional subscriptions and purchases. If you are a member of an institution with an active account, you may be able to access content in one of the following ways:
IP based access
Typically, access is provided across an institutional network to a range of IP addresses. This authentication occurs automatically, and it is not possible to sign out of an IP authenticated account.
Sign in through your institution
Choose this option to get remote access when outside your institution. Shibboleth / Open Athens technology is used to provide single sign-on between your institution's website and Oxford Academic.
Click Sign in through your institution.
Select your institution from the list provided, which will take you to your institution's website to sign in.
When on the institution site, please use the credentials provided by your institution. Do not use an Oxford Academic personal account.
Following successful sign in, you will be returned to Oxford Academic.
If your institution is not listed or you cannot sign in to your institution's website, please contact your librarian or administrator.
Sign in with a library card
Enter your library card number to sign in. If you cannot sign in, please contact your librarian.
Society Members
Society member access to a journal is achieved in one of the following ways:
Sign in through society site
Many societies offer single sign-on between the society website and Oxford Academic. If you see 'Sign in through society site' in the sign in pane within a journal:
Click Sign in through society site.
When on the society site, please use the credentials provided by that society. Do not use an Oxford Academic personal account.
If you do not have a society account or have forgotten your username or password, please contact your society.
Sign in using a personal account
Some societies use Oxford Academic personal accounts to provide access to their members. See below.
A personal account can be used to get email alerts, save searches, purchase content, and activate subscriptions.
Some societies use Oxford Academic personal accounts to provide access to their members.
Viewing your signed in accounts
Click the account icon in the top right to:
View your signed in personal account and access account management features.
View the institutional accounts that are providing access.
Signed in but can't access content
Oxford Academic is home to a wide variety of products. The institutional subscription may not cover the content that you are trying to access. If you believe you should have access to that content, please contact your librarian.
For librarians and administrators, your personal account also provides access to institutional account management. Here you will find options to view and activate subscriptions, manage institutional settings and access options, access usage statistics, and more.
Our books are available by subscription or purchase to libraries and institutions.
About Oxford Academic
Publish journals with us
University press partners
What we publish
New features
Open access
Rights and permissions
Accessibility
Advertising
Media enquiries
Oxford University Press
Oxford Languages
University of Oxford
Oxford University Press is a department of the University of Oxford. It furthers the University's objective of excellence in research, scholarship, and education by publishing worldwide
Copyright © 2023 Oxford University Press
Cookie settings
Cookie policy
Privacy policy
Legal notice
This Feature Is Available To Subscribers Only
Sign In or Create an Account
This PDF is available to Subscribers Only
For full access to this pdf, sign in to an existing account, or purchase an annual subscription.
Purdue Online Writing Lab Purdue OWL® College of Liberal Arts
Interviewing

Welcome to the Purdue OWL
This page is brought to you by the OWL at Purdue University. When printing this page, you must include the entire legal notice.
Copyright ©1995-2018 by The Writing Lab & The OWL at Purdue and Purdue University. All rights reserved. This material may not be published, reproduced, broadcast, rewritten, or redistributed without permission. Use of this site constitutes acceptance of our terms and conditions of fair use.
Primary research involves collecting data about a given subject directly from the real world. This section includes information on what primary research is, how to get started, ethics involved with primary research and different types of research you can do. It includes details about interviews, surveys, observations, and analyses.
Interviewing is a great way to learn detailed information from a single individual or small number of individuals. It is very useful when you want to gain expert opinions on the subject or talk to someone knowledgeable about a topic.
Types of Interviewing
Several different types of interviews exist. You should choose one based on what kind of technology you have available to you, the availability of the individual you are interviewing, and how comfortable you feel talking to people.
Face to Face Interviews: Face to face interviews are when you sit down and talk with someone. They are beneficial because you can adapt your questioning to the answers of the person you are interviewing. You will need recording equipment for the interview, and it is highly recommended that you bring two recording devices with you in case one fails.
Phone Interviews: Phone interviews can be used when you need to interview someone who is geographically far away, who is too busy to meet with you to talk, or who does not want to use video or internet-based technology.
Email Interviews: Email interviews are less personal than face-to-face or phone interviews, but highly convenient for most individuals. You may not get as much information from someone in an email interview because you are not able to ask follow-up questions in the moment or play off the interviewee's responses. However, email interviews are useful because they are already in a digital format.
Setting Up an Interview
When setting up an interview, be sure to be courteous and professional. Explain to the person being interviewed who you are, what you want to talk them about, and what project you are working on. Don't be discouraged if not everyone you contact is willing to be interviewed.
Interview Do's and Dont's
When conducting interviews:
Do be careful of the types of questions you ask. See the page on Creating good survey and interview questions for more information.
Do start the interview with some small talk to give both yourself and the person you are interviewing a chance to get comfortable.
Do bring extra recording equipment in case something happens to one of your recording devices.
Do pay attention to what is being said during the interview and ask thoughtful follow-up questions.
Do come to the interview prepared. You should learn as much as you can about the person you are going to interview before the interview takes place so that you can tailor your questions to them.
Don't pester or push the person you are interviewing. If the interviwee does not want to talk about an issue, you should respect that desire.
Don't stick to your questions rigidly. If an interesting subject comes up that relates to your research, feel free to ask additional questions about it.
Don't allow the person you are interviewing to continually get off topic. If the conversation drifts, ask follow-up questions to redirect the conversation to the subject at hand.
Write an A+ Interview Paper Using Our Tips and Examples
06 September, 2021
13 minutes read
Author: Josh Carlyle
You will quickly find yourself with your back to the wall once your teacher assigns you an interview paper. Studying is often a headache by itself, and now you have to conduct interviews. Worse yet, you probably have no idea how you can do this. Luckily, we will tell you how to write an interview paper step by step in this comprehensive guide. So prepare your favorite drink and learn how to write a top-notch interview paper.
What is an Interview Paper?
An interview paper provides an expert opinion on a specific issue. In essence, it is an interview transcript inserted somewhere between the introduction and conclusion of an academic piece.
How long should it be? It depends on the topic and the length of your interview, but most papers are within the length of 2,000 – 5,000 words. What things should you consider before writing an interview paper in the first place? Let's check them out below.
General Aspects of Writing an Interview Paper
Academic papers require you to provide arguments based on studies, research pieces, statistics, etc. But an interview paper is different – for this type of essay, you will develop assumptions around an expert's opinion.
Let's imagine your essay question reads the following: "Should we ban abortions?" If you write an interview paper, you should ask someone high-powered for their consideration. Let them be an executive director of the American Gynecological & Obstetrical Society.
You would reach them via email or phone or whatever communication channel you prefer and conduct an interview. Afterward, you would put all your findings on paper.
But in practice, writing an interview paper involves many more complexities and challenges, like planning, topic research , drafting, etc.
Let's speak straight facts: nobody will reschedule their week to meet you because you need to do some homework. You're one of the millions of students, and the local governor or a famous scientist won't give you an interview nine times out of ten.
So you would want to target someone less busy, like professors from other faculties of your college or some researchers within your academic environment. Hunting a bigger fish is pointless unless you're a well-established journalist working for a popular media channel. If you struggle to find someone within your college/university, you can contact people from your circle.
Writing Outline and Structure of an Interview Paper
 As you know, a typical paper consists of three parts:
Introduction. This part includes background information, the hook, the thesis statement, and the transition.
Body. It is the longest part of the paper consisting of several paragraphs. It should contain the actual interview.
Conclusion. The final part summarizes the considerations and insights of your essay.
The question is: 'where should you put an interview transcript and how do you do this?'
To answer this question, you need to come up with the interview papers format in the first place. There are several of them:
The narrative format implies that you can use either direct or indirect speech when referring to your interviewee. If you choose this path, you can stick to a 5-paragraph essay structure, retell the considerations of your interviewee, and cite their words here and there at your discretion.
You can also choose this format if you contact several people. Check what a narrative interview paper structure looks like when you reach out to several people:
Introduction.
Paragraph #1 – the first interviewee's perspective.
Paragraph #2 – the second interviewee's opinion.
Paragraph #3 – the third interviewee's thoughts.
Conclusion.
Alternatively, you can dedicate each paragraph to a particular idea of one person.
"Question and answer" will suit your needs perfectly if you interview one person. It is the simplest format used in online magazines, news reports, and other media. Your interview paper outline will look like this:
Introduction
Question #1 – Answer #1
Question #2 – Answer #2
Question #3 – Answer #3
Question #4/5/6/etc. – Answer #4/5/6/etc.
Interview analysis. You may include your thoughts on the subject matter.
Conversational
Conversational style is informal, and you can use either first-person or second-person narrative and follow a typical 5-paragraph paper structure. But writing interview papers in this lousy style might be perplexing, especially if you deal with this task for the first time.
We advise you to try the Q&A format because it's the simplest one and takes the least time. Just imagine how much time your paper writing will take if you decide to interview three or five people.
How to Start an Interview Paper?
If you have no idea how to start an interview paper, choose the topic first. Selecting a topic for your interview paper is not a big deal, but you should keep in mind that you may not find appropriate interviewees for it.
Let's imagine you want to explore whether the government should force people to get vaccines. This topic implies that you need to contact authorities. It might be a local lawyer, governor, or executive director of a local hospital. Well, the chances are these people will politely refuse to give an interview for your homework.
But if you choose to investigate how lockdown impacts intellectual workers, you can contact your friends or family members who work at home. In other words, it's better to choose topics that reflect the experiences of ordinary people rather than the opinions of untouchable experts.
Asking people for their opinion about well-known facts like the Earth's shape is a bad idea. You would want to choose high-profile debatable topics you can actually discuss.
Establish the Goal of Your Interview Essay
You have to establish the goal of your essay before researching the topic. For this, ask yourself: "What message should your interview essay deliver?" Sometimes, a topic of your choice might already explain the purpose of your essay.
Conduct Research
Interviewing someone implies that you should ask questions. But you will fail to do so if you know little to nothing about your topic. So read some case studies, news, articles, etc. Once you get the picture of your subject matter, you will come up with dozens of interview questions.
Get to Know Your Interviewee
A good interviewer always refers to the life and experience of their interviewee. If you're lucky to work with someone you can read about on the Internet, find out as much information about them as possible. If your interviewee publishes any books, articles, or studies, you will better know them as well.
The more you know about the person, the more interview questions you can come up with. You can ask them whether the Internet tells their true story: "Is it true that you, Mr. Interviewee, support flat earthers?"
Draft Your Interview Questions
If you want a person to share their in-depth vision of the topic, you need to ask both open-ended and close-ended ("yes/no") questions. However, you may struggle to prepare interview questions. Many students get stuck during this stage. To overcome this block, you need to learn some types of interview questions:
Opinion – What do you think of this topic?
Behavioral – What would you do in this situation?
Experience and knowledge – What do you know about the subject?
Background – How are you connected to the subject? What is your age, occupation, etc?
Emotional – How do you feel about the subject?
Sensory – What does the subject taste and feel like?
You can also think of the questions following the interviewee's "yes" and "no" answers.
Tips for Conducting a Successful Interview
These four tips will help you conduct a productive interview on the first try:
1. Plan Your Meeting
Note that you want to interview a person in a quiet place so that nobody will distract you. This might be some cozy book store or a café. Or, you can arrange an online meeting. Make sure you have at least one hour for the interview.
2. Rehearse a bit
If you will conduct your first-ever interview, you want to practice with your friends/significant other/ family in the first place. This approach will help you identify what stage of your upcoming interview may challenge you the most.
3. Record Your Interview
You will forget about 50% of the information within an hour once you finish the interview. So don't rely on your memory − bring a recorder instead. Why not take notes? You wouldn't want to go red while asking your interviewee to repeat what they have just said or wait until you write down their answers.
4. Talk to Your Interviewee for a While Before You Begin
Speaking to someone you don't know might be uncomfortable. You don't have to attack them with your interview questions straightaway. Instead, you can exchange some casual phrases or discuss the weather. This will help you relieve stress and get comfortable with each other.
5. Explain Your Interview Protocol
It's better to explain to your interviewee how you will conduct your interview. Tell them that you will use a recorder and introduce the discussion topic.
Interview Papers Format
In academic writing, you have to explain the purpose of your interview and introduce your interviewee in a specific "scholarly" format. The APA format interview paper has the following requirements:
Use 12-point Times New Roman.
Write a title page.
Use double spacing.
Introduce your interviewee and provide the background information – explain why this person is suitable for the interview. Mention their name and qualifications.
Use direct quotes if you cite some facts provided by the interviewee.
Use block quotes for citations longer than 40 words.
How to Write a Title Page?
The title of your paper must include your name, your institution, department, the course name and number, the teacher's name, and the assignment date. The rules of writing the title page are the following:
The title page must be numbered.
Capitalize all major words in your title and make it bold.
Place the title of the essay three or four lines down the top of the page.
There must be one empty line before the student's name.
Interview Papers Examples
If you're searching for an interview essay example – check several samples below:
A narrative interview essay .
A Q&A interview format paper.
An interview with a scientist.
Interview Papers Writing Tips
The following writing tips will help you deliver the first-class interview paper:
Write the introduction at the end. Once you finish your essay, you will likely reconsider some ideas you had before you began. They will help you frame your interview essay with a captivating introduction and conclusion.
Give yourself a break after finishing your final draft. This will help you look at your paper with a fresh pair of eyes once you start editing.
Edit one type of error at a time. For example, you can reduce logical errors first and switch to grammatical mistakes afterward.
Use an active voice. If active voice makes your sentence shorter, use it without hesitation.
Check for any sample interview paper to decide on the interview questions. Perhaps, some pieces will spark your interest.
Writing Help by Handmadewriting
An interview paper doesn't seem that intimidating once you learn how to write it step by step. First, you have to choose the subject that allows you to interview ordinary people rather than hard-to-reach ones. Then, you need to research your topic, conduct an interview, and write a paper.
You can get an A+ for this assignment with enough effort and dedication. But a doable task doesn't necessarily mean that you must do it by yourself. If you have plenty of other assignments to do, you can ask our essay writers to craft an exemplary interview paper for you. For this, you can place an order on our website, and we will do all the dirty work.
Best Essay Writing Services 2023
Student life can often be quite challenging because students have to deal with challenging college essay writing assignments. To facilitate the learning process, many services help you complete written work and get high scores. Now we will tell you about the best services that you can turn to and get high-quality papers. Essay Writing Service […]
A life lesson in Romeo and Juliet taught by death
Due to human nature, we draw conclusions only when life gives us a lesson since the experience of others is not so effective and powerful. Therefore, when analyzing and sorting out common problems we face, we may trace a parallel with well-known book characters or real historical figures. Moreover, we often compare our situations with […]
Ethical Research Paper Topics
Writing a research paper on ethics is not an easy task, especially if you do not possess excellent writing skills and do not like to contemplate controversial questions. But an ethics course is obligatory in all higher education institutions, and students have to look for a way out and be creative. When you find an […]
Who We Are About Us
Who We Are Why TEES?
Who We Are Strengths
Who We Are By the Numbers
Leadership Team
Government Relations
Career Opportunities
Research Energy and Power
Research Health Care
Research Infrastructure
Research Materials and Manufacturing
Research National Security
Services Service Offerings
Services Technology Development
Services Workforce Development
Services Commercialization and Entrepreneurship
Services Regional Divisions and Affiliates
Facilities World-Class Facilities
Facilities Research Facilities at Texas A&M-RELLIS
Facilities Research Centers and Institutes
News Top Stories
News Events and Conferences
News Announcements and News Releases
Media Relations Contact
Contact Us Contact Us
Contact Us Industry Support
Contact Us Government Relations
Contact Us Leadership Team
Contact Us Work With Us
Employee Resources
Personnel Directory
Research Centers
Regional Divisions and Affiliates
Sample Interview Questions for Research
Candidate's research.
What is innovative about your research?
How is your work distinct from your supervisor's/principal investigator's? How intellectually independent are you?
What influences have you been exposed to? Do you think you have enough breadth of experience?
Who has influenced you the most?
What has been your role so far in developing research ideas and carrying them forward?
What do you think are your most significant research accomplishments?
What do you consider to be your best paper/work and why? What did it change about the way people approach the field?
What are your most important publications?
What has been the impact of your research?
What papers do you have coming through in the next year?
If we gave you the position what might go wrong? How will you manage the risks?
General Research Questions
What do you see yourself doing in ten years' time? What are your professional goals in the next five, and ten years?
How will this job help you achieve your long-term career plans?
What would you do on the first day of the job?
What are the big issues in your research area?
Who are the key researchers in your area? How does your work compare with theirs?
Who are your main competitors? What are they doing? How will you compete with them?
Why would someone come to work for you and not for your competitors?
How does your work align with contemporary trends or funding priorities?
How would you bridge the gap from your research to research users?
The university is keen to serve the wider community and economy. Does your planned research have any potential in these areas?
How do you feel about translating your research into innovation or spin-outs? Can you give an example of when you have been enterprising?
Describe in layman's terms why your research project is interesting in two
Candidate's Capabilities
How have you managed your research project?
How do you balance your time? If several challenges came up at the same time (grant deadline, pastoral care for a student, teaching commitments) how would you prioritize?
If you were starting your project again today, what would you do differently?
Describe a research problem you have faced. What did you learn?
What has been the most productive period in your research career and why?
Why do you think you are ready for this position?
If you get this position how will you run your research project?
Why do you think you are the right person for this position?
About your ability to gain funding
What experience do you have of attracting funding?
Previously, you have only brought in small amounts of funding: how can you convince us you will be able to bring in larger amounts?
Where will you apply for grants? If your funding applications are unsuccessful, what alternatives do you have in mind? (looking for knowledge of the funding infrastructure)
How would you convince a funding body that they should fund your research rather than one of the other hundreds of proposals they receive?
Who are you currently funded by, and why do you think they were interested in funding your project?
 Candidate's Proposed Research
What will be your major focus as an independent researcher?
In one sentence, what is the most important question you want to address?
How does the work you propose follow on from what you are already doing?
What will you focus on and what gives you a competitive edge in this area?
What is the overall importance of this project? How do you see this work impacting the field?
What will you do if your hypothesis is proved wrong? Can you see any of your research proposal failing?
Why is the technique you have chosen more likely to succeed than other approaches?
Have you already done anything to test the feasibility of your project?
If you could only do one aspect of this project, which one do you think is key?
If we gave you unlimited resources, what would you do with them?
If we gave you X amount of money, what would you do with it?
What resources will you need?
How would you deal with the more limited resources or facilities compared to what you anticipate for the project?
How do you plan to manage this project on a day-to-day level?
Candidate's Role as Supervisor/Teacher
Describe your teaching experience. How do you feel about teaching? What is your teaching philosophy?
Do you have any experience in curriculum development?
Have you supervised doctoral candidates, and how did you find this experience? How did you manage them?
What advice would you give to a new researcher about supervising undergraduate or masters students?
How would you go about interviewing a prospective postgraduate researcher?
How would you induce a new doctoral candidate into their research project?
How would you go about motivating a researcher who is going through a low point?
How would you deal with a weak researcher?
How would you deal with any conflict/disagreement within the research group? Do you have an example of when you have had to deal with a disagreement?
Do you anticipate building a research group? How many people would you like for it to be optimal?
 Candidate's 'fit' with the department
Why do you want to come here?
What will you bring to the institution?
We are keen to develop collaborations between departments. What opportunities for multi-disciplinary work does your research offer?
How would you fit with the existing activities in the department? Who do would you expect to collaborate with in the institution? Why do you want to collaborate with them?
What committee work have you done and what challenges has it presented?
In what ways, other than research and teaching could you contribute to this department?
Generate accurate APA citations for free
Knowledge Base
How to cite an interview in APA Style
How to Cite an Interview in APA Style | Format & Examples
Published on November 6, 2020 by Jack Caulfield . Revised on June 17, 2022.
In APA Style , published interviews are cited in a different format from interviews you conducted yourself.
An interview you conducted yourself that can't be accessed by the reader should not be included in the reference list . Instead, it's cited as a personal communication in the text.
Table of contents
Citing interviews you conducted, citing published interviews, frequently asked questions about apa style citations.
An interview you conducted yourself is not included in the reference list, because it is not retrievable by your readers.
The way you refer to these interviews in the text depends on whether you include a transcript of the interview in an appendix.
Quoting your research participants
If your research methodology involved conducting formal interviews with participants, transcripts of these interviews are typically included in an appendix . You don't need citations when quoting your research participants; just mention where the transcripts can be found.
This only needs to be mentioned once; don't refer to the appendix every time you quote from it. Similar advice applies to surveys .
Citing personal interviews
Personal interviews are those you conducted informally to obtain additional information to support your arguments. They are typically not included in an appendix.
As these are not published anywhere, they should be cited as personal communications in the text and omitted from the reference list.
Include the interviewee's initials and last name, the words "personal communication," and the date on which the interview was conducted.
Scribbr Citation Checker New
The AI-powered Citation Checker helps you avoid common mistakes such as:
Missing commas and periods
Incorrect usage of "et al."
Ampersands (&) in narrative citations
Missing reference entries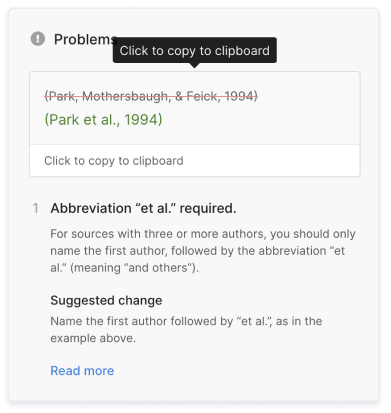 To cite a published interview, follow the format for the source type in which it was published.
The author is usually the interviewer. The name of the person interviewed is not included in the citation or in the reference list.
However, it's important to make it clear exactly who said what when you quote from an interview conducted by someone else. In the following example, the citation incorrectly implies that the quote is from Davenport:
To make it clear that these are the words of the interviewee, not the interviewer, name the speaker directly in the sentence:
Citing a newspaper interview
To cite an interview published in a newspaper, follow the standard newspaper format, listing the interviewer in the author position.
Citing a podcast interview
To cite an interview from a podcast , follow the format for citing a podcast episode, listing the host in the author position.
Citing an interview from YouTube
To cite an interview you viewed on YouTube , follow the standard format for citing a YouTube video. Note that the person or organization that uploaded the video, rather than the person conducting the interview, appears in the author position.
Interviews you conducted yourself are not included in your reference list , but instead cited in the text as personal communications .
Published or recorded interviews are included in the reference list. Cite them in the usual format of the source type (for example, a newspaper article , website or YouTube video ).
In APA Style , all sources that are not retrievable for the reader are cited as personal communications . In other words, if your source is private or inaccessible to the audience of your paper , it's a personal communication.
Common examples include conversations, emails, messages, letters, and unrecorded interviews or performances.
Cite this Scribbr article
If you want to cite this source, you can copy and paste the citation or click the "Cite this Scribbr article" button to automatically add the citation to our free Citation Generator.
Caulfield, J. (2022, June 17). How to Cite an Interview in APA Style | Format & Examples. Scribbr. Retrieved November 27, 2023, from https://www.scribbr.com/apa-examples/interview/
Is this article helpful?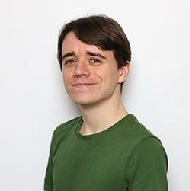 Jack Caulfield
Other students also liked, setting up the apa reference page | formatting & references (examples), beginner's guide to apa in-text citation, transcribing an interview | 5 steps & transcription software, scribbr apa citation checker.
An innovative new tool that checks your APA citations with AI software. Say goodbye to inaccurate citations!

20 Common Researcher Interview Questions and Answers
Common Researcher interview questions, how to answer them, and sample answers from a certified career coach.

You've been invited to interview for a research position—congratulations! You know you have the skills and experience, but now it's time to prove it.
The key to success? Being prepared. To help make sure you shine in your upcoming interview, we've compiled some of the most common questions asked during research interviews. Read on, get familiar with them, and practice your answers so you can ace that job interview like a pro.
What research methods do you use to collect data?
How do you ensure the accuracy and validity of your research results?
Describe a time when you had to analyze complex data sets and draw meaningful conclusions from them.
Explain how you would go about designing an experiment or survey to answer a specific research question.
Are you familiar with any statistical software programs? If so, which ones?
What strategies do you use to stay organized while conducting research?
How do you handle ethical considerations when conducting research?
Have you ever encountered a situation where you had to adjust your research methodology due to unexpected circumstances?
Describe a time when you had to present your research findings in a clear and concise manner.
Do you have experience working with large datasets?
What challenges have you faced when collecting primary data for a research project?
How do you approach writing up a research paper or report?
What techniques do you use to identify potential sources of bias in your research?
How do you evaluate the quality of secondary sources used in your research?
What strategies do you use to keep track of changes in the field of research you are studying?
How do you decide which research questions to pursue?
What is your experience with peer review processes?
How do you manage competing demands on your time when conducting research?
What strategies do you use to ensure that your research remains relevant and up-to-date?
How do you ensure that your research meets the highest standards of academic integrity?
1. What research methods do you use to collect data?
Research methods are the core of any researcher's job. You'll need to be familiar with a variety of different methods, such as surveys, interviews, focus groups, and experiments, and be able to explain how you use each one in your work. This will help the interviewer understand your process and how you can contribute to their organization.
How to Answer:
You should be prepared to explain the research methods you have used in your past work. Talk about how you use surveys, interviews, focus groups, and experiments to collect data, as well as any other methods you may have experience with. If you're just starting out, then talk through the steps you would take to select a method for each project. You can also mention any specialized methods or software that you are familiar with.
Example: "I use a variety of research methods to collect data, depending on the project. I often use surveys and interviews as primary sources of information, but I also have experience with focus groups, experiments, and software tools like Qualtrics for collecting quantitative data. I'm familiar with specialized methods such as content analysis and ethnography when appropriate. My goal is always to select the method that will provide the most accurate and reliable data for each project."
2. How do you ensure the accuracy and validity of your research results?
Research requires a level of precision that goes beyond the normal workplace. Good researchers are able to identify what data is relevant and how to collect it in order to make reliable conclusions. Interviewers will want to know that you have the skills and knowledge to conduct research that is both accurate and valid. They'll also want to know if you use any specific methods or tools to ensure accuracy and validity.
You should be prepared to explain what methods you use to ensure accuracy and validity of your research. This could include double-checking sources, using multiple data points, or triangulating information from different sources to verify results. You can also mention any specific tools or techniques you use, such as conducting surveys or interviews with experts in the field. Be sure to emphasize how important it is for you to make sure that your research is accurate and valid before drawing conclusions.
Example: "When I was working on a research project for ABC Corporation, I had to analyze the data from three different sources. My approach was to use statistical analysis techniques and software tools to cross-reference the data sets and identify any potential discrepancies or outliers. After analyzing the results, I identified a number of key trends that allowed us to draw meaningful conclusions about the company's operations. The insights gained from this research ultimately led to improvements in the organization's processes, resulting in increased efficiency and productivity."
3. Describe a time when you had to analyze complex data sets and draw meaningful conclusions from them.
Research projects often involve a lot of data analysis and interpretation. Knowing how to take large amounts of data and make it into something meaningful is a valuable skill for any researcher. This question is a way for the interviewer to gauge your ability to work with data and draw meaningful conclusions from it.
You should be prepared to provide a specific example of when you had to analyze complex data sets and draw meaningful conclusions from them. Talk about the project, your approach to analyzing the data, and any insights or conclusions that you drew from it. Be sure to emphasize the impact of your findings on the project or organization as well.
Example: "I recently worked on a project for my previous employer in which I had to analyze a large and complex data set. My approach was to break down the data into smaller, more manageable chunks and then look for patterns or correlations between different variables. After doing this, I was able to identify a few key trends that were relevant to the project goals. This allowed us to make better decisions about how to allocate resources and focus our efforts, resulting in a successful outcome."
4. Explain how you would go about designing an experiment or survey to answer a specific research question.
This question is designed to determine if you have the skills necessary to design and implement valid research experiments. The interviewer wants to know if you understand the fundamentals of research design, such as how to select a sample, how to develop a hypothesis, and how to determine the validity of a study. They also want to know if you can explain the process in a clear and concise manner.
Start by explaining the steps you would take to design an experiment or survey. You should include the following: defining the research question, selecting a sample, developing a hypothesis, creating a data collection plan, and determining how to analyze the results. Be sure to explain any specific techniques you might use in each step, such as random sampling or stratified sampling for your sample selection process. Finally, emphasize the importance of validating the results to ensure they are accurate and reliable.
Example: "When designing an experiment or survey, the first step is to define the research question. Once the research question has been identified, I would then select a sample that is representative of the population being studied. I would also develop a hypothesis based on my understanding of the research question and the available data. After that, I would create a data collection plan that outlines how the data will be collected, such as using surveys, interviews, or focus groups. Finally, I would determine the best method for analyzing the results in order to draw valid conclusions from the research. In all cases, it's important to validate the results to ensure they are accurate and reliable."
5. Are you familiar with any statistical software programs? If so, which ones?
Researchers often have to analyze data and present it in a meaningful way. This requires familiarity with statistical software programs like SPSS, SAS, or R. Knowing how to use these programs is a critical part of being a successful researcher, so this question is meant to gauge your level of expertise.
If you are familiar with any of the programs mentioned above, be sure to mention that and explain how you have used them in past research projects. If you are not familiar with these programs, it is still important to emphasize your ability to learn new software quickly. Explain how you approach learning new technologies and provide examples of times when you have successfully done so in the past.
Example: "I have used SPSS and SAS in my previous research projects. I am also comfortable with learning new statistical software programs, as I have done so on multiple occasions in the past. For example, when starting a new project at my last job, I was asked to learn R quickly in order to analyze data. Within two weeks, I had become proficient enough to use it for all of our research needs."
6. What strategies do you use to stay organized while conducting research?
Research can be a long and complex process, with lots of data to sift through, organize, and analyze. It's important to show the interviewer that you have a system in place to stay organized throughout the research process, from the initial research plan to the final report. This will demonstrate that you can effectively manage your time and resources, as well as prioritize tasks and remain focused on the task at hand.
You can answer this question by talking about the strategies you use to stay organized while conducting research. You could mention that you create detailed research plans, break down large tasks into smaller ones, and prioritize tasks based on importance and deadlines. Additionally, you could talk about how you utilize organizational tools such as spreadsheets and databases to store data, track progress, and easily access information when needed. Finally, you might also discuss how you take notes during your research process in order to keep track of important ideas or findings.
Example: "I use a variety of strategies to stay organized while conducting research. I always start by creating a detailed research plan that outlines the scope of my work and any deadlines associated with it. From there, I break down large tasks into smaller ones in order to tackle them more efficiently. Additionally, I prioritize tasks based on importance and deadlines in order to remain focused on the task at hand. To help store data, track progress, and access information quickly, I also utilize organizational tools such as spreadsheets and databases. Finally, I take notes during my research process in order to keep track of important ideas or findings."
7. How do you handle ethical considerations when conducting research?
Research often involves collecting personal data, and it's important that researchers understand how to approach these situations with respect and integrity. Interviewers want to know that you are aware of ethical considerations and that you are capable of adhering to them. This question is likely to be asked to all potential researchers, as it is an important part of the job.
Talk about the ethical considerations you take into account when conducting research. These can include obtaining informed consent from participants, ensuring confidentiality and anonymity of data, respecting privacy laws, protecting vulnerable populations, and considering potential biases that may arise in your research. You should also mention any processes or protocols you have implemented to ensure ethical compliance with research projects. Finally, emphasize how important it is for researchers to adhere to ethical standards and how seriously you take them.
Example: "I understand the importance of adhering to ethical standards when conducting research, and I take this responsibility very seriously. In my current position as a researcher at ABC University, I follow a strict protocol for obtaining informed consent from participants and ensuring that data is kept confidential and anonymous. I also make sure to consider any potential biases in our research before collecting data and am familiar with applicable privacy laws. Lastly, I always strive to protect vulnerable populations, such as children or those with disabilities, when conducting research."
8. Have you ever encountered a situation where you had to adjust your research methodology due to unexpected circumstances?
Research is a dynamic process and researchers must be prepared to adjust their methods as needed. This question is designed to assess the flexibility of potential candidates and their ability to think on their feet. It also provides insight into how well a candidate understands the research process, including how to identify and address potential problems.
To answer this question, provide an example of a situation where you had to adjust your research methodology due to unexpected circumstances. Explain how you identified the problem and how you adjusted your methods in order to successfully complete the project. Be sure to emphasize any creative solutions you implemented and the positive outcome that resulted from your adjustment.
Example: "I recently encountered a situation where I had to adjust my research methodology due to unexpected circumstances. I was conducting a survey to analyze consumer behavior in relation to a new product launch. After collecting the first round of data, I noticed a discrepancy in the results that could not be explained. After further investigation, I realized that the sample size I was using was not large enough to accurately capture the data. I quickly adjusted my methodology by increasing the sample size and collecting more data, which ultimately allowed me to identify the discrepancy and provide an accurate analysis of consumer behavior."
9. Describe a time when you had to present your research findings in a clear and concise manner.
Researchers often have to communicate their findings to colleagues, stakeholders, and the public. The ability to communicate complex research findings in an understandable way is a key skill for someone in this role. This question allows the interviewer to gauge your ability to explain complex concepts in a clear and concise manner.
You should come prepared with an example of a time when you had to present your research findings. Talk about the project, what the goal was, and how you went about presenting it. If possible, provide specific details such as the type of presentation (oral, written, etc.), who you presented to, and the feedback you received. You should also explain the strategies that you used to make sure that the audience understood your message. This could include using visual aids, breaking down complex concepts into simpler terms, or providing examples to illustrate your points.
Example: "My most recent research project focused on the long-term effects of climate change on agricultural production. I knew that it was important to make sure that the findings were presented in a way that was easy to understand and digest. I created a PowerPoint presentation that included visuals and graphs to illustrate my points, as well as a written report that provided a detailed breakdown of the findings. I then presented my findings to a group of stakeholders and received positive feedback. They appreciated my ability to take complex concepts and explain them in a way that was easy to understand."
10. Do you have experience working with large datasets?
Many research roles require the ability to work with large datasets and analyze the information within them. This question helps employers understand how comfortable you are with such tasks, and it also serves as a way to gauge your technical skills. To answer this question, talk about how you've used various tools and techniques to analyze data and how you've been able to draw meaningful insights from it.
Start by talking about the types of datasets you've worked with, such as structured or unstructured data, and explain how you've gone about analyzing them. Then, provide a few examples of projects you've completed that involved working with large datasets. Finally, discuss any tools or techniques you've used to work with the data, such as statistical software, data visualization tools, machine learning algorithms, etc. Be sure to emphasize your ability to draw meaningful insights from the data and how those insights have helped inform decisions.
Example: "I have experience working with large datasets in both structured and unstructured formats. I have utilized various tools and techniques to analyze the data, such as statistical software and data visualization tools. I've also employed machine learning algorithms to uncover patterns and trends from the data. For example, in my most recent project I utilized a variety of data sources to identify potential new markets for our company. Through analyzing the data, I was able to identify key demographic, geographic, and psychographic trends that we could use to target our new customers. This analysis provided valuable insights that informed our marketing strategy and ultimately led to increased sales."
11. What challenges have you faced when collecting primary data for a research project?
Research often involves gathering primary data from sources such as surveys, interviews, focus groups, and observations. It's important to determine whether the candidate has the skills necessary to design and implement a research project in order to successfully collect data. This question helps the interviewer understand the candidate's ability to handle the logistics and challenges of primary data collection.
When answering this question, it's important to provide specific examples of challenges you have faced and how you overcame them. For example, you could talk about the challenge of finding participants for a survey or focus group, or the difficulty in scheduling interviews with busy professionals. You can also discuss any logistical issues that arose during data collection, such as having unreliable equipment or dealing with uncooperative participants. Be sure to emphasize your problem-solving skills and ability to think on your feet when facing unexpected obstacles.
Example: "I've encountered a few challenges when gathering primary data for research projects. For example, when I was working on a survey project for a university, it took me several weeks to find participants willing to answer the survey. I had to be creative in my approach and reach out to different groups, such as student organizations, to recruit participants. I also encountered a few logistical issues, such as having unreliable equipment or dealing with uncooperative participants. I was able to quickly come up with solutions to these issues, such as having backup equipment and developing strategies to engage the participants. Overall, I was able to successfully gather the data I needed and produce valuable research findings."
12. How do you approach writing up a research paper or report?
Research is a process that requires both creativity and structure. As a researcher, you must be able to synthesize information from a variety of sources, develop strong arguments, and communicate those arguments clearly and concisely in written form. Being able to articulate your approach to researching and writing up a paper will demonstrate your ability to think critically and logically.
Your answer should include the steps you take when writing up a research paper or report. This could include outlining your topic, researching relevant sources, organizing and synthesizing data, developing an argument, drafting and revising the paper, and proofreading for accuracy. It is also important to emphasize how you use critical thinking skills to develop strong arguments and draw meaningful conclusions from your research. Finally, make sure to mention any specific techniques or strategies that you have used successfully in the past.
Example: "When writing up a research paper or report, I approach the task systematically. I begin by outlining my topic and any relevant research questions. I then conduct research to find relevant sources, both primary and secondary. I carefully review and analyze the information I find, and use it to develop my argument. After that, I draft and revise the paper, making sure to include evidence to support my points. Finally, I proofread for accuracy and clarity. Throughout the process, I strive to use critical thinking skills to ensure that my arguments are sound and my conclusions are meaningful."
13. What techniques do you use to identify potential sources of bias in your research?
Researchers need to be able to identify potential sources of bias in their work, such as selection bias or confirmation bias, in order to ensure the accuracy of their data and the validity of their results. By asking this question, the interviewer is gauging your ability to identify potential sources of bias and how you handle them.
To answer this question, you should discuss the techniques you use to identify potential sources of bias in your research. This could include methods such as double-checking data for accuracy and completeness, using multiple sources of information, or conducting blind studies. Additionally, you can talk about how you handle any biases you may find, such as adjusting your research design or changing your methodology. Be sure to emphasize that accuracy and validity are important to you and that you take steps to ensure they remain a priority.
Example: "I understand the importance of accuracy and validity in research, so I always strive to identify and address any potential sources of bias. I use several techniques to identify bias, such as double-checking my data for accuracy and completeness, using multiple sources of information, and conducting blind studies. When I do identify a potential source of bias, I adjust my research design or change my methodology to address it. I also make sure to communicate any changes to my team and stakeholders to ensure that we're all on the same page."
14. How do you evaluate the quality of secondary sources used in your research?
One of the most important skills of a researcher is being able to evaluate the quality of sources used in research. This question allows the interviewer to get a better understanding of your research process and your ability to critically evaluate sources. It also allows them to gauge your level of experience in the field and your knowledge of the research landscape.
To answer this question, you should explain your process for evaluating secondary sources. You can talk about the criteria that you use to evaluate a source's credibility such as its author or publisher, the date of publication, and any peer reviews that have been conducted on the source. Additionally, you can mention any methods you use to assess the accuracy of information in the source such as cross-referencing with other sources or conducting additional research on the topic. Finally, you should discuss how you use these evaluations to inform your own research.
Example: "When evaluating the quality of secondary sources I use in my research, I consider a few key factors. I always look at the author or publisher of the source, the date of publication, and any peer reviews that have been conducted. I also use a variety of methods to assess the accuracy of the information in the source, such as cross-referencing with other sources and conducting additional research. From there, I use my evaluations to inform my own research and determine how best to use the source. This helps me ensure that I'm using the most reliable and up-to-date sources in my research."
15. What strategies do you use to keep track of changes in the field of research you are studying?
Research is an ever-evolving field and keeping up with changes in the field is essential to remain relevant and up to date. Interviewers want to know that you have the skills and strategies to stay on top of the latest research, trends, and developments in the field. They'll be looking for evidence that you have the self-discipline and organizational skills to stay on top of your work and be able to provide timely, accurate research.
You should be prepared to discuss the strategies and tools you use to stay up-to-date on changes in your field. Talk about how you keep track of new research articles, publications, conferences, and other sources of information that are relevant to your work. You can also talk about how you use technology such as RSS feeds, social media, or email alerts to ensure that you're aware of any news or updates related to your research. Additionally, mention any methods you have for organizing and cataloging the information you collect so it is easily accessible when needed.
Example: "To stay on top of changes in my field, I use a variety of strategies and tools. I subscribe to relevant RSS feeds and email alerts to ensure I'm aware of any new research articles or publications. I also use social media to follow industry leaders and experts in the field and get updates on their work. I also keep an organized library of research material that I have collected over the years. I use a combination of software tools and physical filing systems to keep track of all the information I need. This allows me to quickly access any information I need, when I need it."
16. How do you decide which research questions to pursue?
Being a researcher requires the ability to prioritize and select the best questions to pursue in order to achieve the desired outcome. This question helps the interviewer get a sense of your process and how you approach problem solving. It also gives them an insight into your critical thinking skills, as well as your ability to analyze data and make meaningful conclusions.
The best way to answer this question is to provide a step-by-step approach of how you decide which research questions to pursue. Start by explaining the research process you go through, such as collecting data, analyzing it and forming hypotheses. Then explain how you prioritize certain questions based on their importance and relevance to the project at hand. Finally, discuss how you use your findings to make informed decisions about which questions are worth pursuing further.
Example: "When I'm deciding which research questions to pursue, I start by gathering all the available data related to the project. From there, I analyze the data to form hypotheses and then prioritize the questions based on their importance and relevance to the project. I also consider the impact each question could have on the overall outcome of the research. Once I have a list of the most important questions, I evaluate the data and use my findings to make informed decisions about which questions are worth pursuing further. Ultimately, my goal is to select the best questions that will yield the most meaningful results."
17. What is your experience with peer review processes?
Peer review is a critical part of the research process. It requires that researchers review and critique each other's work in order to ensure that the research is unbiased and credible. This question is a way for the interviewer to assess your knowledge of the research process and your ability to work with other researchers.
To answer this question, you should provide specific examples of your experience with peer review processes. Talk about how you have worked with other researchers to review and critique their work, as well as how you have incorporated feedback from peers into your own research. You can also discuss any challenges or successes you had during the process. Finally, emphasize your understanding of the importance of peer review in the research process and why it is necessary for producing high-quality results.
Example: "I have extensive experience with peer review processes, both as a reviewer and as an author. I have worked with other researchers to review their work and provide constructive feedback, as well as incorporating feedback from peers into my own research. I understand the importance of peer review in the research process and am committed to producing high-quality results. I have also had success in resolving disagreements between reviewers and authors when needed, and I have a strong track record of producing quality research that has been accepted for publication."
18. How do you manage competing demands on your time when conducting research?
Research can be a demanding job, with a lot of deadlines, competing agendas, and complex data sets to analyze. The interviewer wants to make sure you can prioritize tasks, keep track of multiple projects, and adjust when needed. Your ability to manage competing demands on your time is a key indicator of how successful you will be at the job.
To answer this question, you should focus on how you prioritize tasks and manage deadlines. Talk about the strategies you use to stay organized, such as setting up a calendar or using task management tools. Also discuss any techniques you have for staying focused when there are multiple demands on your time. Finally, emphasize your ability to adjust your plans when needed, such as if an unexpected project comes in or a deadline needs to be moved up.
Example: "I have a few strategies for managing competing demands on my time when conducting research. I prioritize tasks by breaking them down into smaller, manageable chunks and then assigning deadlines to each one. I also use task management tools to keep track of what I need to do and stay organized. And I make sure to take regular breaks to stay focused and energized. When I need to adjust my plans due to unexpected events, I'm able to reassess and re-prioritize my tasks accordingly. I'm confident in my ability to manage competing demands on my time and stay organized when conducting research."
19. What strategies do you use to ensure that your research remains relevant and up-to-date?
Research is a dynamic field, and the best researchers know that they need to stay informed of the latest developments and trends in order to remain relevant. This question allows your interviewer to assess your knowledge of the field and your commitment to keeping up with the latest research. It shows that you are aware of the need to stay ahead of the curve and that you have the skills to do so.
To answer this question, you should start by discussing the strategies that you use to stay informed. You can talk about how you read industry publications, attend conferences and seminars, or network with other researchers in your field. You should also mention any specific platforms or tools that you use to keep up-to-date on the latest research. Finally, you should explain why staying informed is important to you and how it helps you do better work.
Example: "I use a variety of strategies to ensure that my research remains relevant and up-to-date. I read industry publications, attend conferences and seminars, and network with other researchers to stay informed. I also use specific tools like Google Scholar and ResearchGate to keep track of new developments in my field. It's important to me to stay ahead of the curve and make sure that my research is as current and relevant as possible. Doing so not only helps me do better work, but it also helps me to provide more value to my employer and contribute to the success of their projects."
20. How do you ensure that your research meets the highest standards of academic integrity?
Research is the backbone of any organization, and it is crucial for a researcher to maintain the highest standards of academic integrity. Employers want to know that you understand the importance of being thorough and accurate, as well as ethical in your research. They may also want to know how you go about verifying the accuracy of your data and sources, and how you ensure that your research meets the standards expected in the field.
Start off by detailing the steps you take to ensure that your research meets academic integrity standards. For example, you can mention how you always double-check sources and data for accuracy and reliability, or how you use peer review processes to vet your work. Additionally, be sure to emphasize any specific techniques or methods you have used in the past to verify the validity of your findings. Finally, explain why it is important to you to maintain the highest level of academic integrity in your research.
Example: "I understand the importance of academic integrity and take it very seriously in my research. To ensure the highest standards of accuracy, I always double-check my sources and data, and use peer review processes to vet my work. Additionally, I frequently use replication studies to verify the validity of my findings. To me, it is essential to ensure that my research meets the highest standards of academic integrity, as it is the foundation of any successful research project."
20 Interview Questions Every Data Center Engineer Must Be Able To Answer
20 help desk interview questions and answers, you may also be interested in..., 30 market coordinator interview questions and answers, 30 assistant bakery manager interview questions and answers, 30 ecommerce analyst interview questions and answers, 30 business marketing manager interview questions and answers.
We use cookies to enhance our website for you. Proceed if you agree to this policy or learn more about it.
Essay Database >
Essays Samples >
Essay Types >
Research Paper Example
Interview Research Papers Samples For Students
422 samples of this type
No matter how high you rate your writing abilities, it's always a worthy idea to check out a competently written Research Paper example, especially when you're handling a sophisticated Interview topic. This is precisely the case when WowEssays.com database of sample Research Papers on Interview will come in handy. Whether you need to brainstorm an original and meaningful Interview Research Paper topic or look into the paper's structure or formatting peculiarities, our samples will provide you with the necessary data.
Another activity area of our write my paper service is providing practical writing assistance to students working on Interview Research Papers. Research help, editing, proofreading, formatting, plagiarism check, or even crafting fully original model Interview papers upon your demand – we can do that all! Place an order and buy a research paper now.
Human Resource Project Research Paper
- Interview questions
The applicants applying for job positions in the interior design occupation normally face Behavioral, Skill- based, and Situational interview questions.
- Behavioral interview question In the behavioral profession interviews, the employers decide the skills that they need in applicants they are about to hire and ask questions to establish whether the applicants possess those skills. Therefore, the behavioral interview questions are more focused than the traditional interview questions and the candidate need to reply with specific examples of the way he/she handled certain situations in the place of work.
Behavioral interview question to ask an Interior Designer candidate
Sample research paper on what can history offer, walt disney research paper sample.
Don't waste your time searching for a sample.
Get your research paper done by professional writers!
Just from $10/page
Good Example Of Research Paper On Transcript
Interview a senior citizenname:institutional affiliation:.
Q: How many siblings do you have? A: 7
Q: How long were your parents married?
A: 48 years Q: Did most of the members of your family live in good health into their old age? A: Relatively. My sister died of a heart attack when she was 40 and my father struggled with high blood pressure but for the most part we are healthy. We work out a lot. My mom tried to feed us healthy and teach us how to cook healthy. My dad encouraged us to stay active.
Q: Did you like school? How was school for you?
Good research paper about interview protocol, literature review:, employee motivation report research paper, introduction, good research paper about meeting big data challenges with visual analytics the role of records management, example of research paper on the impact of social media (face-book and twitter etc) on student learning, question 1: parameters of the research, dream job research paper sample, good example of facilitator academic research paper, interview with an older adult, sustainable agriculture research papers example, sustainable agriculture 1.
Executive Summary: 3 Introduction 4 Goals and Objectives 5 Method Used 6 Key Trends: 6 Economic Trend 6 Culture and Social Trend 7 General Trends 8 Ecological Trend: 8 Agriculture 9 Data Analysis 9 Questionnaire Analysis: 10 Interview: 11 Focus Group Interview: 12 Data on Birds: 13 Recommendations 14 Limitations 15
References 16
Appendix: 17
Survey Assignment Poverty In America Research Papers Example
Good research paper on leadership interview project, example of political scandals research paper, the affordable care act (aca), free music research paper example, difference between matchbox 20 albums and rob thomas, aging-update research paper, research paper on interviewees name: alan krock, company: invensense, participants research paper example, spiritual needs assessment research paper examples, research paper on study design, example of data collection methodology research paper, complementary and alternative medicine (cam) - massage therapy research paper examples, massage therapy as a rising form of complementary and alternative medicine.
Society's increase in awareness of complementary and alternative medicine (CAM) techniques can be very visible nowadays. This reflects the growing awareness of people regarding practices related to CAM and also an increased emphasis on promoting health and wellness instead of medically fixing the body when it is already burdened by disease and other ailments. Complementary and alternative medicine is a broad term that encompasses all non-Western medical practices that aim to promote health such as massage, yoga, acupuncture, aromatherapy and other related practices. One of the most popular CAM techniques is massage.
Massage History and Important Principles
Advantages and disadvantages of content analysis research research paper example, buddhism research paper sample, research paper on embroidery, series of interviews proposal assignment research paper examples, series of interviews proposal assignment.
The review of different proposals on the series of interviews to be used by Gilliland-Moore Wines brought out several opinions and ideas. Based on each member's proposal to select certain series of interviews, for each post required more than one kind of interview to select a competent candidate.
Example Of Job Competence Research Paper
Competencies are specific qualities that a recruiting organization desires in its potential employees. There are several methods that could be used to assess competencies in jobs. Different jobs fit different competencies. In employment interviews, there are several factors involved. Individual differences are part of the scope of interviewers.
Importance Of Interviews Research Paper Examples
The interview process is important in any hiring organization because it helps the organization identify the most suitable candidates for the job. The organization has to consider several factors before settling on either a structured or unstructured interview process. The questions asked in both kinds of interviews differ in several ways.
Free Research Paper On Motivational Interviewing To Help Patients with Chronic Diabetes
Chronic diabetes in primary care.
Motivational interviewing is a collaborative conversation and decision-making process between a health practitioner and the patient receiving treatment (Butler et al, 2007). Although the process of motivational interviewing involves many stakeholders, only the patient can make the initiative in changing behavior and lifestyle to improve their health and avoid destructive behaviors (Miller &Arkowitz, 2007).
The key stakeholders that need to be involved in this motivational interviewing change improvement project at Ben Taub hospital include:
1) Diabetes Patient's immediate families 2) Primary care staff and health providers including nurses and other health care practitioners 3) Chief of primary care 4) Hospital management 5) Patients
The Formation Of False Memories Research Paper Example
The study aforementioned concentrates on gauging the ability of a human to refresh his/her memory by using narration strategies. The researchers are also finding out if there is a chance that an entire memory of a person can be altered in a major way through deception. The researchers are also trying to do such thing aforementioned in a legitimate way.
Research Paper On Motivational Interviewing For Better Self-Management
Evaluation parameters, the use of motivational interviewing to help patients achieve better self-management research paper sample, operationalization of motivational interviewing in primary care for diabetes patients.
` The institutionalizing of motivational interviewing techniques in patient care is always a challenge for many health care organizations. The process is costly because it requires continuous training of health care providers, great involvement of health care practitioners and periodic evaluation (Butler et al, 2007). In the process of operationalizing motivational interviewing for diabetes care, it is necessary for the management of health care organizations to provide the necessary resources and support for training of health practitioners and the evaluation of the operationalization process.
Proposed budget for the operationalization of motivational interviewing for diabetes patients.
The use of motivational interviewing to help patients achieve better self-management research paper, free research paper on the use of motivational interviewing to help patients achieve better self-management, research review, specific recommendations research paper example, data management plan research paper examples.
(On comparing two Non-steroidal anti-inflammatory Drugs – Ibuprofen and Celecoxib)
DATA MANAGEMENT PLAN
The study is going to be about comparing two Non-steroidal anti-inflammatory Drugs – Ibuprofen and Celecoxib and carrying out a clinical analysis on the drugs. We are going to interview patients who have used the drugs, nurses and physical therapists who have been administering the drugs and then tabulating the results to show the effectiveness of each of the two Non-steroidal anti-inflammatory Drugs.
Data Collection Staff:
Research paper on descriptive questions, example of qualitative research designs research paper, qualitative research designs, radcom nigeria limited research paper example.
Explanatory Notes – You should read these before filling in your proposal (Please do not hand these notes in with your form )
The project summary is an indication of your intent to carry out a project in a certain field of discipline for a Masters level module.
Example Of Research Paper On African Americans Still Face Discrimination In Housing Market Work Place And Shopping
Qualitative research analysis research paper example, qualitative research analysis, facebook is it safe for children research paper sample, summary of interviews, an examination of applied business research paper example, research paper on human resource, cultural challenges of opening a business in haiti research paper.
Planning to set up a new American business in one of the most historical cities in the Caribbean is not a very bad idea. This paper will discuss the different cultural and economic challenges and barriers an American may potentially face if ever he has plans to start up a new or a locally known line of business in Haiti. In terms of population and opportunities for success, Haiti could be one of the best choices especially for investors and businessmen coming from the Dominican Republic, which only lies adjacent to Haiti.
A brief background about Haiti's profile as a country
Cognition in children research paper research paper examples, free research paper on motivational interviewing, motivational interviewing, good research paper on human resource management: staffing consultant, example of gulf war research paper, good research paper on how can californias workers compensation policies be changed to reduce fraud, example of research paper on why do we study the ancient literature, free qualitative research research paper example, qualitative research, employee selection method research paper sample, sustainability of stem schools and role of administrators research paper examples.
(the author's name) (the institutional affiliation)
Free Research Paper On Recruitment And Hiring Plan For Sales Representative Position
Factors affecting second language learning research papers examples, human resource management: a sample research paper for inspiration & mimicking, holistic wellness careers and healthcare delivery analysis research paper examples, holistic wellness careers and healthcare delivery analysis, good example of research paper on documentary photography, changing the healthcare sector to facilitate quality and safe care for elderly research paper samples, type of journal format: structured journaling.
Password recovery email has been sent to [email protected]
Use your new password to log in
You are not register!
By clicking Register, you agree to our Terms of Service and that you have read our Privacy Policy .
Now you can download documents directly to your device!
Check your email! An email with your password has already been sent to you! Now you can download documents directly to your device.
or Use the QR code to Save this Paper to Your Phone
The sample is NOT original!
Short on a deadline?
Don't waste time. Get help with 11% off using code - GETWOWED
No, thanks! I'm fine with missing my deadline