The Behance Blog
Top photography projects of 2022.
Behance is home to the best photographers, photojournalists, stylists, set designers, and retouchers. Year after year, we are impressed with the quality of work that our community shares with our platform.
From fashion and editorial photography to landscapes and aerials to commercial photography and beyond, here are some of the best photography projects from Behance.
Double exposure fashion shoot by Alex Korzov
See more fashion photography projects on Behance
Conceptual photography by Aaron Tilley
See more conceptual photography projects on Behance
Kyoto at night by Xavier Portela
See more long exposure photography projects on Behance
Travel photography by Paolo Pettigiani
See more infrared photography projects on Behance
Abstract portraits by Arthur Keef
See more beauty photography projects on Behance
Powder pressed food photography by Kai Stiepel and Kelly Kellerhoff
See more food photography projects on Behance
Drone images of vast farmlands by Mitchell Rouse
See more aerial photography projects on Behance
Soft portrait photography by Polina Washington
See more portrait photography projects on Behance
Monochrome landscape photography by Bernd Walz
See more black and white photography projects on Behance
Want to see the best photography projects .
Browse our curated Photography Gallery for the latest trends and projects in landscape photography, fashion photography, commercial photography, food photography, and photo editing.
You can also browse projects created with Adobe Photoshop , Lightroom and more.
Looking for more photography projects?
Search for photography projects on Behance , or see more top photography projects from this year's Top Photography Projects of 2022 moodboard .
Recent Posts
Top Visual Trends of 2023
Featured Moodboard: Advent Calendars
Behance Artist Spotlight: Sebastian Marek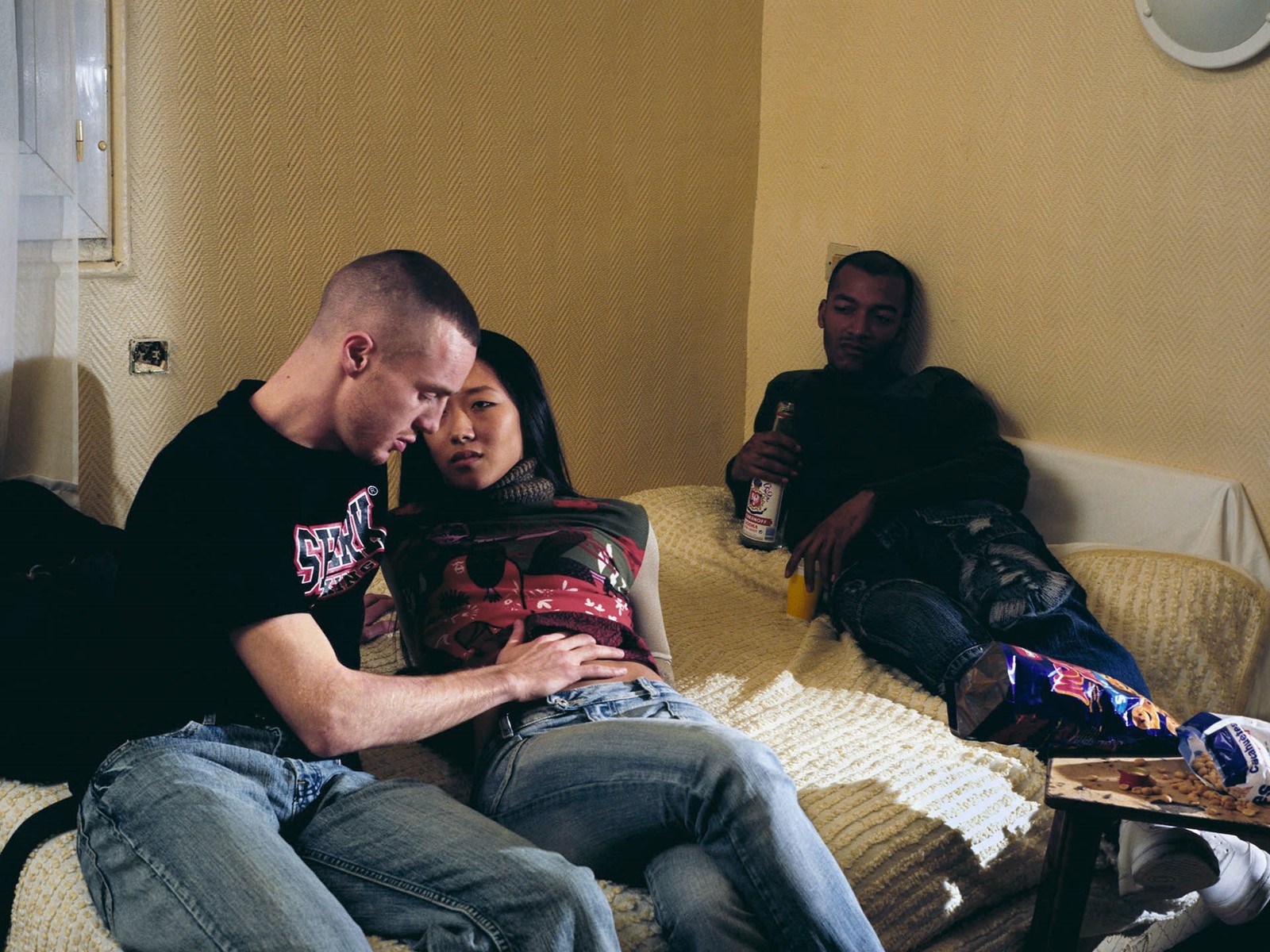 The Ten Most Visually Arresting Photo Projects of 2022
From clifford prince king's tender portraits of black, queer intimacy to renell medrano's album artwork for kendrick lamar's mr. morale & the big stepper, adam murray looks back at the best photo projects from the past year.
As I was searching for ten of the best photography projects from 2022, I was struck by how the following series all challenge the culture of instant gratification, individual praise and mass of visual content that we have become so familiar with. These are projects that are testament to the value of time, of reflection, of study, and of collaboration.
New books by Mohamed Bourouissa and Nigel Shafran both feature work made many years ago, yet manage to avoid nostalgia. There are striking similarities in the way photographers Hannah Lister, Kaitlin Maxwell and Sackitey Tesa Mate-Kodjo, all use photography to engage with their everyday experience, despite living and working in different continents. Thaddé Comar and Philip Montgomery's unflinching approach to documenting significant global events encourages viewers to reflect on their importance, whether lensing the 2019–20 Hong Kong protests or the Black Lives Matter protests sparked by the murder of George Floyd in 2020. Renell Medrano and Clifford Prince King both centre their work in domestic space to examine notions of biography, community, and performance, while Jack Davison's debut exhibition explored the material potential inherent in photography.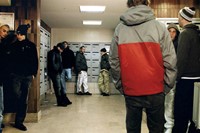 Périphérique by Mohamed Bourouissa (lead image)
Published by Loose Joints, Périphérique , was the standout photo book of 2022, as proved by recently being awarded the Paris Photo – Aperture Book of the Year prize. It is certainly an outstanding body of work, originally made during 2005-2008, during which time Bourouissa employed a constructed scene approach in an attempt to "give a place in French history to individuals usually neglected and overlooked in contemporary society." Those new to Bourouissa's work should look beyond this publication to discover how the artist uses photography, moving image, sound and installation. His 2021 exhibition Hara!!!!!!hAaaRAAAAA!!!!!!hHAaA!!! held at Goldsmiths CCA is a good place to start, featuring an extensive selection of his work such as Horse Day (2014-15), a two-channel video installation documenting horse riders at urban stables in North Philadelphia.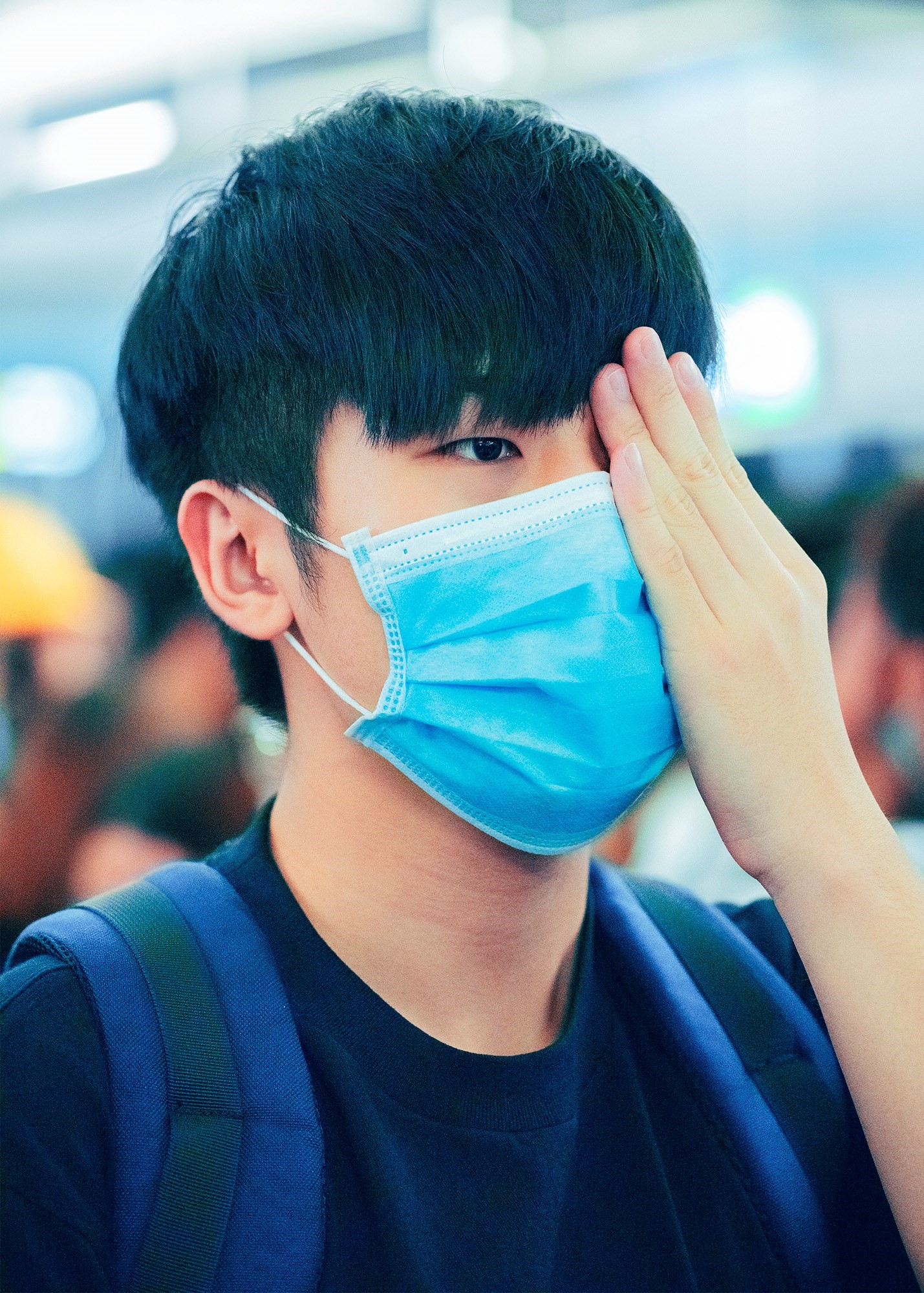 How Was Your Dream ? by Thaddé Comar 
Published by Morel Books, How Was Your Dream? by French-Swiss photographer Thaddé Comar features photographs made in Hong Kong between August to October 2019 during the pro-democracy protests. The project examines the ways that demonstrators have developed a repertoire of techniques to counteract the tools of control used by state and police, with Comar explaining that "my artistic practice tends to get rid of the codes of photojournalism that usually comes along with the classic representation of news."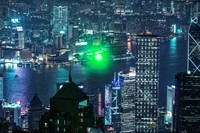 Photographic Etchings  by Jack Davison
For his debut UK solo exhibition at Cob Gallery, Jack Davison chose to explore his archive of monochrome images that depict the human figure, architecture, animals, objects, landscapes, and townscapes. As the title suggests, the prints in the exhibition were produced using a polymer photogravure technique. The result changes the way an audience experiences his work: "the whole point is making things which are different from what people have seen digitally," says Davison. This deliberate exploration of the materiality inherent in photography made this an exhibition that needed to be visited in real life.
Read AnOther's interview with Jack Davison   here .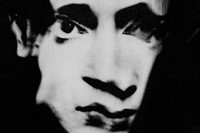 Orange Grove by Clifford Prince King
The LA-based photographer's recently released debut book Orange Grove – published by TIS books –  features tender, intimate portraits documenting his experience as a queer Black man. In an interview with AnOther, King explained that the images in the book were made since 2016, when he first moved to Los Angeles. "My apartment at the time was very empty, we didn't have much furniture. Being queer and Black and single, I was meeting people, having casual sex and encounters and I was just documenting that." Describing the work being made into a book, the photographer hopes that "my audience should see themselves within that, a little nod or thumbs up from the back."
Read AnOther's interview with Clifford Prince King here .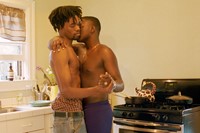 Various by Hannah Lister
Artist Hannah Lister grew up in the small town of Morecambe on the north-west coast of England, and graduated from the prestigious Royal Academy School in Summer 2022. For her degree project, Lister "worked with analogue photography to capture subtle, ambiguous and symbolic moments in the play of everyday life". The resulting work hints at notions of family and companionship, alongside an exploration of landscape and domestic space that feels both familiar yet uncanny.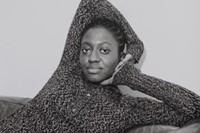 Various by Sackitey Tesa Mate-Kodjo
Sackitey Tesa Mate-Kodjo is a self-taught photographer and stylist based in Accra, Ghana who has been using Instagram since 2018 as the main outlet for his work. During 2022, he featured in the PhotoVogue Festival at BASE Milano, released his first set of NFTs, and was published in M Le magazine du Monde . Mate-Kodjo's work is testament to the potential within the everyday and the value of collaboration with one's chosen creative community. Found objects are transformed into one-off garments, then photographed in an unpretentious style in various locations and temporary studios close to home.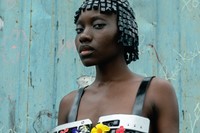 Current Series (Untitled) by Kaitlin Maxwell
Kaitlin Maxwell's ongoing Untitled Series first began in 2015, consisting of portraits of her grandmother, mother and herself photographed in various locations in America – the majority in her home state of Florida. Maxwell graduated from the MFA at Yale School of Art in 2019 and uses photography to "dissect her life through her images to try and understand who she is and where she originates [from]." Continuing this project in 2022, Maxwell follows in the tradition of photographic projects that commit to studying a subject over many years – an approach that seems to rebel against our instant image culture.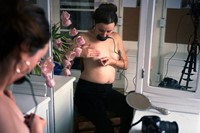 Various by Renell Medrano
American photographer Renell Medrano continues to be one of the most compelling image makers of the year. Three projects from 2022 stand out; Serena and Venus Williams for Harper's Bazaar , album artwork for Kendrick Lamar's Mr. Morale & the Big Steppers , and portraits of her father for Gucci, all linked by a common thread of family, domestic space and lived experience. Despite capturing some of the most photographed people in the world, Medrano collaborates with her sitters to develop refreshingly unfamiliar visual interpretations of them and their work.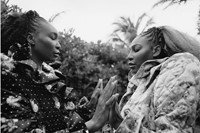 American Mirror by Philip Montgomery 
Philip Montgomery's distinctive black-and-white photographic style has become synonymous with the documentation of contemporary America. Commissions for The New York Times Magazine during the peak of the Covid pandemic presented an unapologetically stark insight into the impact on hospitals and funeral homes. American Mirror , published by Aperture, provides a comprehensive account of his photographic work that "chronicles the fractured state of America." With books of this nature, sometimes the subject can begin to feel a little distant, but the way in which Montgomery photographs racial tensions, protest, and widespread illness continues to maintain relevance.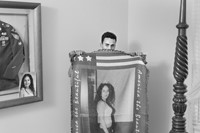 The Well by Nigel Shafran
The Well , published by Loose Joints, is the first survey book of Nigel Shafran's photographic work for fashion publications and brands that he has been making since 1982. Rather than a chronological 'best of', the book is a reflection on one aspect of the British photographer's extensive body of work. As Shafran says in the introduction, "it's a book about the ideas that always end up somewhere in my work." The publication also gives space for conversation with others who have played an important role in this work, such as curator and writer Charlotte Cotton, art director Phil Bicker and stylist Melanie Ward; this added insight further emphasises how influential the network associated with Shafran's photography is on other fashion imagemakers today.
Read AnOther's feature on the book  here .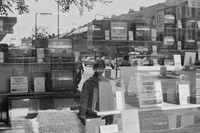 Subscribe to the weekly AnOther newsletter
Advertising
Architecture
Creative Industry
Graphic Design
Illustration
Photography
Product Design
Publication
Food & Drink
Sustainability
Nicer Tuesdays
Ones to Watch
Review of the Year
Forward Thinking
The Next Generation
In Conversation
It's Nice That Podcast
Brand Partnerships
Newsletters
Terms & Conditions
Privacy Policy
Cookie Policy
Matt Alagiah
Jenny Brewer
Lucy Bourton
Olivia Hingley
Yaya Azariah Clarke
About Extra Nice
Login to your account
Become a supporter
Extra Search
Review of the Year 2022
Documentary
Review of the Year 2022: Top 25 Photography
Photography is a medium that can inspire, sooth, humour and provoke debate – and our most-read photography articles of the year only prove this point. Read on to discover some of the best camera work being produced today.
If there was ever something to get people clicking, it's a conspiracy theory – and click you did. The most-read photography article on the site this year came from the photography duo Orejarena and Stein who travelled the world to find "real-life glitches". And, as always, photography provided a means to explore complex topics. Brandon Tauszik's Facing Life project shone a light on the pervasive issues caused by mass incarceration, while in a feature we asked: Should only working-class photographers take pictures of working-class people and places?
Meanwhile, the personal work of Abdulaziz Al-Hosni, Gabriel Lopez, Thy Tran, Mia Vasquez and Lydia Metral explored notions of belonging, and the indomitable Micaiah Carter and Salomé Gomis-Trezise turned the lens on family life in all its many forms. Exploring old school aesthetics and subcultures, Alex Huanfa Cheng reflected on the decline of alternative aesthetics in China, Francesca Rowse created a y2k-inspired prom wonderland in her Cornish hometown, while Callum O'Keefe explored the psychological reasons behind compulsive collecting. There was, of course, a little bit of humour sprinkled in there too: Max Siedentopf's campaign showcasing Gucci for pets saw dogs dressed in the most high-fashion outfits, KesselsKramer photographed people sleeping from below (drool and all), while Francois Prost snapped France's happy campers coming out of their mobile homes. What a treat.
Are we living in a simulation? Photography duo Orejarena & Stein might have some evidence
Photographer morrison gong on carnal lust and the transformative power of eros (nsfw), "often hyperbolic and satirical", salomé trezise crafts intricate narratives through her photography, should only working-class photographers take pictures of working-class places, thy tran takes emotive pictures where two women can "simply be whoever they wish to be", over-saturated colours, neon lighting and elaborate editing: bella blu's photography is ethereal and unearthly, in smart kids, alex huanfa cheng explores the demise of a lost chinese subculture, gucci for pets lands with adorable portraits from max siedentopf, photographer francesca rowse redefines cornish womanhood in her y2k-inspired series, the day rioters stormed the capitol revisited in photographs, no running pia henkel shines a light on berlin's 62 public pools, what are the psychological reasons behind the compulsion to collect photographer callum o'keefe explores, micaiah carter grieves his late father and reconnects with his family through this beautiful new series, honesty, intimacy and storytelling fuel photographer mia vasquez's sensitive practice, lydia metral's photo series les insouciants celebrates those who refuse to conform, photography and film duo the masons tells compelling stories of human existence and beauty, the facing life project investigates "life after life" in california's prisons, achal mishra views his atmospheric photography as a means of keeping a diary, using vintage aesthetics with a modern twist, photographer abdulaziz al-hosni challenges the rules of masculinity, ofir berman offers a portal into one of jerusalem's oldest jewish neighbourhoods, the mea shearim, therapy and escapism: gabriel lopez on the healing power of photography, kesselskramer's campaign for citizenm captures portraits of people sleeping – "dribble and all", colour and vibrancy define victor eddeh's attention-grabbing photography, callum su's enigmatic photography grapples with the unfamiliar, happy campers francois prost photographs france's dedicated camping community, share article, further info.
To read more of our stories on photography, head over to our dedicated page .
About the Author
It's Nice That
This article was written by the It's Nice That team. To find our editors and writers, please head over to our Contact page.
Review of the Year 2022: Top 25 Illustration
Review of the year 2022: top 25 graphic design, review of the year 2022: top 25 features, review of the year 2022: top 50 most read, it's nice that newsletters.
Fancy a bit of It's Nice That in your inbox? Sign up to our newsletters and we'll keep you in the loop with everything good going on in the creative world.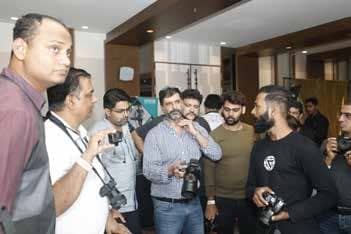 1. Photography Training Institute
The photography training institute is one of the most profitable photography business ideas for aspiring professional photographers. Core concepts like exposure, composition, light, shadow, colour, format, camera type, lens type, and digital or darkroom post-processing may be covered in Photography courses. Photographers with experience and qualifications can provide the training necessary in a photography training institute.
2. Real Estate Photography
Real estate photography refers to the creation ofphotographs for a property listing that a real estate agent intends to sell on the housing market. In the real estate photography industry, post-production software is crucial. By including video as part of your offerings, you will be able to stay ahead of the competition. It also allows you to work with techsavvy clients who are eager to learn about new technologies.
3. Create and Sell Online Photography Courses
هذه القصة مأخوذة من طبعة January 2022 من Asian Photography.
ابدأ النسخة التجريبية المجانية من Magzter GOLD لمدة 7 أيام للوصول إلى آلاف القصص المتميزة المنسقة وأكثر من 8000 مجلة وصحيفة.
بالفعل مشترك ?   تسجيل الدخول

A Guide To Bird Wildlife Photography
Wildlife photography is a fascinating and rewarding pursuit that allows us to capture the beauty and wonder of the natural world. Among the most captivating subjects for photographers are birds, with their diverse species, behaviours, and habitats

A GUIDE TO NIGHTTIME WILDLIFE PHOTOGRAPHY
When the sun sets and darkness blankets the natural world, a whole new realm of photographic opportunities comes to life

HIGH SPEED WILDLIFE PHOTOGRAPHY: CAPTURING WILDLIFE IN ACTION
Wildlife photography has always been a captivating and challenging pursuit for photographers

APS-C STANDARD ZOOM LENS SHOOTOUT
The default lens that any photographer or novice buys into is the kit lens

APS-C MIRRORLESS WIDE LENS SHOOTOUT
A wide-angle lens is an important tool for photographers. They can capture big, sweeping scenes and also allows the photographers to get close to their subjects for detailed shots

APS-C MIRRORLESS PRIME LENS SHOOTOUT (WIDE-ANGLE)
Many photographers love using prime lenses, and having a collection of different prime lenses can be very beneficial for them. These lenses come in various focal lengths and in this month we are focussing on the wide-angle

CAPTURING THE UNTAMED
Wildlife photography is like an art adventure. It takes photographers deep into wild places where they use their cameras to tell amazing stories. But it's not easy. Wildlife can be unpredictable, and photographers have to deal with tough conditions. In this interview, we talk to Sudhir Shivaram, a famous wildlife photographer. He's known for his patience, skill, and love for nature, which are the secrets to his success. Sudhir is an inspiration for many people who want to follow their passions in this challenging field

'Customisation Technologies and Innovative - The Future
It is not easy being in the business of photo-imaging today, especially if you are a company like Fujifilm, whois one of the oldest players inthis business. But while most believe that there are increased challenges ahead, Fujifilm sees vast opportunity, thanks to their innovative technologies and customer centric approach. Bhavya Desai speaks to Centhilnathan L, India Business Head, Photo Imaging Sr. Vice President, Fujifilm India about the photo imaging business in India and more. Excerpts:

Xiaomi Studios premieres 'The Rolling Ball' shot on Xiaomi 13 Pro in India
Xiaomi India recently announced the launch of Xiaomi Studios in India, marking its entry into the realm of cinematic storytelling with the premiere 'The Rolling Ball

Nikon unveils NIKKOR Z 135mm f/1.8 S Plena lens
Nikon India recently released the NIKKOR Z 135mm f/1.8 S Plena lens, the newest member of the NIKKOR Z S-Line 1 series
Richard Boll
Six of my favourite corporate and personal photography projects in 2022.
When a new year starts, I like to look back on the year before and review photography projects that I've worked on. I've handpicked 6 of my favourite corporate and personal images from 2022, depicting a range of different photography styles, including corporate headshots, corporate products, corporate portraits and two portraits from my personal UK visual artist project series.
1. UK Visual Artist Portrait Series: Gavin Turk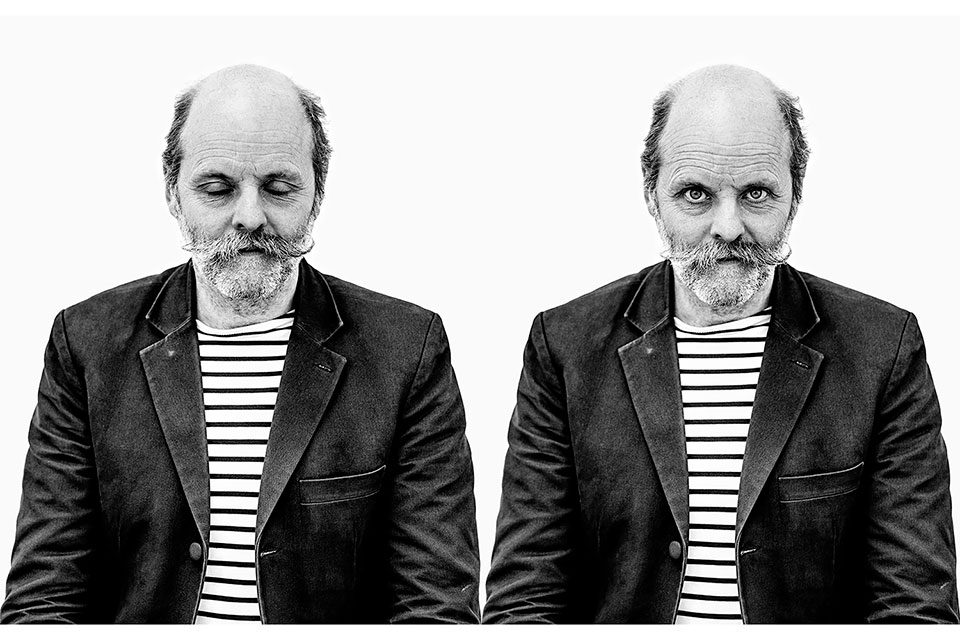 This portrait of Gavin Turk forms part of a personal project from my UK Visual Artist Portrait Series, inspired by his own work including the 'Portrait of Something That I'll Never Really See' (1997). I love this double portraiture combination shot particularly in black and white, as I think it's more graphically powerful giving a direct, punchier effect to the stripes on his shirt. Both of these elements also echo Turk's previous work using combinations of double portraiture and stripes. What I like about portrait photography is quite often, an unexpected result can emerge either during the shoot or in post- production as in this case. There's a need to be open to chance and not overly plan the end result.
2. Corporate Headshot Photography: Octopus Energy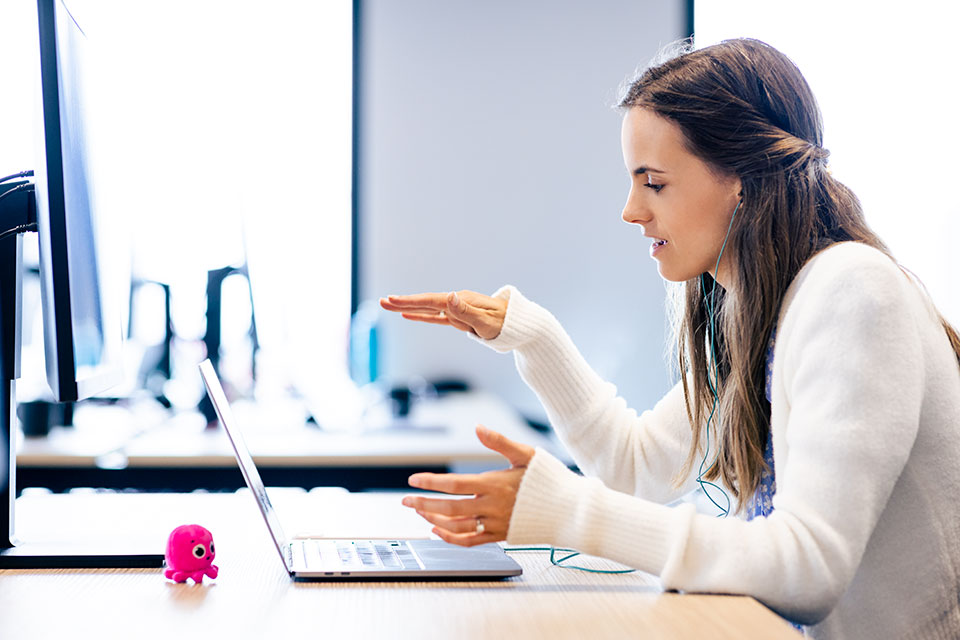 Octopus Energy is one of my regular corporate photography clients and this image is from a series of shoots that involved photographing staff in 3 of their offices based in London, Manchester and Leicester. Working alongside an Art Director, we collaborated to produce a whole library of corporate headshots and lifestyle imagery. This shot shows a flavour of the natural, documentary 'fly-on-the-wall' photography style that I think suits the Octopus brand really well. What I like about this particular image is the employee looks very relaxed and is clearly having a real, natural conversation with a customer, oblivious to the fact that she's being photographed.
3. Corporate Product Photography: Kin Chairs, designed by Pearson Lloyd for Allermuir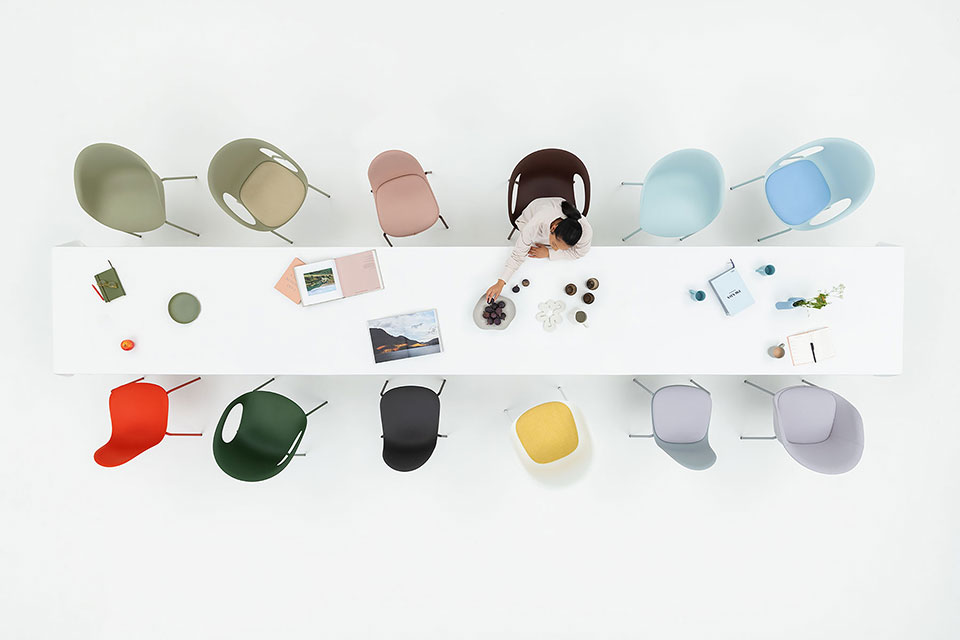 Allemuir came up with the original design concept for this image. Taken in their Preston studio, I attached a camera onto a scaffolding tower looking down onto this range of Kin chairs. What I like about this shot is that it shows off the products in an interesting and visually intriguing way. There's the play on colour of the chairs around the table and it was fun choosing the props to co-ordinate with the chair colours. Having to direct a model was an interesting aspect of the shoot, in order to get a good range of images that worked. I like this particular photo of the model reaching into the bowl as that worked well compositionally, as a focal point in the middle of the table.
4. UK Visual Artist Portrait Series: Adam Chodzko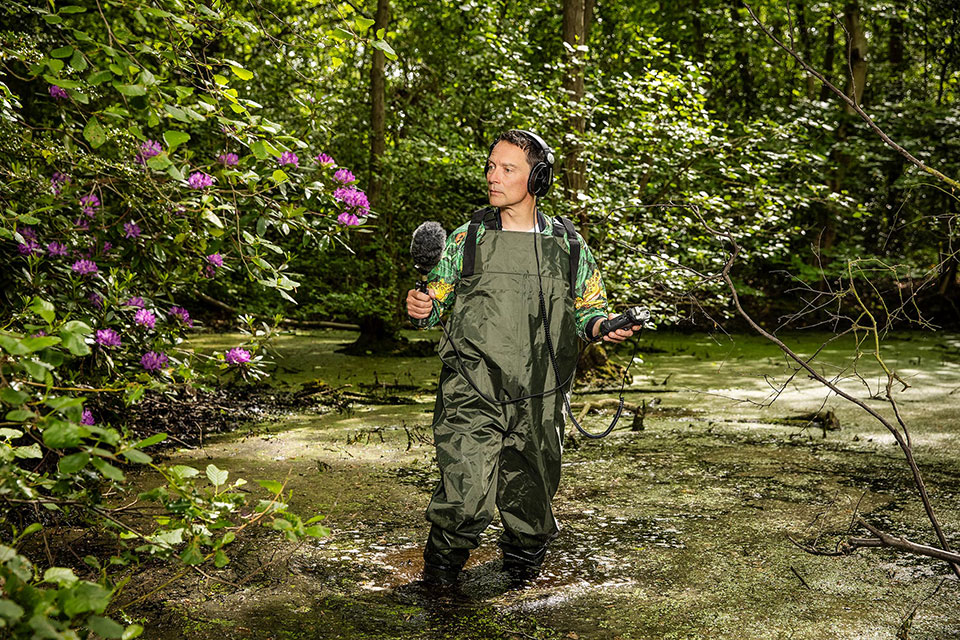 This portrait of Adam Chodzko, is another favourite image of mine from the UK visual artist portrait series. It was a particularly enjoyable shoot with a strong collaborative element to it. We discussed the images at some length beforehand with Adam letting me know what he thought would work and wouldn't work. I like this particular image because it highlights the collaborative approach to the shoot, and echoes Chodzko's love of water and use of crossovers between different spaces. The recording equipment he's holding picked up both urban and rural sounds within the space and I plan to use the sound clip as part of the installation for a future exhibition.
5. Corporate Product Photography: John Lobb , Frank Sinatra's Wooden Lasts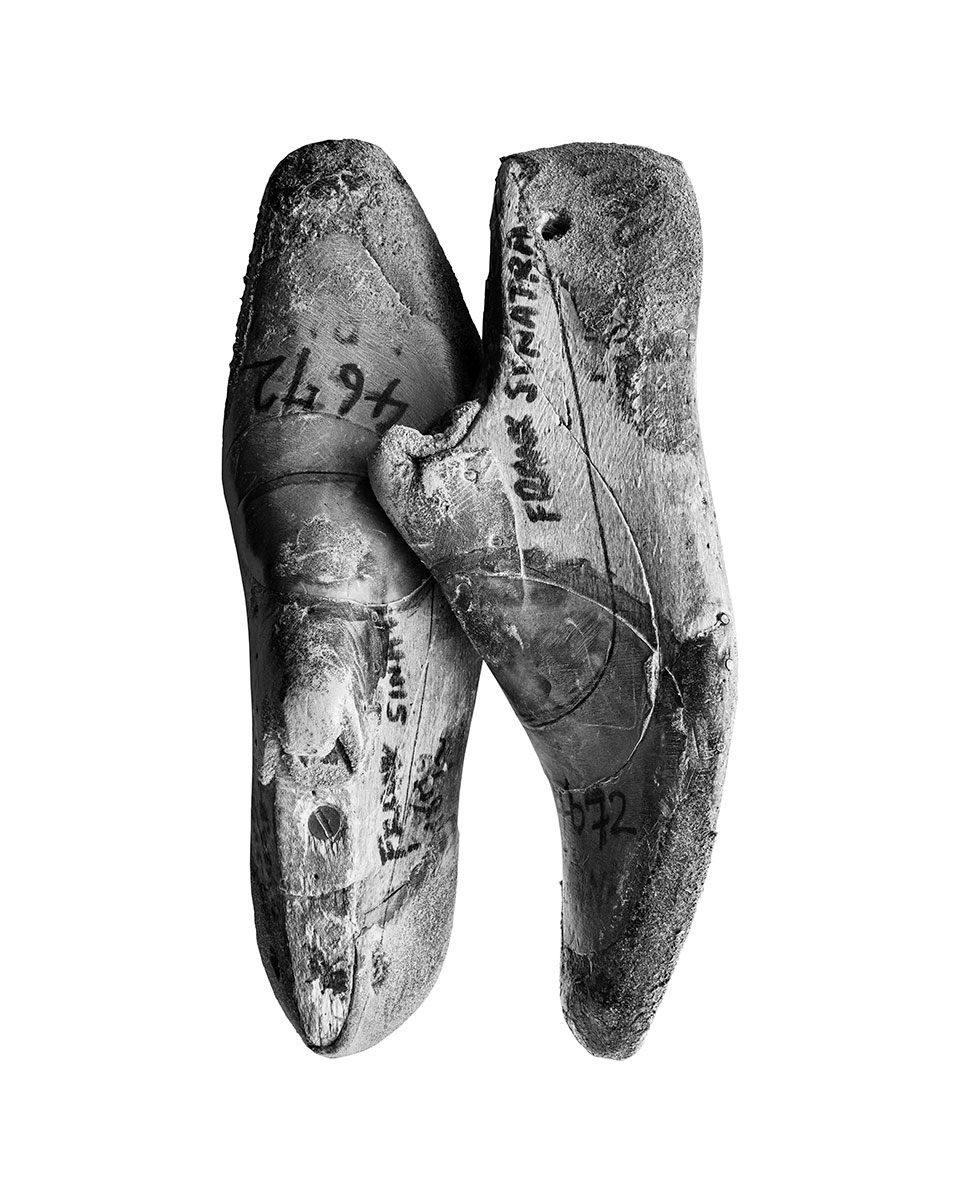 John Lobb is a bespoke, traditional shoemaker to celebrities and royalty alike. Central to their process is the creation of a pair of wooden lasts, shaped to the exact contours of the wearers feet. What started as a purely personal project, initiated by asking if I could photograph the wooden lasts, has now developed into a regular commission shooting images for John Lobb's marketing and social media. This photograph of Frank Sinatra's wooden lasts is one of my favourite images from the project. It's not just the fact that they belonged to Sinatra who was an icon that many people can connect with, but I love the fact that they're well-worn with interesting textures that suggest that many shoes were made from this pair of wooden lasts. In a way, they speak of a history and a life well-lived.
6. Corporate Portrait Photography: Elrige, Master Last Maker at John Lobb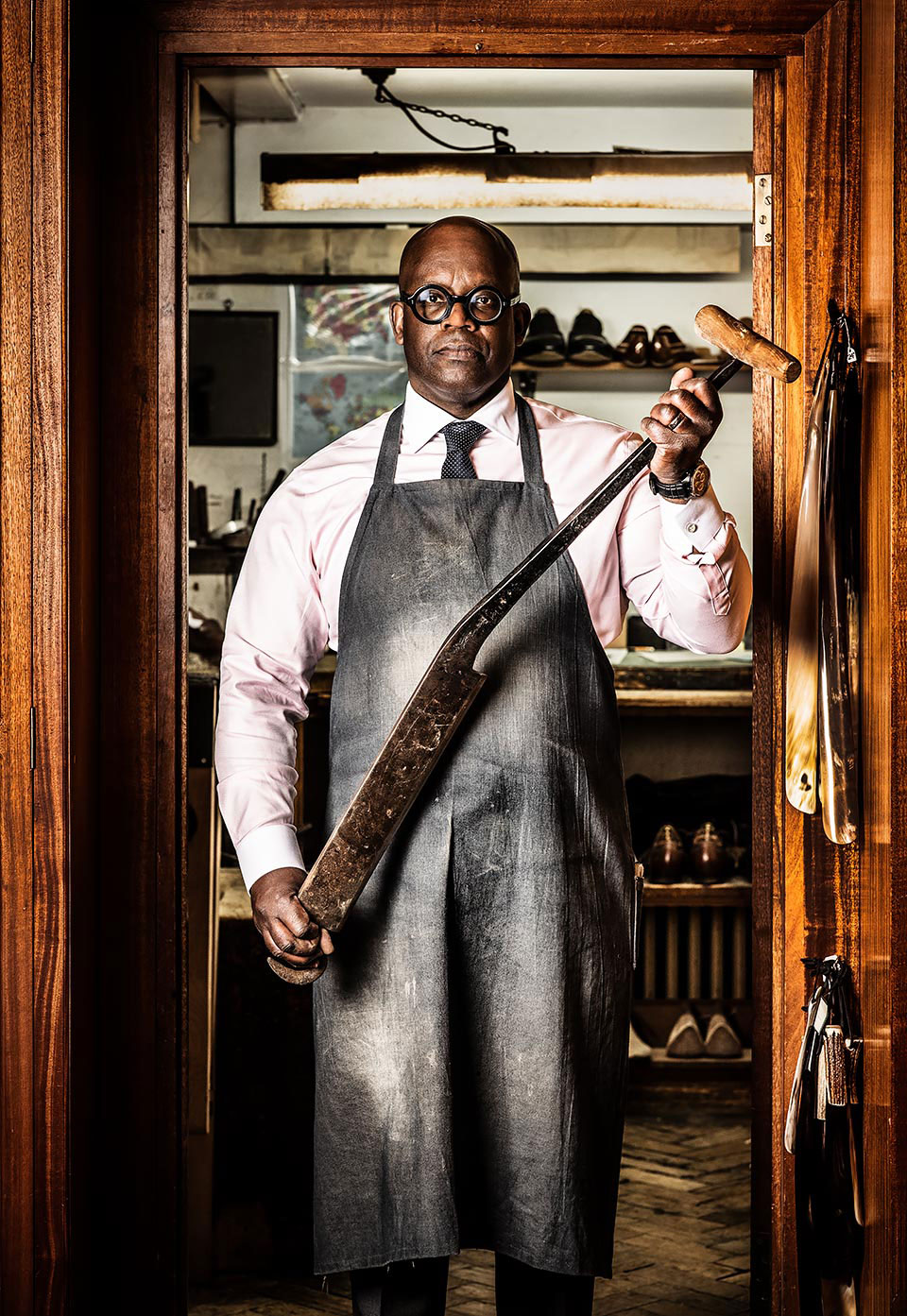 This was a commissioned portrait by John Lobb who requested photographs of their Last Makers. I'm particularly fond of this image of Elrige, Master Craftsman and Last Maker. He is a real character and I love the intensity of his stare in this photo. I also think this portrait captures the essence of the traditional establishment of John Lobb with its traditional working methods, where each wooden last is carved by hand. Elrige may appear to be wielding a lethal weapon here, but the tool he's holding is essential for last making and is known as a Last Knife. It's used to get a block of wood down to the rough shape of the last. Afterwards, a surform, various grades of files and sand paper would be used to get the last down to its final shape and measure.
See more of my corporate portrait and corporate lifestyle photography projects taken on location in London and around the world.
Commissioned Campaigns
Personal Projects
Published Work
Testimonials
+44(0)7812908229

5 Photography Ideas That You Need To Try in 2022
If you love photography, there's no doubt that you want to know the best ways to improve your photography. There are countless blogs and articles on this subject alone; what I'm going to do is drop five ideas that might help you become better at photography.
Trying something new is also how you find your style and become the photographer you want to be. So, try these five ideas with your photography in 2022 to see if they help you grow as an artist.
Sharpen Your Composition
Keep It Simple With Monochrome
Try monochrome. Black and white photography isn't just for film cameras anymore. Most modern cameras have built-in black and white settings. Shooting in black and white instantly removes all the distractions of color and makes everything simple and easy to look at. Photographs don't always have to be colorful; in fact, black and white images can be some of the most dramatic photographs you'll ever create. The lack of color can draw more attention to important elements in an image.
Change Your Perspective
Spontaneity
Take Time Off
Take some time off from shooting and then come back to notice how your view of the world has changed. Take a class, read a book, go on a vacation, do something that makes you feel differently about the world around you. Everyone can improve their photography skills by trying something new every once in a while. Try for at least a week without picking up your camera. You'll be surprised how much you can learn about the world around you without trying to capture it on camera. And when you come back to shooting, you'll have fresh eyes to see things in a new light.
You may be wondering why you should try new concepts and ideas for your photography. In the end, it can only serve to better you as a photographer. These ideas have been around for years, even decades. In trying these ideas, you are not only developing your own craft, but you are also opening yourself up to a new way of thinking. And if nothing else, this new approach might elevate the quality of your photography from merely just pictures to ones that convey greater meaning.
You may discover a new love for shooting in monochrome or letting yourself loose with your camera to allow spontaneity into your images. You should push yourself to try new things. That doesn't mean you have to stop shooting in black and white or only shoot wide to capture the whole scene. It means that you should keep your mind open to new ideas and possibilities for photography.
The most important thing to remember here is not to judge yourself or others too harshly. Everyone has their strengths and weaknesses, and we're all trying to get better at what we do. Also, remember that this is simply a starting point for you, not the definitive guide on great photography. Do your own research, shoot your own photos, try different techniques, and enjoy. This is a creative field we're talking about, after all; there should always be room for creativity and growth.
Gary McIntyre is a landscape photographer and digital artist based on the west coast of Scotland. As well as running photography workshops in the Glencoe region, providing online editing workshops, Gary also teaches photography and image editing at Ayrshire college.
"Shoot with only one lens."
As a wildlife photographer who often uses a 300-800mm zoom, that would be very difficult.
If I only use the big 300-800mm, with its 20 foot minimum focus distance, I don't know how I could effectively photograph small ground-dwelling critters like toads and spiders.
Conversely, if I forbid myself from using the 300-800mm lens, and only use my 100mm macro lens, then I don't know how I could shoot nice bird portraits of smallish birds that are kinda far away.
I just don't see how "shoot with only one lens" is sound advice for everyone. There are some of us whose photography would really suffer if we did that. Limiting ourselves to one lens doesn't force creativity ... rather, it stifles creativity.
Thanks for reading Tom. It's a general overview of a few suggestions and does depend on the type of subject matter you shoot. 99% of the images I've used are landscape shots bar one, so to be honest it's more geared towards landscape photographers for that part. I'm sure however there are perhaps ideas that you could try as a wildlife photographer?
These are only ideas and also aimed to create a spark for folks to try different things with their own photography for a day.
Thank you for a well written article it definitely beats the video links.
I spent a whole day with a canon 24mm f2.8 on my 7D MK2, one of the pictures I took got me my highest placed photograph, so far, at my camera club's annual exhibition.
The picture was a jpeg apart from cropping and resizing it was unedited. The camera club restricts to 1600 x 1200 pixels.
So I agree with you. Limiting choices can force you to go back too basics, sometimes with good results.
It really is good to limit your choices, as you say 'you go back to basics' which is where we learn. Thanks for reading.
I agree with the idea of using a single focal length lens. Generally they are catigorized by angle of view, but each focal length offers a unique "perspective" and I believe we each have a way of seeing that naturally matches a particular lens. I used 120mm in 4x5 or 35mm in full frame for almost all of my work. Recently I have been using the Fuji X100, offering a similar perspective. On shooting in Black and White, the use of contrast filters is a critical part of personalizing images, and shooting in raw offers these tools in the editing phase without carrying a set of filters. I tend to print my color images suppressing the color (saturation) quite a bit to walk a line between color and b&w. Thank for sharing your ideas.
Thank you for reading Douglas. I know exactly what you mean by seeing naturally matches a particular lens, I find myself approaching a scene that way, good point. I'm embracing the monochrome more and more these days as I feel it takes you back to the basics and lessens the distraction of colors. Focussing more on the content of the image.
It occurred to me that the vast, vast majority of "people photos" I've taken are with an 85mm equivalent. My issue is that many of my photos end up looking the same because they are taken at approximately the same distance, and from a similar position/angle since the perspective is so tight to begin with. That said, I definitely have images that stand out in my portfolio simply for the fact that they are taken at unconventional distance, and a compelling composition, with a moving subject, for example. Anyway, serves as a good reminder not to get stuck on autopilot. If you're experimenting and finding good compositions, just because you're using one lens it doesn't mean all your images will look the same.
Winter Photo Projects 2022
As another race season comes to an end, there are photography projects I've been inspired to do over the winter. Scrolling through Instagram and reading Rouleur, I've seen a lot amazing photos that I've wanted to learn from and try for myself. Moving onto bigger products to photograph, like wheels and lighting different surfaces. Still, I am limited by some of the tools I have available to me. So I wasn't able to get full wheel shots like the way I imagined but the details I got I am very satisfied with. Next time I am going to try and take a more stylized. lifestyle approach, like that of Sean Hardy and his work in Rouleur.
Work with us
A Locals Guide
Browsing Category
sponsored post
Life Lately
Scavenger Hunts
Coffee Shop Journals
Day in the Life
Home Stories
Castles Of Scotland
Days Out for Kids
Outlander Locations
My Little Edinburgh
18 Creative Photography Projects to Try This Year
I shared a blog post last year with a list of creative photography projects you could do in 2021, it was fun to see them pop up on instagram, I took part in a few here and there, I didn't manage to complete a full set but I had fun in the process. I've updated the list for 2022 and added a few extras, there's some year long projects and some smaller ones that you can do in a few hours any time you please. Here we go…
THE CLASSICS:
365 DAYS A photo a day for the entire year. This one takes commitment. You can choose one subject matter, I did mine with Ruby when she was little. Some shots were creative and fun and some were just every day moments. You could shoot landscapes or animals, or a bit of everything.
52 WEEKS One image a week for the year, leaving you with 52 images at the end. Usually this starts on the first Monday of the year and you produce one image between the Mon-Sun space.
A DAY IN THE LIFE Once a month I would shoot a Day in the Life. Sometimes I'd shoot with friends and we would share it together on blogs, sometimes I'd wake up and decide that today was the day to shoot one. You can do these as often as you like, or as little which makes them easier and more fun. They can be anything from 3 images to describe your day or 150, however you feel describes it better.
WANT SOMETHING A LITTLE EASIER?
10 ON 10 If shooting an entire day feels a little overwhelming, this one is for you. 10 images on the 10th day of the month, a mini Day in the Life if you will. You could even do this as a 'stories' project on instagram and have a highlight to look back on at the end of the year. Having a limited number of images also makes you a little more thoughtful of what shots you'll take and what moments are important to share. ON THE HOUR For a whole day you can shoot an image on the hour (or a chosen time) of the day. This one is also brilliant for instagram stories and you can add a time stamp to each image to show the time too.
BLACK AND WHITE I adore a black and white images, they are timeless and can make an ok image, that you weren't very sure about, striking. Set yourself the challenge of shooting only in black and white for one day a week, or month. Or use this along with one of the other projects above. 30 DAYS An image a day for 30 days. Pick one subject like flowers or beaches, or mix it up and document a month of your life. You can do just one in the year or do multiple months, even make it 30 days of a season. So many fun options with this one.
ADD A BIT OF A CHALLENGE
LIGHT SEEKER Theres beautiful light no matter where you look, streaming in from a window, kids faces lit up with a device or a tiny rainbow from a slither of light thats hitting in a mirror. Take time to look around and notice the light at different times of day in your home and document it for a whole day each month/week.
100 DAYS This was one of the first I found on Flickr (remember that) and you take an image a day for 100 days. Long before I had children I would photograph woodlands and sunsets, so 100 sunsets in a row would be something wouldn't it? You can, or don't have to stick to a theme at all, 100 days of shots of what you are grateful for would be a beautiful project to watch grow. PHOTOBOOTHS I adore a Photo Booth. This ones less of a challenge in the photography sense but more of a challenge to actually find a Photo Booth that produces a classic black and white strip of images. There was once a good one in Edinburgh but I'm not sure its there anymore (I shall check and report back). One from every country you visit would be such a gorgeous collection!
FAMILY PROJECTS:
FAMILY PORTRAIT Just once a month a photo of the whole family. You can do a simple shot, or get creative with them and use some props. We would all do our own thing in each shot, or get creative using mirrors and taking festive shots in a Christmas bauble reflection. This is a really fun one for watching your family grow! THE KIDS WERE HERE This is a project I've seen done so many times and the outcomes can be hilarious. It's exactly what it says, document the things that kids do. The squished toothpaste tubes, dirty socks on the floor, the loo roll all pulled out, sticky hand prints on the walls. Instead of letting it drive you wild, document it! A SIMPLE PORTRAIT Just one portrait on the first day of the month of each family member. Another fun one to see how everyone changes over the course of a year. LET THE KIDS Set the kids a challenge and let them take some self portraits, or family shots. Even just using a polaroid. Get them involved in the fun.
TRY SOMETHING NEW:
PICK UP A NEW TOOL Always wanted to try a roll of film, or video? Set yourself a wee challenge to use something new once a month and build a little skill set. Shoot like you are using film. Take 1 second of video every day for the whole year (there are apps for this) or do mini day in the life's with video. The options are endless with this one!
FILM ROLLS 12 Rolls of film, fill one a month and have them developed for New Years eve. What a way to celebrate a new year by looking over the last year in film?
POLAROID We have a jar that we fill through the year, with cinema tickets, awards and all the fun things that happen through the year, we also love adding a polaroid in now and again.
MAKE A MINI MOVIE There's lots of fun apps out there, one in particular called '1 Second Every Day'. You record a second of video daily and at the end of the year you have a montage of the entire year. I've always wanted to complete this one, so adding it to my own list this year!
Have fun choosing your 2022 project, I cant wait to see your progress!
Love this? You might also like...
A Very Merry Christmas from ours to yours!
December 24, 2021, a little love this valentines day | happy 2 years, february 14, 2022.
Hehe was going to press 'post comment' without actually 'the comment' … anyway, I love this project, always loved photography, have thousands of photo varying from landscapes to historical, travel, food, adventure and daily life. I should restart that blog again!
Leave a little love: Cancel reply
This site uses Akismet to reduce spam. Learn how your comment data is processed .
Related Posts
It's October 3rd | Spooky Season
October 2, 2023.
Verdant Works Museum | A trip with Visit Scotland
March 16, 2023.
Come Say Hello…
View mylittleedinburgh's profile on Facebook
View littleedinburgh's profile on Twitter
View mylittleedinburgh's profile on Instagram
View littleedinburgh84's profile on Pinterest
Follow on Instagram
2022 Photography Projects
In the style of john blakemore.
Digital Composites
Worm's Eye View
View From A Window
My Greatest Love
The Analogue Fake
Home » Lifestyle » 14 Creative Photography Projects Ideas You Need to Try
Tackling a photography project is not only a great way to improve your photography skills but it can keep you from feeling like you take the same photo everyday. However trying to come up with photography project ideas can be a challenge. Below are a list of photography ideas.
Creative Photography Project Ideas
1. project 365 or project 52.
You know I love a Project 365 and have lots of tips on completing one . Whether you take a photo a day in a Project 365 or choose to do one photo a week in a Project 52 this is a great way to focus on your photography skills.
2. 30 Day Project
Take on a shorter commitment by doing a project that lasts on 30 days. There are many different ways you can do this. In my ebook, The Unexpected Everyday, I give you a 30 day photography ideas challenge to learn a new skill and give you a prompt for each day. You can't help but improve your photography all while taking timeless photos of your children.
Read more: 30 day photo challenge (become an EVEN BETTER Photographer)
3. Pick a theme
Deciding on one particular thing to focus on can help you improve a skill. Theme ideas:
Light – backlighting , low light , natural light , indoor light
Composition – framing , leading lines , golden spiral
Street photography
Macro – even if you don't have a macro lens you can use macro filters
Candid Photos
4. Choose a subject
If you have children you may notice they are in 95% of your photos. Focus on a new subject to try new compositions and break out of your normal photography routine.
Subject ideas: – Shoes – Flags – Windows – A color – Lines – Doors – Chairs
5. ABC project
There are two ways you can tackle this project. You can either choose a letter to photograph something that starts with that letter. Another photography idea is to photograph something that looks like the letter. This option is fun if you want to create a collage of photos to spell out your last name or "welcome".
6. Work through a book
There are many books out there that will teach you different skills. You can tackle a new chapter each week or month. Book ideas include:
The Photographer's Mind: Creative Thinking for Better Digital Photos
The Photographer's Eye: Composition and Design for Better Digital Photos
People Pictures: 30 Exercises for Creating Authentic Photographs
7. Grateful photography project idea
Choose to photograph things, people or places you are grateful for. Not only will you never run out of ideas of things to photograph but it helps you focus on what is really important and how blessed you are.
8. Focus on one lens
If you have multiple lenses choose one your don't normally use. Stick that one on your camera for a week, a month or a whole year. This will help push your creativity. I remember doing a photo walk with a photographer who took street photos with a macro. Don't assume a certain lens is only for one time of photos.
Not sure which lens to use? Check out our photography resource page.
9. Go outside your comfort zone
Maybe you rock at portraits, try your hand at food photography . Try a different type of photography you are used to. Not only will you learn some new skills but it is fun to try something you aren't strong at.
Read more: How to Shoot Still Life Photography to Push Your Creativity
10. Photograph birthday month/week
Whether it is your birthday month, or one of your kids or loved one. Photograph them everyday for the week or month of their birthday. It is a fun way to document them that year as well as capture what they are like at that age.
11. A Day in the Life of
I do this once a year, but you could really do this once a month or more. Photograph your day all day . You can either take photos through out the day or just on the hour. Either way it is a fun way to capture the everyday moments and routines that we often forget to capture.
12. 10 on 10
A lot of photographers will capture 10 photos on the 10th. This is similar to the "Day in the Life of" project. But this may help you to remember to do this project each month on the 10th.
13. Letters to Our Children
This is something I do with a few other photographers. Write a letter each month to your children or just focus on one child. Then take photos of them to include with the letter. I write advice to all my girls. This helps me to get at least one photo of all three of them together each month. This can be quite the challenge but I enjoy it. Some girls in the group choose one child to write a letter to and do a mini photo shoot each month with that child. Do what works best for you.
14. Self portraits photography project idea
Photographers are not in enough photos. Choose either to do a self portrait , daily, weekly, or monthly. What is important is that you are getting in the photo. When I did my first Project 365 I did a "Monday Me" where each Monday I took a self portrait. It's a good idea to have a specific day in mind. If you are going to do it monthly, choose the date of your birthday and each month take a photo on that date.
Which ever one of these photography project ideas you decide to tackle it's important to do something. The key to growing and improving as a photography is taking these photography ideas and implementing them into your day to day life.
Which one of these photography ideas will you start today?
Learn it all, step-by-step, with me, the force behind Click it Up a Notch, a Huffington Post Top 5 Blogs for momtographers.
A former teacher who got into photography to capture my beautiful family, I am eager to share what I've learned over the past 5 years & open the door to photography for other moms.
365 Photography Project Tips Read More >
6 Ways to Stay Motivated with a Photography Project Read More >
Photography Project – One subject, 30 days Read More >
This will certainly challenge me. I am just an amateur and love taking pictures. But want to learn more and be more creative. Put those books on my Amazon Wish List to get sometime soon.
Awesome! Aren't we all wanting to learn more and be more creative :)
I did a 365 a few years back. Every day I took a shot out my window and made a time laps out of it. Pretty cool as the snow got deeper and then melted…Also as the leaves changed
Other than that,,,,meh!
That is a great idea to focus on one window!
Big salute to you. I am trying to edit photo black and white effect as you did; sadly my edited photos were not like you. How should I make black and white style( the black and white effect you did) . Plz show mercy with me. :D waiting for you
DANNY THE KACHIN
I start with the Casablanca preset from Clickin' Moms Cinema collection and adjust it to achieve the look I want. Make sure you start with a properly exposed and correct white balance image :) http://store.clickinmoms.com/cinema-presets-for-lightroom/
Thanks you for your kindness. I am working on it. God bless you. :)
Love your site. I find this app useful for projects learnphoto.ca/apps
Thanks for these ideas. I'm a beginning photographer and always want to find ways to improve. I will tackle one of these for 2014!!
Thanks! Good luck with your project!
thanks for your tips.. I'm thinking of doing a project featuring my sister..I'll take picture of her everyday for 23 days before her 23rd birthday and that would be my gift for her. .
Yep, I decided to do a 10 on the 10th project this year. My plan is to create a book at the end of the year. I cheated this month though. I forgot to do it on the 10th so I did it on the 13th instead which turned out great because my daughters school Valentine party was that day.
Hi, I stumbled upon your website by accident a few weeks ago and I am so in love with it. I have been taking picturs for years now with 2 young kids but have recently lost my mojo and motivation. Your blog has given me new inspirations and ideas. Thank you so much.
I love hearing that. Thank you! Welcome!
Great tips. I need to start taking more self portraits.
Hi Courtney,
Thanks for the ideas, I am sharing this with the Board of our community's camera club, for ideas on our summer projects, we take the summers off because we live in Florida and a few members are snowbirds, great IDEAS, thank you….
Thanks so much for sharing!
Hi! Love some of these ideas! I'm an amateur, who prefers nature macro. Do you know the name of the person you did the street tour with, that did it all with macro? This would be fun perspective for me. Thanks!
Hey Amy, I believe it was Stacey Vukelj – https://www.facebook.com/staceyvukeljnycphotography :)
How do you recommend taking self portraits?
Are you wondering about what lens to use?
I haven't started yet but I've been considering a rainbow challenge. Take a day/week and take all red pictures, then yellow, orange and so on. It's something you can vary the difficulty of since some colors are going to be easier to find depending on the season but if you want a real challenge you can mix that up.
Thank you so much. This is exactly what I needed to read right now. These are great!!
Do you have any specific blog sites you would recommend using for a new amateur photographer?
Yes –> http://clickitupanotch.com/how-to-start-a-photography-blog/
How do you Link up to Others 365 i tried Clicking on the Links but it just goes Back to The top of the page. Thanks :-)
I'm confused by what you mean you click on the link and it takes you back to the top. Which page does it take you to the top of?
Hi, I just click on the names of the sites and it doesn't take me anywhere, sorry I don't have a blog just google+1, I completed your 30 day challenge what you did in June, and decided to carry on, but wanted to see everyone else who was doing it. Thanks for getting back to me :)
Some of the people may no longer being doing the project. We started that list last November :) I think it's great you are going to keep going! Yay!
This has been such an inspiration! I am looking forward to starting a challenge. Even though I am in college I think this will be a cool way to remember all that I have done!
Thanks for the time you put together for this post :)
I love that! I wish I had some kind of photography challenge when I was in college. What a fun way to remember your time!
Thank you so very much. This is a wonderful article and you have given me and lot of awesome ideas for future photo shoots and a lot of fun for my family as well.
I happened upon your blog late last night. I'm a new photographer, eager to find a direction. I think doing one of your 30 day projects is the ticket to getting my ball rolling. Thank you. I'll be back. (website to come in the future)
Welcome! And thank you for your sweet words :) Excited to be a part of your photography journey.
I am a mom of a 13 year-old & a 20 year-old daughter, who has a 2 month-old daughter. I have always dreamed off taking up photography as a serious hobby. Now is my time since I am staying home full-time caring for granddaughter. I am absolutely clueless about what camera to purchase. I hear talk of DSLR. I am committed to investing in a high quality camera & expect to make a financial investment. But, what camera is for me? Would love to get involved in your project, but need to purchase quality equipment. Some advice please? Thanks so much for any input.
I love all these photography projects. I have no idea which one I want to try first! Great post!
Thank you for this great ideas…!!! I just finish My 365 project and I really want to start an Other project…!!!
I started a 30 day project after reading your book Courtney, and enjoyed doing that so much that I continued on and finished my 365 project at the end of April this year Great timely post to give me some other ideas for my next project. I had sort of continued with the 365 with half thoughts of turning it into a 52 project, but might incorporate some of the other ones as well. Thanks for being part of my learning journey Courtney it is really inspiring to read about your journey and others on your blog:)
I'm a 13-year-old photographer and I've been wanting more things to take pictures of so I decided to do a photo project. This article gave me so many ideas for my project so thank you!
Wonderful! Enjoy, Alex :)
These are all great ideas! Thank you for the inspiration!
I love your site. I plan to read more of your posts tonight! Yay!
Wow! This list was so great, and for my senior project, I think I'll do the Grateful Project. Thank you so much for the idea!
Hey, thanks for sharing. Just in the middle of planning a new project, but I find it's quite challenging with a little one running around. Although, my boy is a great model, I quite like exploring – what I call Organic Sculptures- and then photographing them.
During my last project I grew mold and here are some shots that came out of it https://digitalphoto.blog/2016/11/29/first-blog-post/ but obviously it's not the best idea cultivating mold now with a young toddler…
Will get there though, I hope…
Wow! This project ideas list is so awe-inspiring. Can't wait to see more of your articles. Thanks for sharing!
NOW I GOT A FIRE IN MY BELLY!!!
Thank you you have given me ways to keep myself busy in 2022.
Leave a Comment Cancel reply
Save my name, email, and website in this browser for the next time I comment.