We are now open M-F 6am to 9pm, Sat-Sun 8am to 9pm.
(586) 785-3432
In A Hurry? Save time - Order online!
Easiest way to order is to download our app from the App Store. Main's Treat Coffehouse, or click below
Dedicated to Quality
We pride ourselves on providing an extensive variety of delicious espresso based coffee drinks, hot and iced teas, fruit smoothies and juices. We work with local suppliers and bakeries to source the freshest, highest quality offerings. Our coffee is a private label custom blend fresh roasted by 5 Degrees North Coffee Roasters right here in Romeo!
Stay Awhile
Our relaxing atmosphere is the perfect backdrop to unwind, socialize with friends, or get some work done while you enjoy a beverage and a treat. We offer comfortable seating with free wifi and plenty of outlets!
More than Drinks
Although we offer a wide variety of hot and iced drinks, we also provide fresh, delicious baked goods. So whether you're stopping for your morning coffee, midday snack, or an after dinner treat, we've got you covered!
Copyright © 2020 Main's Treat Coffeehouse - All Rights Reserved.
All of us at Corner Bakery Cafe would like to personally thank our veterans. We appreciate the sacrifices all veterans have made so we, and generations to come, can live in a free country.
Thank you to all veterans who have served, are serving and have made the ultimate sacrifice for our country.
Corner Bakery Family
Commuter Croissant and Bananas Foster Pancakes
Cranberry Spice Trio Drinks and Cinnamon & Cream Latte and Iced Latte
Meatball Panini and Linguine & Meatballs
Download Corner Bakery app
Fresh. Flavorful. Delivered.
Corner Bakery is here to brighten your day with kitchen-crafted, artisan-inspired food, made by real cooks, for breakfast, lunch & dinner. Enjoy all your favorites safely delivered right to your door.
Crafted, Convenient Catering for Any Occasion.
Corner Bakery Catering blends the convenience you love with the flavors you crave. Individually packaged items and contact free delivery available!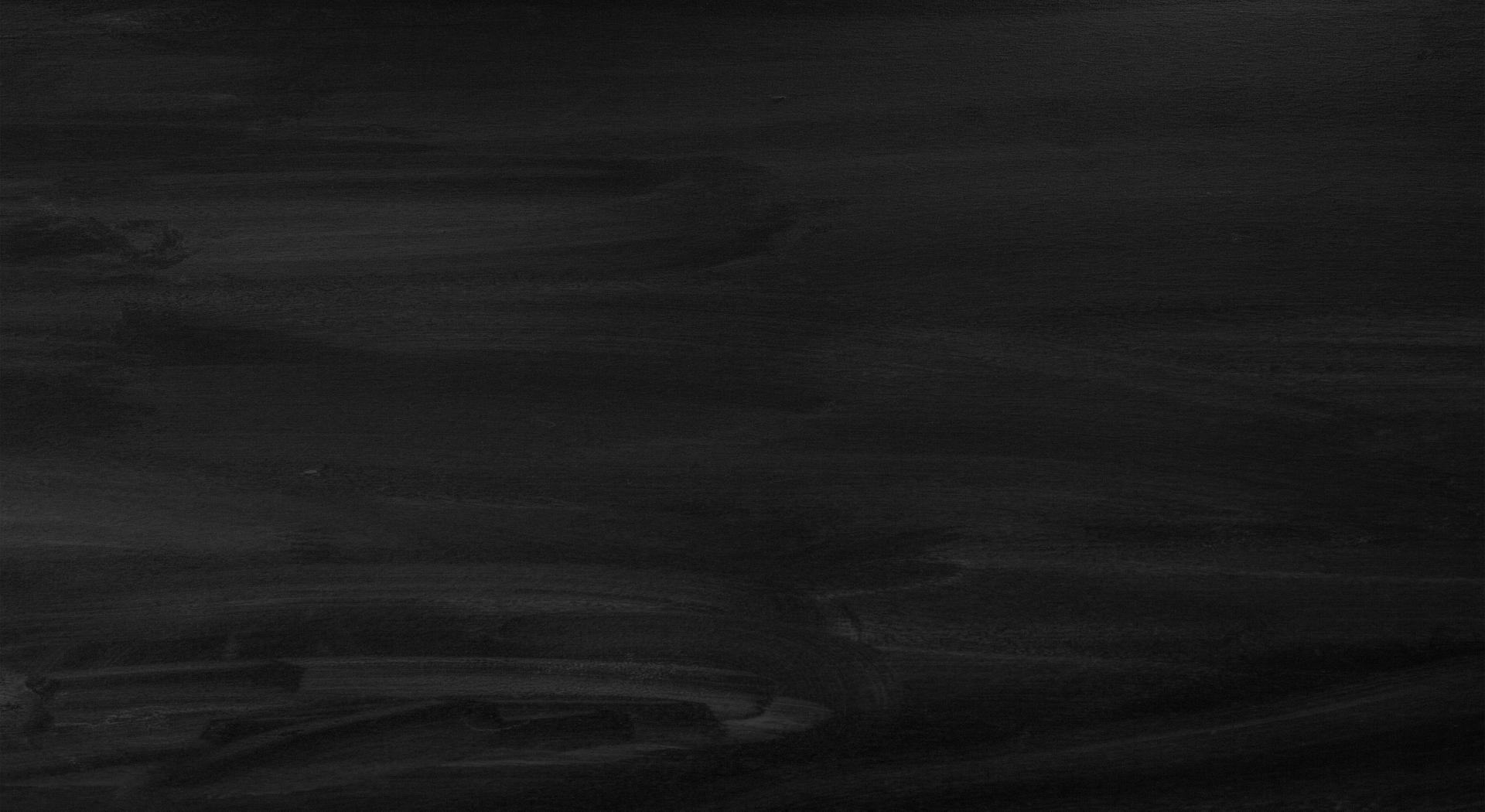 Danishes and Strudels
Cake Slices
Specialty Cakes
Assorted Pastries
Individual Desserts
Bottled Drinks
Sea Salt Series
Specialties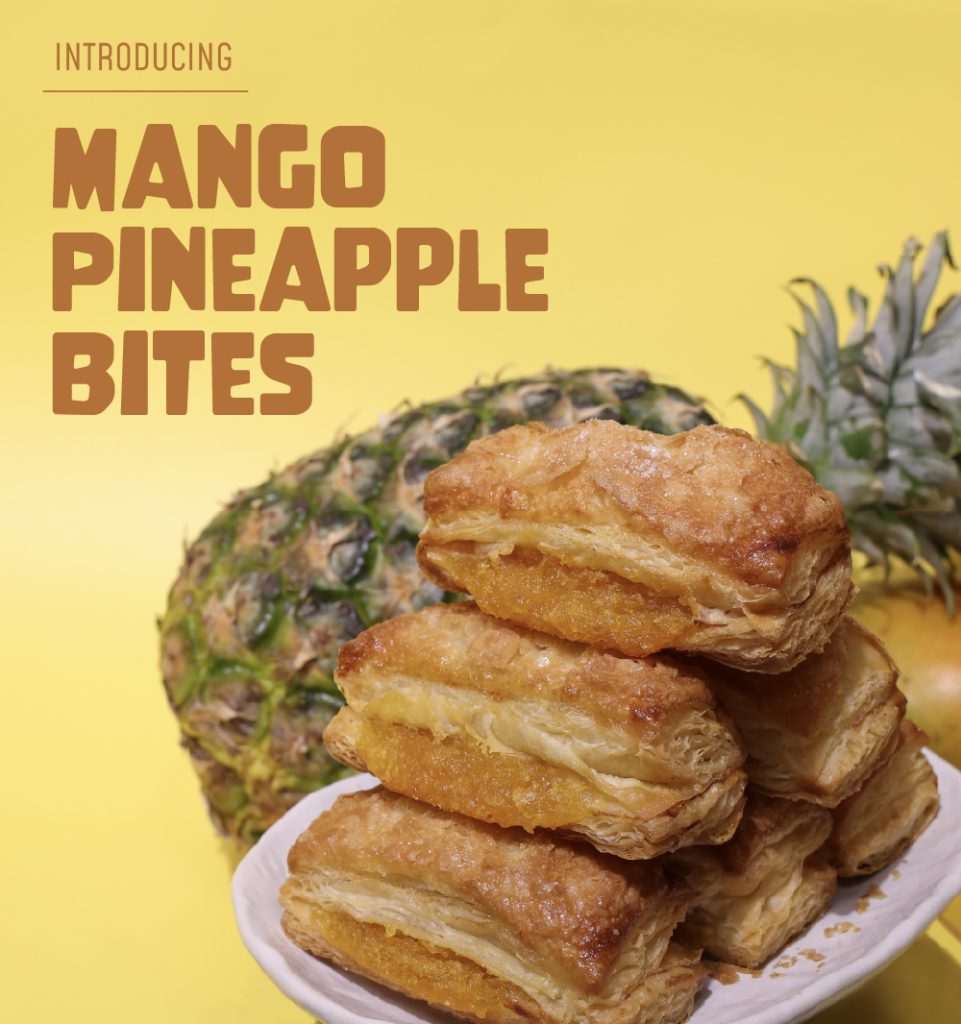 Mango Pineapple Bites
A crispy puff pastry with pineapple and mango paste filling and topped with crystal sugar.
Participation may vary. Product may differ from image shown. 85°C Bakery Cafe reserves the right to change, add, suspend, or otherwise modify the product without prior notice. While supplies last.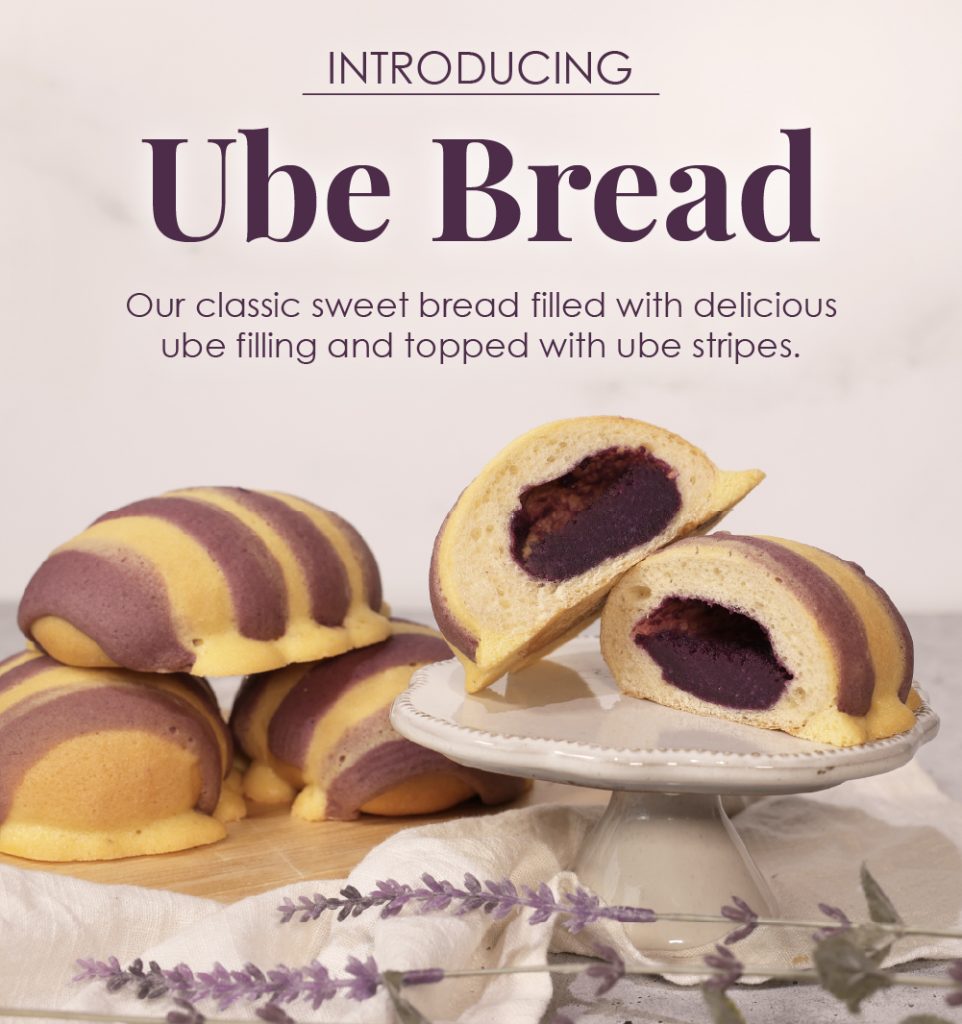 Our classic sweet bread filled with delicious ube filling and topped with ube stripes.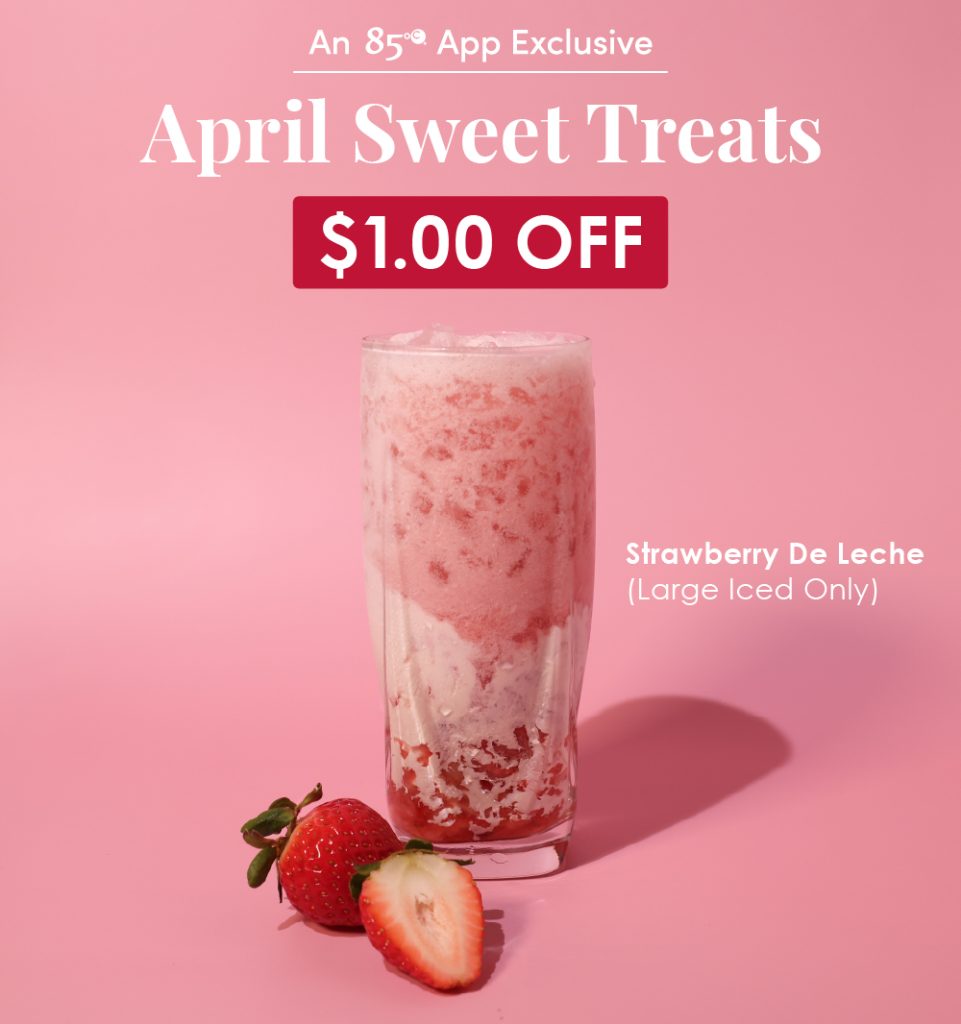 AN 85°C APP EXCLUSIVE
APRIL Sweet Treats
$1.00 OFF Large Iced Strawberry De Leche
Reward valid for one (1) $1.00 OFF Strawberry De Leche (Large Iced only). Excludes add-ons. One (1) redemption per app member. Available only on the 85°C App. No exchanges. No reward points are required for this coupon. Valid from 4/1/2023 to 4/30/2023. Must be redeemed in-store before 11:59PM PST on date of expiry. Offer not valid via online order for pick-up or delivery. Cannot be combined with any other offers or discounts. While supplies last.
Bakery Menu
Allergy FAQ | Shipping FAQ | Keto Pie FAQ
Traditional Pies
All traditional pies are made from scratch with no preservatives added
Buttermilk Pie
Chocolate Pecan Pie
Coconut Chess Pie
Lemon Meringue Pie
Pumpkin Pie **
** Check for seasonal availability
Sweet Potato Pie **
All cream pies are made from scratch with no preservatives added
Chocolate Cream Pie
Coconut Cream Pie
Elvis Cream Pie
Key Lime Pie
All fruit pies are made from scratch with no preservatives added
Blueberry Pie
Peach n'Cream Pie
Keto Pies (gluten free sugar free)
Gluten free sugar free pies. All Keto pies are made from scratch with no preservatives added
Caramel Brownie
Choc Peanut Butter
Choc Pecan Cookie
Chocolate Mint
Chocolate Mousse
Coconut Chocolate
Coconut Lime
Fruit Custard
Lemon Cream
All Cakes are made from scratch with no preservatives added
Carrot Cake
Chocolate Cake
Cookies n'Cream Cake
German Chocolate Cake
Italian Cream Cake
Pumpkin Roll **
Check for seasonal availability
Reeses Cake
S'mores Cake
Strawberry Cake
Cheesecakes
All Cheesecakes are make from scratch with no preservatives added
Bananas Fosters Cheesecake
Caramel Brownie Cheesecake
Chocolate Chip Cheesecake
Eggnog Cheesecake **
Lemon Blueberry Cheesecake
Plain Cheesecake
Pumpkin Cheesecake **
Raspberry White Choc Cheesecake
Strawberry Cheesecake
Turtle Cheesecake
Delicious offerings of savory and sweet pastry items to choose from. Call and ask for quantity order pricing.
Cinnamon Roll
Coffee Cake
Jumbo Cookie
Jumbo Muffin
Neiman Marcus Bar
Stop into one of our cafes for breakfast or lunch. We offer amazing made from scratch paninis, crepes, salads, and soups, all made with the finest ingredients.
While you are there treat yourself to something sweet—our cafes' bakery cases are consistently stocked with a variety of fresh, scratch-made pastries and desserts! Ranging from French macaron to hand decorated sugar cookies ... we have something for everyone!
In each of our cafes, we have a selection of locally roasted drip coffees and espresso from Pour Cleveland.
Order Online Now! Pick your preferred location:
Breakfast Menu | Lunch Menu | Beverage Menu
Get your day off to a delicious start with breakfast at one of our cafés!
Breakfast Favorites
NEW! Morning blt
Our adaptation of the classic BLT —with two fried eggs*—on our Organic Sour White brushed with aioli. $11.50
NEW! Italiano Breakfast Sandwich
Thinly sliced porchetta, scrambled egg* and pesto on our Ciabatta Bun. $12.50
CATE Sandwich
CATE SANDWICH
Cornetto, Avocado, Tomato & Egg Avocado and tomato with an over easy egg* and fromage blanc on our Cornetto. $10
BIALY EGG SANDWICH
Brioche Bialy baked with roasted sweet onions and poppy seeds, layered with two fried eggs, roasted tomatoes, goat cheese, fresh basil and Dijon. $10.75 | Add hickory-smoked nitrate-free bacon - $2.30
BRIOCHE EGG SANDWICH
Single egg* with Hempler's ham, Beecher's Flagship cheese and sweet Dijon apple butter spread on our Brioche bun. $10
SAUSAGE BREAKFAST BISCUIT
Housemade pork sausage, scrambled egg* and Beecher's Flagship cheese on our housemade biscuit. $10.50
Ham & Cheese Brioche
Brioche dough wrapped around ham and Gruyère cheese. $6.90
Sausage & Kale Strata
NEW! Sausage & KALE Strata
An airy, flavorful strata with Italian sausage, kale, Parmesan, cherry tomatoes, and souffléd egg. $9.50
DILL SCONE WITH CREAM CHEESE
Our Dill Scone baked with scallions, Parmesan and Swiss cheese, served with cream cheese. $7
GRANOLA PARFAIT†
Layered with honeyed yogurt and fresh berry compote.$7.55
MINI BAGUETTE
Served with butter and jam. $1.90
MADRY ORGANIC SOURDOUGH BAGELS
Available in Plain, Salted**, Everything, Poppy Seed, Sesame Seed or Cheese‡
Our naturally-leavened bagels are hand-rolled, given a long ferment, and have just a hint of rye, which adds to their depth of flavor. The caramelized crust has a glossy sheen and the airy interior has a tight, springy crumb that balances the mild tang of sourdough with just enough malty sweetness. Everything Bagels are topped with organic sesame seeds, poppy seeds, sea salt, garlic and onion. Cheese Bagels are topped with cheddar, parmesan and fresh herbs.
Individual Bagels:
Toasted with Butter or Jam - $2.35 With Plain or Chive Cream Cheese - $4.60 With Cream Cheese and Salmon - $9.35 Packaged Bagels and Cream Cheese: 4-Pack of Bagels - $8.15 8 oz Tubs of Plain or Chive Cream Cheese - $7
Return to Top
*Undercooked meats or eggs may increase your risk of foodborne illness. †Contains pecans. ‡Contains coconut milk. §Cheese Bagel topping is not organic. **Salted Bagels are only available individually and not in 4-packs.
Our cafés offer lunch every day. Below you'll find our current lunch selection featuring seasonal items and our handmade bread.
April 3 - 30
Demi Baguette Sandwich
DEMI BAGUETTE SANDWICH
Hempler's ham, fontina, organic field greens and Dijon.
CARNE SANDWICH
Marinated pork loin, pickled daikon and carrots, cucumbers, organic field greens, cilantro and Sriracha-ginger aioli on our Bui Bun. Whole ∼ $12.75 • Half $6.85
VERDURA SANDWICH
Dill egg salad with avocado, watercress and Dijon on our Semolina Rosemary.
Whole ∼ $10.75 • Half ∼ $6.70
Grilled Cheese Sandwich
GRILLED CHEESE
Beecher's Flagship on our Sour White.
Add a side Organic Greens Salad to any lunch item.
Chicken pot pie
Herb-roasted chicken, carrots, celery, potatoes, onions, corn, peas and garlic with a rich thyme-infused chicken gravy* encased in our flaky pie crust.
Chicken Pot Pie
Baked in a flaky pie crust with fontina and egg custard.
Ham and roasted asparagus. $7.10
Roasted mushroom and spinach. $6.85
SAVORY FOCACCIA
Topped with olive oil, sea salt, rosemary and tomatoes. $5.75
Organic Greens Side Salad
CARNE SALAD
Roasted chicken, quinoa, toasted pecans, blueberries, gorgonzola and spinach with poppy seed dressing. $12.50
ORGANIC GREENS SIDE SALAD
Roasted red onions, almonds, mixed olives and organic field greens finished with balsamic vinaigrette and cheese. $6.75
* Contains coconut milk.
Coffee & Espresso
Short 8 oz - $3.05 Tall 12 oz - $3.55 Grande 16 oz - $4.05
Short 8 oz - $5 Tall 12 oz - $5.50 Grande 16 oz - $5.75
Short 8 oz - $4.55 Tall 12 oz - $5.05 Grande 16 oz - $5.55
Short 8 oz - $5.05 Tall 12 oz - $5.55 Grande 16 oz - $6.05
Single - $3.50 Double - $4 Triple - $4.50
4 oz - $4.15
Single - $3.25 Double - $3.75 Triple - $4.25
Coffee & Espresso Additions
Extra Espresso Shot $0.90
Alternative Milk - Almond, Oat or Soy $0.90
Tea & MORE
Kalani English Breakfast - $3.90
Kalani Loose Leaf - $3.90
English Breakfast: A medium blend of fine black teas Earl Grey: Black tea blend with a hind of bergamot Green Tea: From the Darjeeling region Peppermint: Organic peppermint grown in Washington Sonando Con Los Angeles: Chamomile, lemongrass, rosehips, orange peel, spearmint Hibiscus: Hibiscus flowers, lemon peel, orange peel, rosemary Jasmine Green Tea: Green tea, jasmine blossoms
Hot Chocolate
Short 8 oz - $4.20 Tall 12 oz - $4.70 Grande 16 oz - $5.20
Short 8 oz - $2.95 Tall 12 oz - $3.45 Grande 16 oz - $3.95
fresh Juice
Ask for selection
Small - $4.25 Medium - $4.75 Large - $5.25
Bottled & Canned
Bottled Water
Each - $2.90
San Pellegrino
Each - $3.05
Flavored San Pellegrino
Each - $3.50
Nitro Cold Brew
Each - $4.50
Espresso Spritz
Mexican coca-cola.